Joksimović and Szijjártó: Hungary strongly supports acceleration of Serbia's European integration
June 03 2021 | Belgrade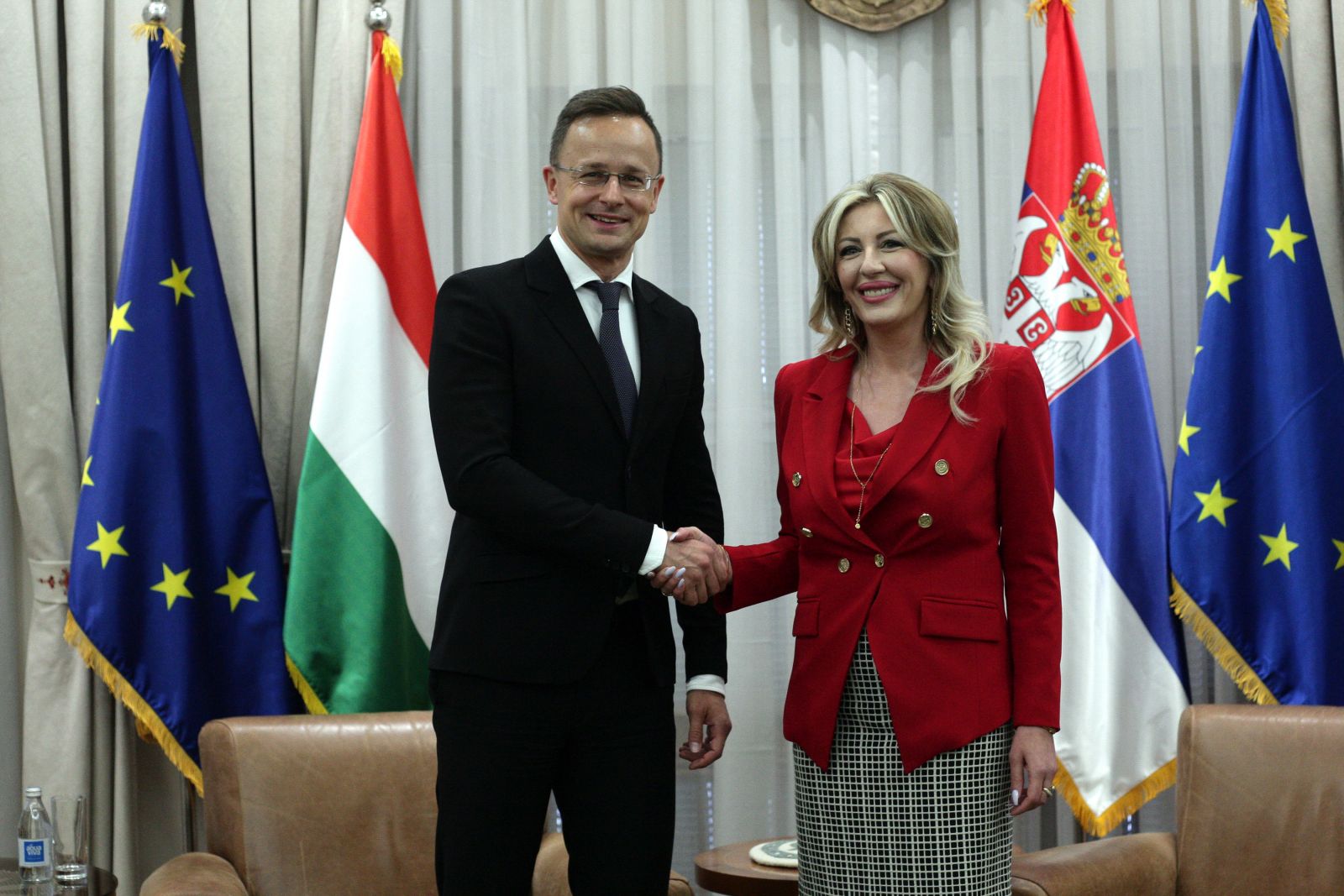 Minister of European Integration Jadranka Joksimović has talked today with Hungarian Minister of Foreign Affairs Péter Szijjártó, about Serbia's European integration, further improvement of bilateral relations and joint contribution to additional stabilisation of the Western Balkans.
Joksimović has thanked Hungary and particularly Minister Szijjártó for all the efforts the Hungarian Government has been investing into the strengthening of good neighbourly and partner cooperation with Serbia, both at the political and economic level, and particularly for the support it has been providing to Serbia on its path towards a full EU membership.
"We see Hungary as a reliable ally that strongly supports our EU accession. The highest Hungarian officials clearly and unequivocally advocate the EU enlargement policy, particularly the membership of our country, and that gives us additional incentive to implement all necessary reforms in an even more responsible and dedicated manner", stated Joksimović.
Joksimović has informed Szijjártó about the fact that Serbia has timely and responsibly reorganised its negotiation structure to fully adhere to the principles of the new EU enlargement methodology.
"The Government has accelerated the implementation of necessary activities from cluster 3 – Inclusive growth and competitiveness and cluster 4 – Green Agenda, digitalisation and sustainable connectivity, in order be ready for cluster opening if assessments in the rule of law area are appropriate", said Joksimović.
The interlocutors have assessed that the steps that have been made primarily regarding the strengthening of the rule of law are proof that Serbia continuously and committedly carries out reforms.
Szijjártó has underlined that Hungary supports the acceleration of the pace of negotiations between the EU and Serbia, believing that the results of the reform process conducted by the Serbian Government are such that the acceleration would be completely justified.
"This would also strengthen the credibility of the EU enlargement policy in the Western Balkans, which was one of the key goals of the newly adopted methodology", emphasised the Hungarian Minister.
Joksimović and Szijjártó have also discussed the elements of the proposed Memorandum of Understanding between the Governments of Serbia and Hungary for the purpose of deepening the cooperation between the two countries through the establishment of the Programme for Capacity Building in the Western Balkans, which will be signed tomorrow.
They have concluded that strategic cooperation on the realisation of key common goals of the two countries will be deepened through this memorandum, primarily in terms of Serbia's future membership in the EU and the benefit of citizens living on both sides of the border.
The Memorandum also provides for additional transfer of knowledge on the implementation of EU policies, and the exchange of best practices between public institutions of Hungary and Serbia.
Source: Tanjug