J. Joksimović and Bilčík on reforms and accession process
May 20 2021 | Belgrade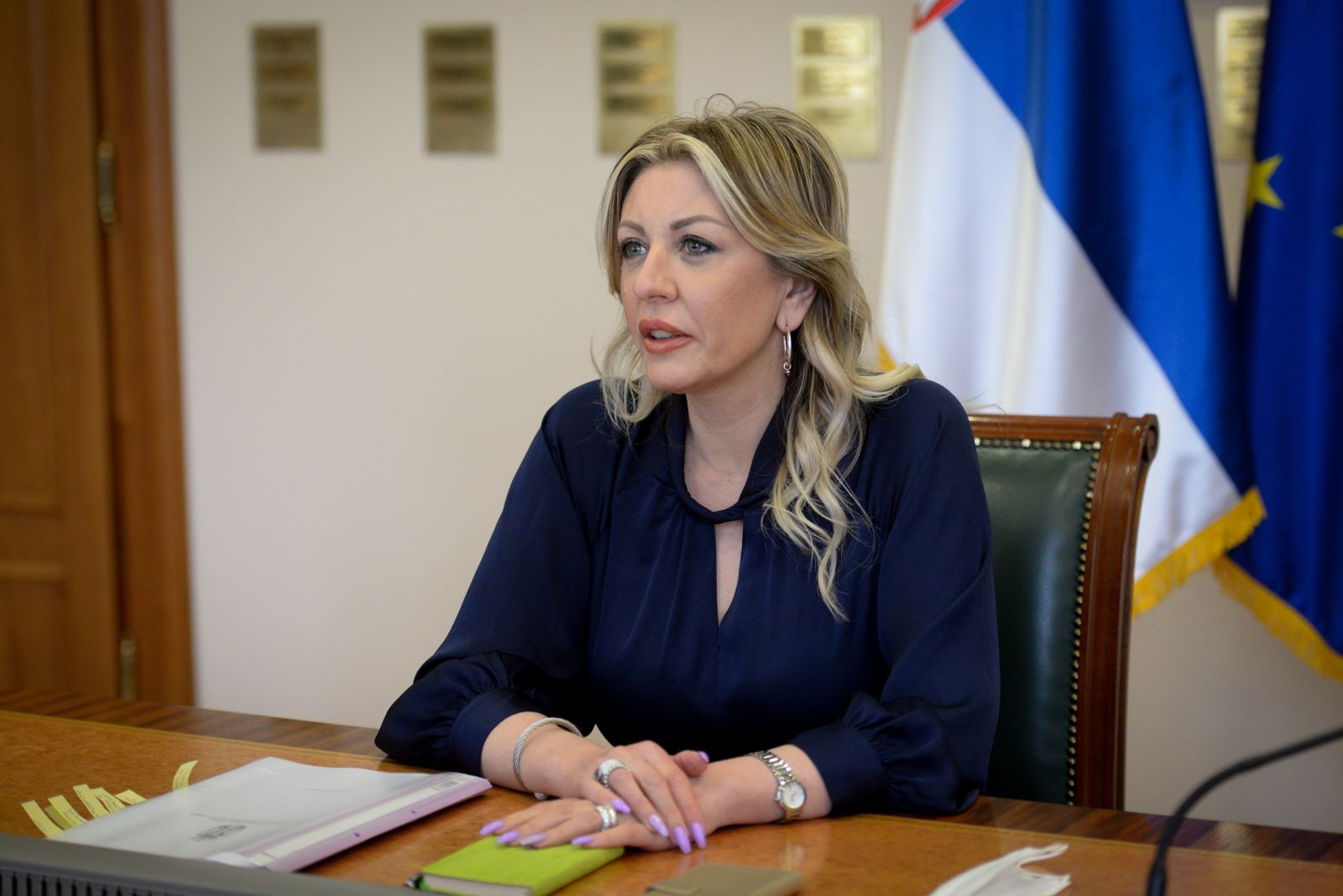 Minister of European Integration, Jadranka Joksimović has talked today with European Parliament Rapporteur for Serbia Vladimír Bilčík about current reform activities of the Serbian Government in the European integration process.
Joksimović has informed her interlocutor about numerous steps that Serbia is undertaking in the accession process.
"In line with the requirements of the new methodology, the Serbian Government has significantly intensified the implementation of reforms necessary for meeting the criteria from cluster 3 – Competitiveness and inclusive growth and cluster 4 – Green Agenda, digitalisation and infrastructural connectivity", said Joksimović.
She has particularly emphasised that stronger political steering of the process and responsibility for the implementation of the adopted has resulted in the fact that, in addition to previously prepared areas for negotiations, Serbia has submitted to the European Commission the negotiating positions for another two chapters from cluster 3: 19 – Social policy and employment, and 10 – Information society and media, as reported by the Ministry of European Integration.
She has conveyed that Serbia has accelerated its work on finalising the negotiating position for chapter 16 – Taxation, which would complete the criteria from all chapters under cluster 3 – Competitiveness and inclusive growth.
We expect that, in its six-month informal overview of the state of play regarding the rule of law in Serbia, the European Commission will positively assess our engagement and results in the area of the rule of law – important steps taken in terms of constitutional reform, media strategy, inter-party dialogue", said the Minister.
Joksimović also expects that, in line with the principles of the new methodology, a political Intergovernmental Conference will be held by the end of June and during the Portuguese presidency, which would be an opportunity to have a high-level political discussion with the EC and member states about the ways in which the EU sees further implementation of its enlargement policy, what is expected of Serbia in key areas, and an opportunity for Serbia to present its results and plans for strategically important steps.
Bilčík has stated that he supports the activities of the Serbian Government and the National Assembly which lead to the acceleration of accession negotiations, particularly those referring to the rule of law, strengthening democracy and media freedoms in Serbia, as well as constitutional amendment that will enable greater independence of the judiciary.
"The European Parliament and the Serbian National Assembly continue regular dialogue on all these topics, in line with democratic procedures and the role of these two institutions in Serbia's process of European integration", said Bilčík.
Source: Tanjug