J. Joksimović and Portman: Talks within strategic dialogue
May 18 2021 | Belgrade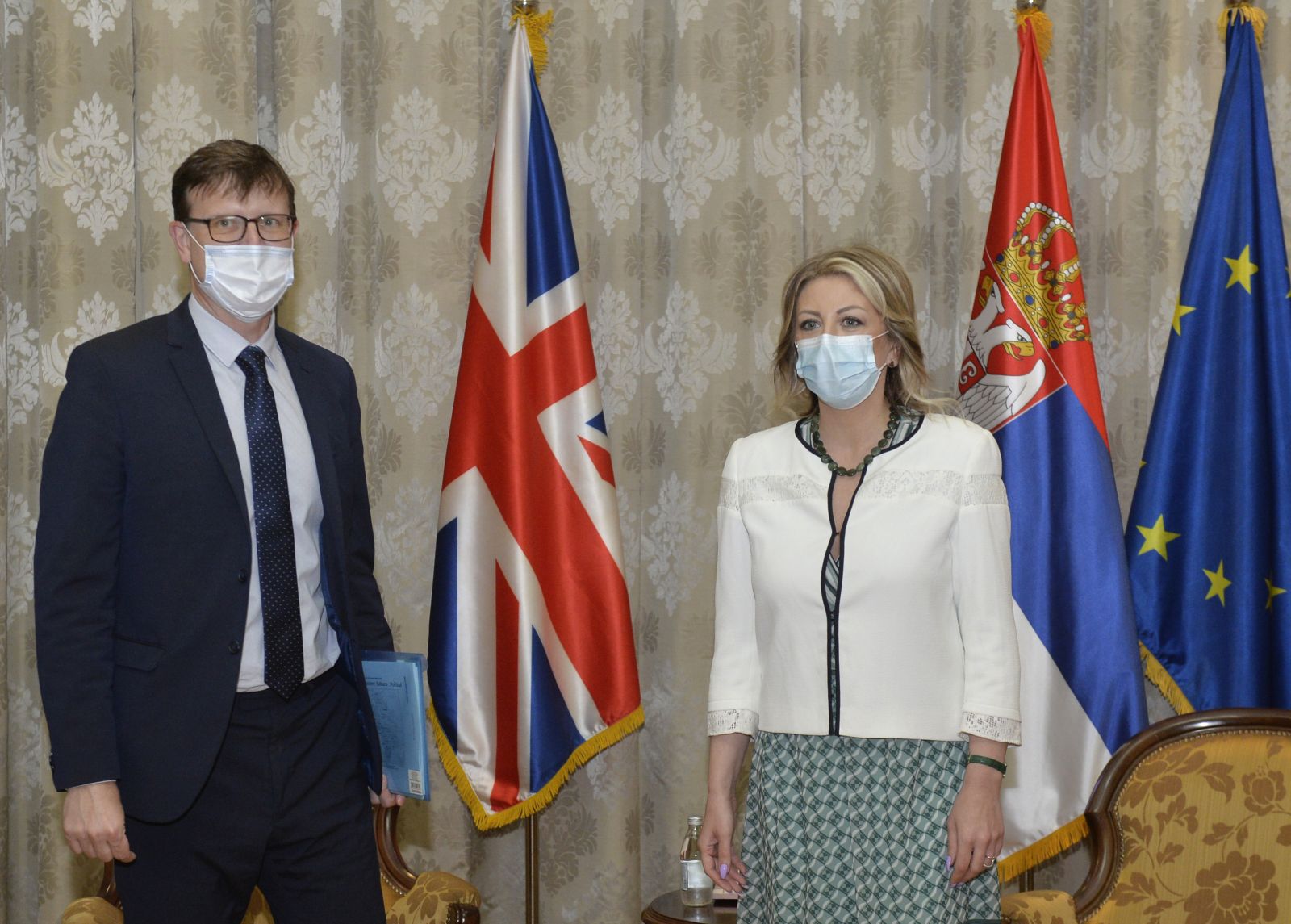 Minister of European Integration Jadranka Joksimović has talked today with Giles Portman, the Director for Europe at the UK Foreign, Commonwealth and Development Office, within the framework of the strategic dialogue between the two governments on foreign policy and security issues.
The interlocutors have exchanged views on the achievements and challenges of Serbia's EU accession process, as well as on the UK's perception of its future relations with the Union, following Brexit.
Joksimović has informed Portman on Serbia's activities aimed at accelerating the accession process. 
She has noted that Serbia is intensively working on meeting the criteria for the continuation of accession negotiations in cluster 3 – Competitiveness and Inclusive Growth and cluster 4 – Green Agenda, Digitalisation and Infrastructural Connectivity. 
"In line with the requirements of the new methodology, through stronger political coordination and greater responsibility for implementation, the Serbian Government is conducting reforms in these areas in order to contribute to the acceleration of the pace of membership negotiations, but primarily for the benefit of our citizens", said Joksimović. 
She has particularly informed Portman about the activities on strengthening the rule of law, as well as about Serbia's expectation that a political Intergovernmental Conference will be held by the end of the Portuguese EU presidency, which would be an opportunity to have a strategic political dialogue on European integration, achieved results and further plans. Moreover, she has emphasised that, if all the conditions are met, there may be a potential opening of clusters.
Portman has underlined that Great Britain welcomes Serbia's successful response to the COVID-19 crisis, good process of immunisation, stable and growing macroeconomic indicators, and its reform process. 
He has stressed that Britain is significantly present and interested in the Western Balkan region and that it supports European aspirations of the region. 
Joksimović has expressed her gratitude for the support the United Kingdom has been providing in Serbia's European integration process, particularly in the reforms that have contributed to the better quality of life of Serbian citizens, and especially in the public administration reform. 
The interlocutors have agreed that it is important to work on further strengthening of political and economic relations between Serbia and the UK.
Source: Tanjug