J. Joksimović: Support of French Development Agency to green investments in Serbia
May 06 2021 | Belgrade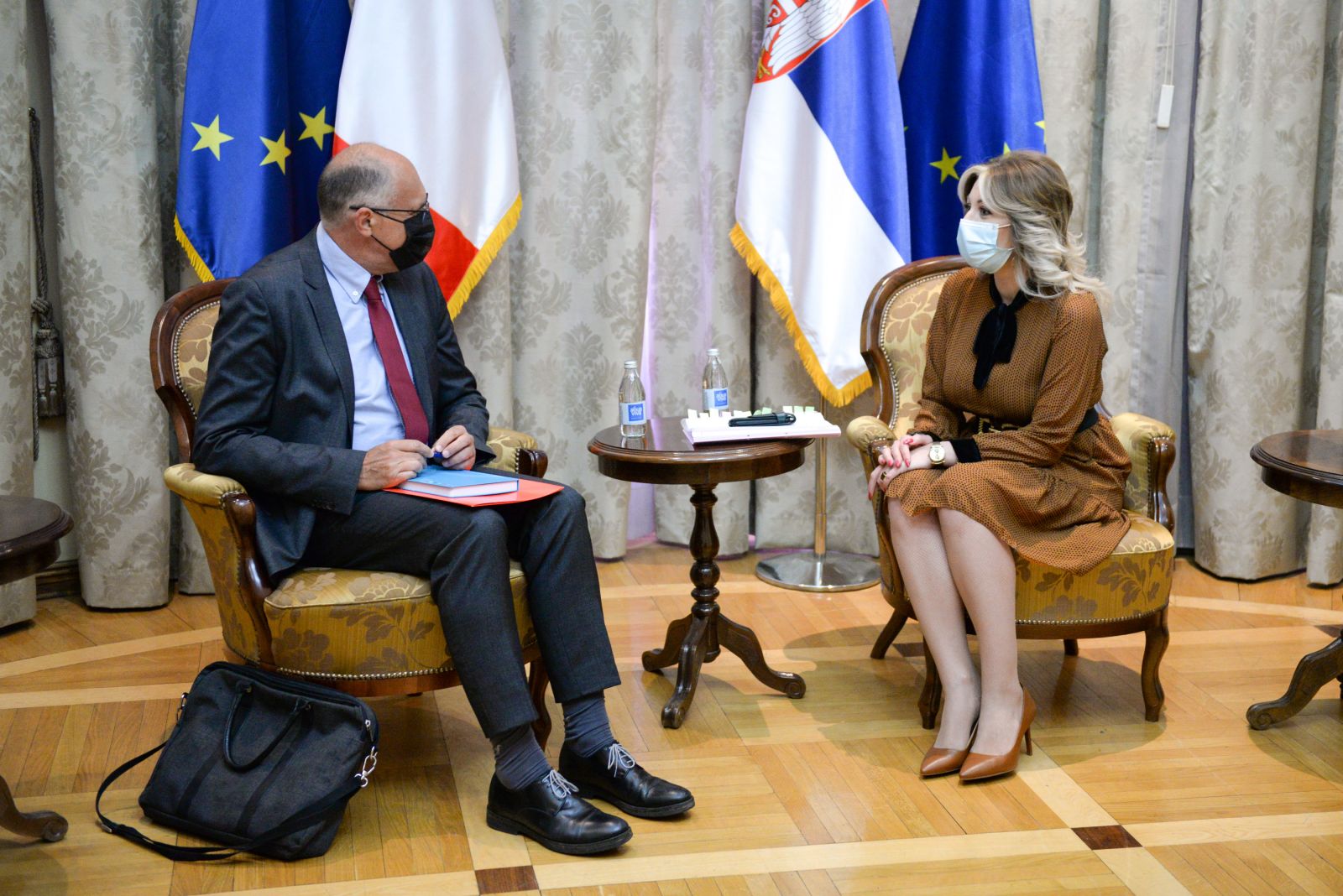 Minister of European Integration Jadranka Joksimović has talked today with the French Ambassador to Serbia, Jean-Louis Falconi, and the Head of the Belgrade Office of the French Development Agency, Dominique Hautbergue, about the continuation of Serbia's EU accession negotiations and further strengthening of bilateral relations.
On the occasion, Joksimović has stated that Serbia has significantly accelerated the pace of the reforms necessary for a faster dynamism of Serbia's EU membership negotiations.
"Aware of the additional political responsibility foreseen by the new methodology, the Government of Serbia is employing considerable efforts to fulfil its obligations from the negotiation process in the area of political criteria and rule of law, as well as to meet the criteria from cluster 3 – Competitiveness and Inclusive Growth and cluster 4 – Green Agenda and Infrastructural Connectivity", said the Minister.
She has added that such strengthened reforms in these areas will be an additional incentive for foreign investors, including French, and development partners to invest in and support so-called green projects in Serbia.
Joksimović and her interlocutors have particularly discussed the beginning of the implementation of a recently concluded cooperation agreement between Serbia and France on the implementation of priority projects in Serbia, such as the construction of the Belgrade Metro and the automation of electricity distribution network management.
They have concluded that the realisation of such capital projects will significantly contribute to the sustainable development of the Serbian economy and faster transfer of new knowledge and technologies, in line with the highest ecological standards.
Ambassador Falconi has said that France strategically supports Serbia's accession to a previously reformed EU, particularly those Government activities that are vital for the rule of law and overall democratisation of the society in accordance with European standards.
Source: Tanjug