J. Joksimović and Falconi: Serbia is intensifying reforms in rule of law
April 13 2021 | Belgrade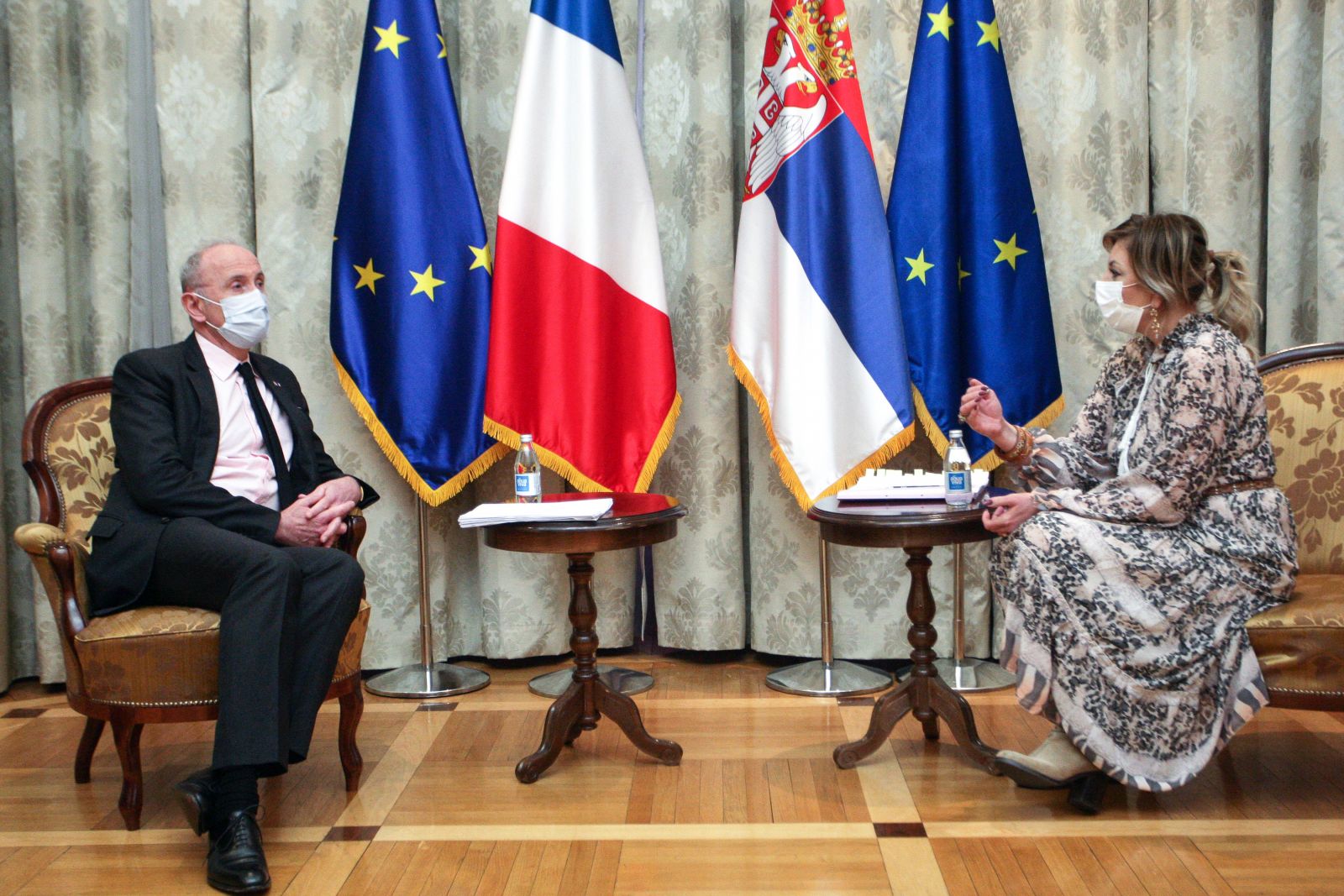 Minister of European Integration Jadranka Joksimović has spoken today with French Ambassador to Serbia Jean-Louis Falconi about the continuation of Serbia's EU accession, bilateral relations and relations in the region, according to the MEI press release.
Joksimović has said that, having confirmed its acceptance of the new enlargement methodology, Serbia has shown trust in its European partners, primarily in their intention to make the negotiations more predictable, dynamic and transparent. 
"We have also agreed with the EU's decision to introduce stronger political steering of the process, so that we would engage in a direct political dialogue, primarily with EU member states, as well as with EU institutions, and receive all the information we need to define the direction of necessary reforms more efficiently", said Joksimović. 
She has emphasised that the announced new format of the political Intergovernmental Conference, to be held during the Portuguese EU Council presidency, will be an opportunity for such an exchange of views.
Joksimović has stressed that Serbia shares the EU's belief that negotiations organised in this way will be more credible and result in the acceleration of reforms in Serbia, as well as in European institutions valorising reform results more dynamically. 
She has particularly informed the Ambassador about the activities regarding the implementation of constitutional reform and the National Assembly's plan to consult the public once again to ensure broad consensus on the key elements of proposed constitutional amendments. 
Ambassador Falconi has said that France, as the initiator of the revised accession methodology, welcomes the intensified engagement of President Aleksandar Vučić and the Government of Serbia on key issues in the area of the rule of law. 
According to him, this has further strengthened the political process, which is one of the crucial elements of the new methodology. 
He has underlined that France provides support to the reforms the Serbian Government is implementing, particularly in the area of the rule of law, judiciary, media freedom, democratisation of society, and the implementation of the Green Deal objectives. 
Source: Tanjug