J. Joksimović: Poland supports enlargement and Serbia's EU path
April 09 2021 | Београд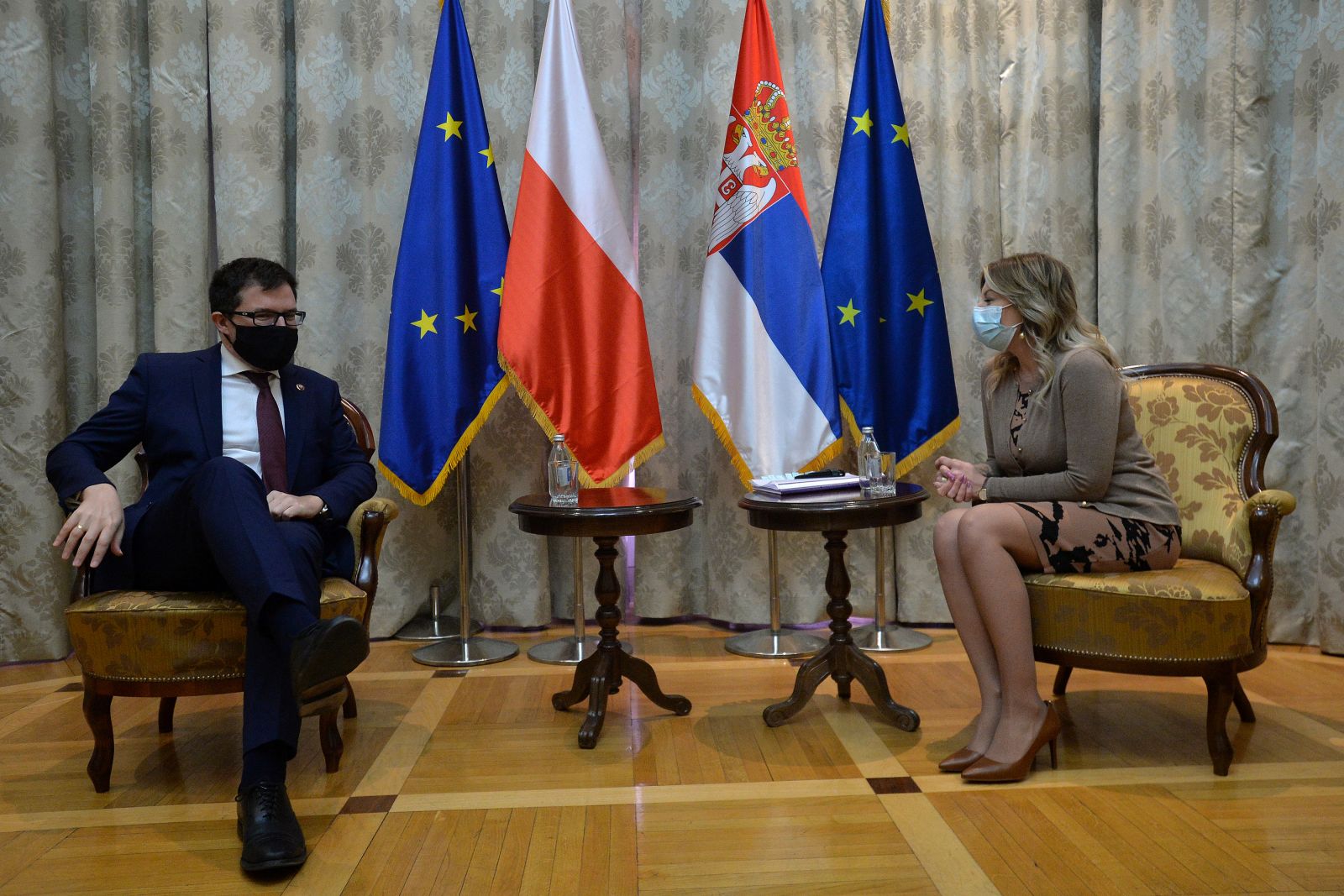 Minister of European Integration Jadranka Joksimović has spoken today with Polish Ambassador Rafał Perl about the continuation of Serbia's EU accession negotiations, bilateral relations between the two countries and the situation in the region.
Joksimović has informed the Ambassador about Serbia's reform activities, particularly about those activities whose implementation is a crucial element for the continuation of Serbia's membership negotiations with the EU.
She has said that, by accelerating the reforms necessary for the European integration process, the Government of Serbia is realising one of its most important strategic goals.
"We are particularly working on improving the state in the rule of law, and the proposed constitutional reform, which is based on the best EU practices and principles, is one of the fundamental elements of judicial reform and strengthening of the overall state of democracy in society", stressed Joksimović.
She has added that, accordingly, the latest additional public debate has been organised with a view to reaching a social consensus on these matters.
Joksimović has also informed the Polish Ambassador about other activities in Serbia's accession process to be implemented under the principles of the new methodology.
"We expect that the Intergovernmental Conference will be held by the end of the Portuguese presidency in a reformed and clearly political format, so that together with the representatives of the European Commission and member states we would discuss the details of the application of the new methodology", said Joksimović.
She has emphasised that it is particularly important that this forum be a place where the European partners would transparently and accurately express their expectations from Serbia regarding meeting the negotiation benchmarks.
"Our Government will also have the opportunity to present everything that has so far been achieved, as well as its plans", said Joksimović, expressing her belief that Poland will continue to support Serbia's European path.
Ambassador Perl has said that Poland supports the EU enlargement policy in a principled way and that it is a sincere friend and partner to Serbia in the EU accession process.
In that context, he has added that it is important to continue the reform process whose results represent the best argument for the acceleration of negotiations and their credibility.
The interlocutors have also discussed the realisation of the Economic and Investment Plan for the Western Balkans.
They have assessed that it is an important instrument of EU support to the region not only for tackling the effects of the global COVID-19 crisis but also for a faster green and digital transition and more aligned and faster EU accession. In addition, they have talked about further possibilities for improving bilateral cooperation and cooperation with the Visegrad Group, which is one of the most successful models of regional cooperation.
Joksimović and Ambassador Perl have particularly discussed the possibilities of Poland providing expert assistance within Serbia's preparations for the cohesion policy and the Common agricultural policy, given Poland's experience and excellent results in those areas.
Source: Tanjug