Joksimović and Launsky: positive signal needed for the WB
March 25 2021 | Belgrade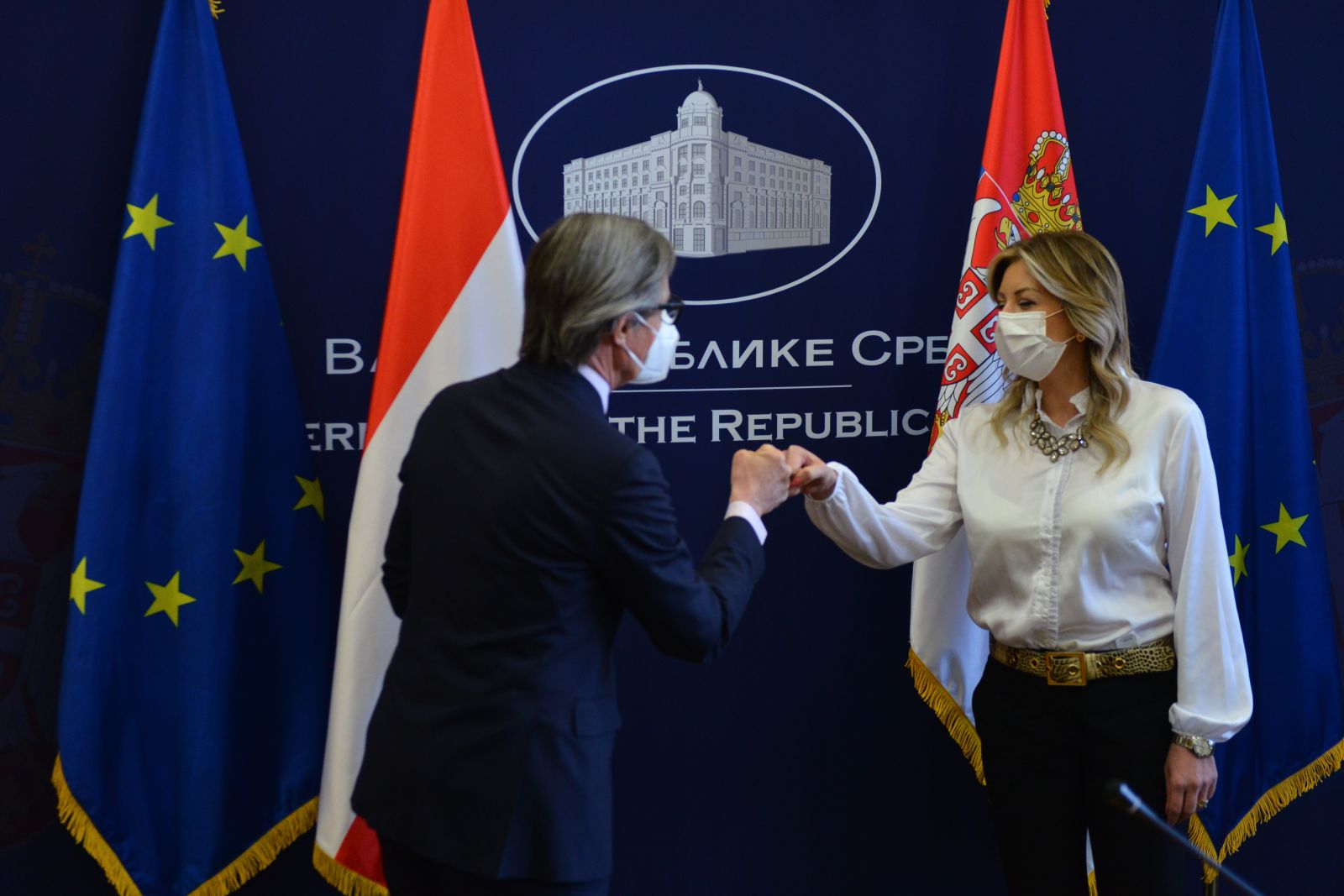 Minister of European Integration Jadranka Joksimović has spoken today with Peter Launsky-Tieffenthal, the Secretary-General and Deputy Minister of the Federal Ministry for Europe, Integration and Foreign Affairs of Austria, about the European integration of Serbia, bilateral relations and current situation in the region.           
Joksimović has informed her interlocutor on the activities that the Government of Serbia is undertaking to continue EU accession negotiations under the new methodology.           
"We have accepted the reformed manner of negotiating with the Union even before all the details were known regarding the way in which the EU enlargement policy will be realised in the future and thus we have demonstrated a high level of trust to our European partners", said Joksimović.           
She has added that Serbia is ready to continue with the reform process, first of all in the area of political criteria and the rule of law in the scope of cluster 1 – Fundamentals, which is particularly important for measuring of overall progress on the path of European integration, while at the same time it actively works on the reforms in the scope of the remaining clusters, in particular cluster 3 – Competitiveness and inclusive growth and cluster 4 – Green agenda and sustainable connectivity.           
Joksimović has thanked Austria for the steadfast support to the European integration of our country and the Western Balkans as a whole, expressing her expectations that the experience and support from this country, as a very important political and economic partner, will help us in the forthcoming period in our further reform and accession process.             
She has especially emphasised that she expects that a new format of Intergovernmental Conferences, as the highest form of strategic political intergovernmental dialogue, will enable the Member States to transparently express their expectations in relation to rule of law, fight against corruption, judiciary reform, fight against organised crime and other main topics.            As she has emphasised, Serbia will also have an opportunity to directly elaborate its reform activities on that occasion and thus present important steps undertaken in the accession process.          
Peter Launsky-Tieffenthal has emphasised that Austria genuinely supports the European integration of Serbia, and, as a member state, advocates consistent implementation of the EU enlargement policy.           
He has expressed his belief that our country will continue with realisation of all necessary reforms, particularly those in the domain of political criteria, as the key reforms in the accession process.            Moreover, they have reviewed the current situation in both countries regarding the COVID-19 pandemic, as well as in the Western Balkans region.           
Minister Joksimović has informed her interlocutor on the health and economic measures that the Government of Serbia has undertaken to protect its population, first of all, on the successful course of immunisation, and solidarity expressed towards neighbouring countries in this regard.           
The interlocutors have agreed that it would have been highly significant for the Covax facility to become available and operational for the Wester Balkans as soon as possible.
Source: Tanjug