J. Joksimović: Green Agenda – topic and task in upcoming decades
March 09 2021 | Zrenjanin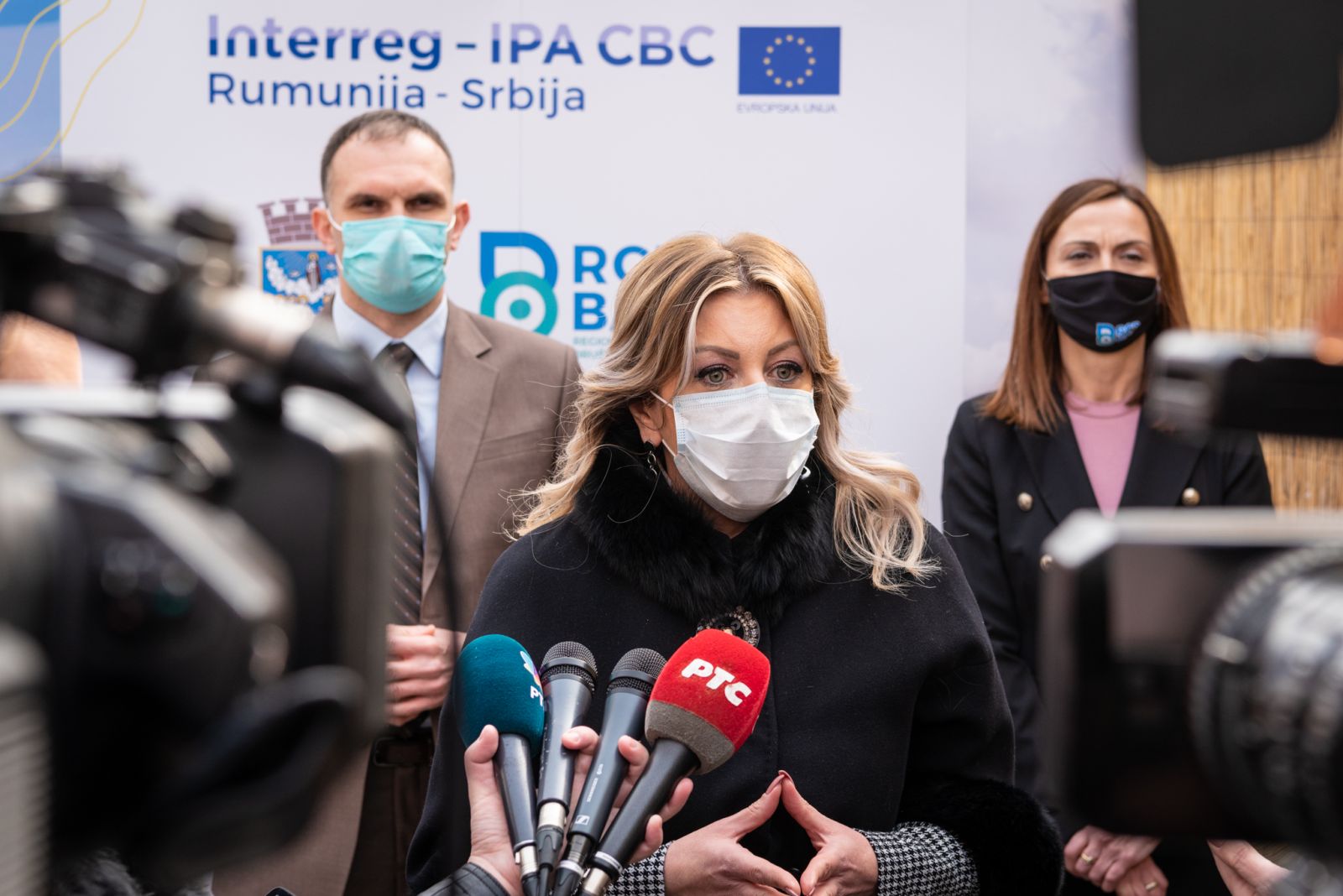 Minister of European Integration Jadranka Joksimović has said that the "Green Agenda" and "energy efficiency" will be the topics of interest in the upcoming decades, adding that the EU will allocate significant funds for projects in these areas, as will Serbia from its state budget.
Today, Joksimović has attended the opening of the Regional Centre for Energy Efficiency in Zrenjanin, which marked the finalisation of the IPA Cross-border Cooperation Romania–Serbia Project 'Smart and Sustainable Energy Consumption', whose total value is EUR 852,000.
Joksimović has said that it is an important project that promotes good neighbourly, inter-border and cross-border cooperation.
The Ministry of European Integration manages the programming of those projects, and the Minister has stressed that she always strives, while working on programming for cross-border cooperation, to incorporate truly new topics and instruments of regional development, which will be felt by every citizen at the local level.
"The new topic of the EU, Serbia and the entire region is the Green Agenda, Green Deal, climate change and energy efficiency", said Joksimović.
She has stressed that Serbia will also allocate funds for the projects through the National Investment Plan 'Serbia 2025', adding that numerous projects are being implemented, including the construction of wastewater treatment plants, primary waste separation, projects in the area of energy efficiency, and everything that falls under "green" programmes and projects.
"This is the "20–20–20" formula the EU has defined – 20% reduction in carbon dioxide emissions, 20% increase in the share of renewable energy resources, and 20% increase in energy efficiency. Precisely this is the goal of this project and this building, through which we are showing that we truly follow all new sources of economic growth in Europe", stressed Joksimović.
She has stated that new sources of economic growth imply that the Green Agenda and transition to new forms of production and consumption will bring new types of jobs and will require new knowledge and access."What is most important in all this is that the citizens who benefit from these projects become aware that this is an opportunity for everyone", noted Joksimović.
She has further said that everyone wants a cleaner environment and better air to breathe and that those are the topics people address, particularly in times of the current pandemic."The pandemic has shown how vulnerable we all are, but also how resilient our society should be, and it has proven to be among the most resilient in Europe", said Joksimović.
The Minister has said that she has already initiated an informal subgroup in the Government, the so-called "Three Es Group" – European integration, energy and ecology, with her colleagues Mihajlović and Vujović, stressing that those are the topics that are important both for Serbia's European integration process and Serbian citizens, which should make Serbia not a loser but a victor in the great change that is happening in Europe and the world."Serbia has timely entered this wave of change", added Joksimović.
She has said that, for years, the Regional Development Centre 'Banat' has been realising excellent projects with partners from Romania, which, according to her, is a country with which Serbia has had one of the best cross-border cooperation programmes for over a decade.
Joksimović has said that, in addition to Romania, Serbia implements cross-border cooperation programmes with Hungary, Bulgaria, Bosnia and Herzegovina, Montenegro, Croatia, and North Macedonia.
She has noted that the Green Agenda has been included in all programmes for the new call for cross-border projects under the new 2021–2027 perspective.
"Let this be only an initial good project that will serve as a catalyst for all other municipalities, both in Banat and across Vojvodina and Serbia, to use the significant amount of money that will be available both from EU funds and from Serbia's budget", said Joksimović.
Source: Tanjug
Photo, video: Aleksandar Blanuša