Joksimović and Davidoiu on cooperation and Serbia's European integration
March 02 2021 | Belgrade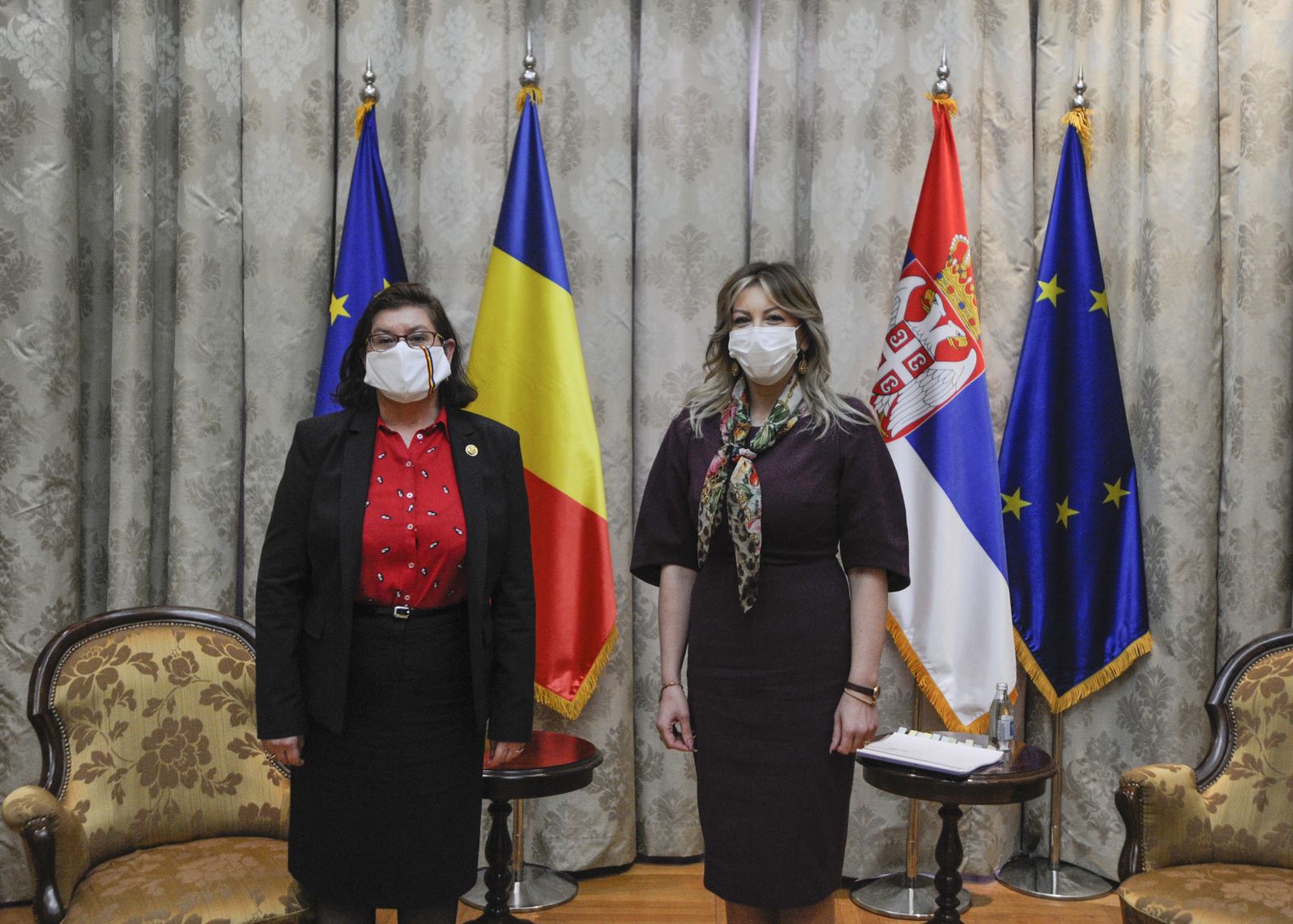 Minister of European Integration Jadranka Joksimović has talked today with Silvia Davidoiu, the newly appointed Romanian Ambassador to Serbia, about Serbia's European integration, bilateral cooperation and relations in the region, as stated in the press release of the Ministry of European Integration.
Minister Joksimović has wished Ambassador Davidoiu success in her diplomatic mission to Belgrade, expressing belief that the cooperation between the two countries will continue to be based on principles of mutual respect and good neighbourly cooperation.
"Romania, as an EU member state, has so far fully respected the territorial integrity and sovereignty of Serbia, providing a sincere and concrete support to our country in the EU accession process, and we are very grateful for that", said Joksimović.
She has informed the Romanian Ambassador about current reforms that Serbia is implementing with the aim of accelerating its European path.
According to the MEI press release, Joksimović has particularly emphasised vital steps the Government took at the beginning of its term, such as the initiative for constitutional reform, implementation of measures from the media strategy, and especially the fight against corruption and organised crime.
"I expect that the EU member states will recognise everything we have achieved in this regard and that the intergovernmental conference between Serbia and the EU will be organised by the end of the Portuguese EU Council presidency, as a continuation of the negotiation process", said Joksimović.
The interlocutors have particularly discussed the new methodology for implementing the EU enlargement policy, agreeing that it is important that, waiting for a detailed roadmap of negotiations, Serbia has continued to align its policies with EU policies, particularly regarding the Green Agenda, digitisation and sustainable economic growth.
Davidoiu has said that Romania will continue to support Serbia on its path towards EU membership, making further efforts to connect the two neighbours through better transport infrastructure and an even more successful economic cooperation.
"Romania is an active advocate of the policy of EU enlargement to the Western Balkans, and the development of good neighbourly relations between our two countries, as well as in the entire region, is one of the best ways to realise that policy as soon as possible", said Silvia Davidoiu.
Joksimović and Davidoiu have also discussed the continuation of the realisation of joint projects within EU cross-border and transnational cooperation programmes for the budget period 2021–2027, which contribute to the improvement of the quality of citizens' life in border areas of Serbia and Romania.
Since 2007, within two financial perspectives, around EUR 150 million has been allocated in this way alone for projects at the local level, which have contributed to achieving better environmental protection, cultural and tourism development, and – what is particularly important in times of the current pandemic – to a more efficient response in emergency situations and improvement of health protection.
Source: Tanjug