J. Joksimović and I. Korčok: Slovakia's donation for fight against COVID-19 – gesture of friendship
February 08 2021 | Belgrade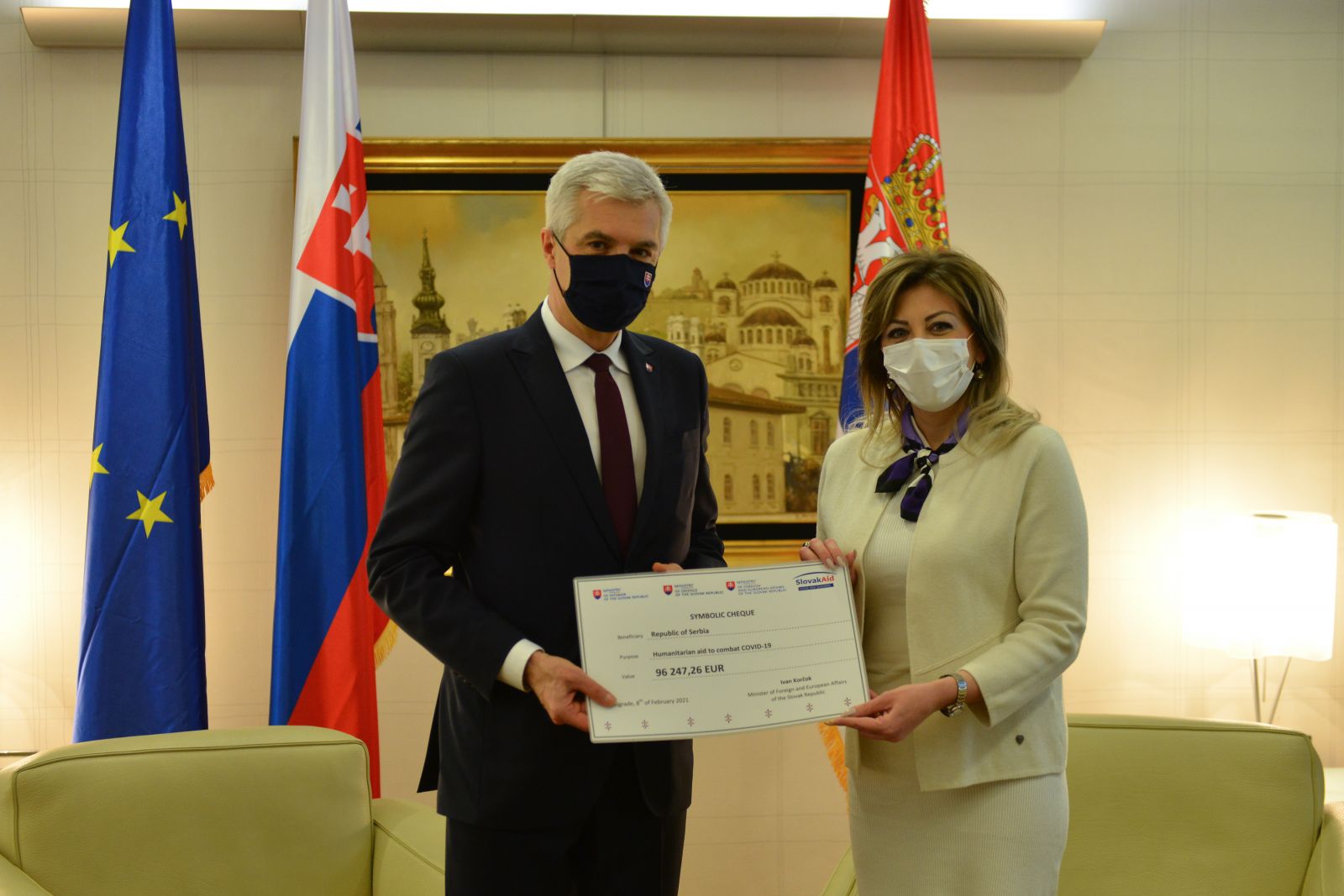 Slovakia's donation worth EUR 97,000, which contains PCR tests, protective suits for medical professionals, hygienic packages and electric generators, has arrived today at 'Nikola Tesla' Airport in Belgrade.
Slovak Minister of Foreign and European Affairs Ivan Korčok has presented Minister of European Integration Jadranka Joksimović with this donation that is intended for the University Clinical Centre of Serbia.
On the occasion, Minister Korčok has stressed that the tests donated to Serbia have been produced in Slovakia using a technology which, owing to its extreme sensitivity, can also detect new mutated strains of the virus.
He has expressed his belief that, owing to this specificity, these tests will contribute to the fight against the epidemic.
Joksimović and Korčok have had a tête-à-tête meeting, where Joksimović thanked the Slovak Minister for the significant donation, noting that partnership and mutual support among European states are important because the coronavirus knows no borders, and that only together can we respond to the challenges the current pandemic has placed before us.
"Serbia is one of the leading countries in immunisation in the world, and this form of assistance, which also leads towards reaching a goal we all share – virus control and return to normal ways of life, is extremely important", said Joksimović.
Korčok has said that Slovakia, as a political and economic partner to Serbia, where the numerous Slovak national minority creates a special bridge of cooperation, wanted to provide assistance in this way as well, as a gesture of great friendship and solidarity.
"One of the consequences of the COVID-19 pandemic has been the creation of unfavourable conditions for the EU enlargement policy. Nevertheless, I am convinced that, this year, Serbia will continue the implementation of reforms crucial for the European integration process, as well as EU accession negotiations", said Korčok.
He has added that the Slovak Government will continue to provide full support to Serbia in this endeavour, as reported from the Ministry of European Integration.
Joksimović has informed Korčok that, waiting to receive details on the new methodology and the precise way of its application to Serbia as a country well-advanced in the EU accession process, Serbia is already working on the new cluster approach to coordinating internal reforms, fully adhering to the goals of EU common policies.
"We are particularly committed to accelerating reforms in the rule of law cluster, as we are aware that they are the key parameter for measuring progress in negotiations. Therefore, we find it very important to have the political Intergovernmental Conference organised as soon as possible, where we would establish all new elements of the negotiation process together with our European partners, and Slovakia's support in organising this format soon is of the utmost importance", stressed Joksimović.
She has added that Serbia highly appreciates not only the fact that Slovakia is a sincere and consistent advocate of the EU enlargement policy, but also the fact that it provides a principled support to Belgrade's commitment to the normalisation of relations with Pristina and reaching a solution acceptable to everyone.
Source: Tanjug