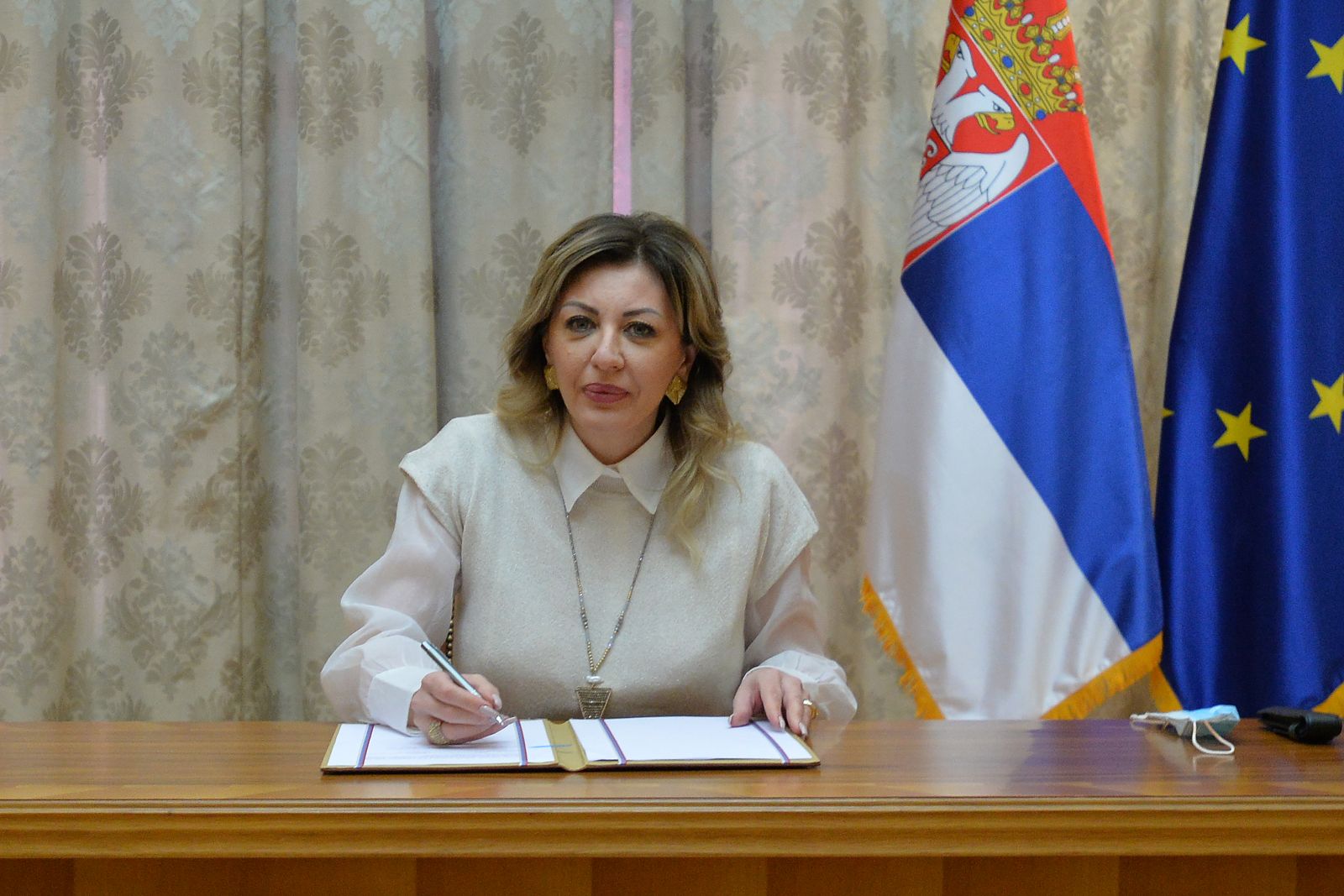 Minister of European Integration and International Development Assistance Coordinator Jadranka Joksimović has signed today the amendments to agreements through which the United States of America have allocated USD 22 million of development assistance to Serbia.
As reported by the Ministry of European Integration, Joksimović has signed Amendment number 14 to the Assistance Agreement between Serbia and the US for better functioning of the public administration and Amendment number 16 to the Assistance Agreement between Serbia and the US for a more competitive market economy, in the total value of USD 22 million.
Joksimović has stated that this assistance will be realised in the upcoming period and that it is another proof of the continuous improvement of political relations and development partnership between Serbia and the United States of America, which has intensified its development cooperation with Serbia during the global economic crisis caused by the pandemic. 
She has stressed that the US are one of most important development partners to Serbia, and the United States Agency for International Development (USAID) implements projects in cooperation with the institutions of the Government of Serbia.
The Minister has added that the US are also one of the key partners to the non-governmental sector, which through the USAID realises important projects, primarily in the area of economy, in the sector of micro, small and medium-sized enterprises, such as providing support to women entrepreneurship to allow access to new, alternative sources of investment, as well as strengthening the fruit and vegetable processing industry and increasing the sale of domestic products on the domestic and international market. 
In addition to supporting the Serbian economy, the US will direct a significant amount of funds to the realisation of projects related to supporting judicial reform, increasing the efficiency of the judiciary, improving the media-related legislative framework, and strengthening the capacities of relevant bodies for the implementation of media reforms.
Joksimović has reiterated gratitude to the United States of America for their readiness to provide comprehensive financial assistance to the Republic of Serbia in the circumstances when the whole world is facing additional uncertainties brought on by the pandemic.
Financial support and future cooperation with the United States of America as a development partner will be crucial for the Republic of Serbia on its path towards achieving the strategic goal of EU membership, as concluded in the MEI press release.
Source: Tanjug