Joksimović: We are not a kindergarten in European integration but a serious country
December 17 2020 | Belgrade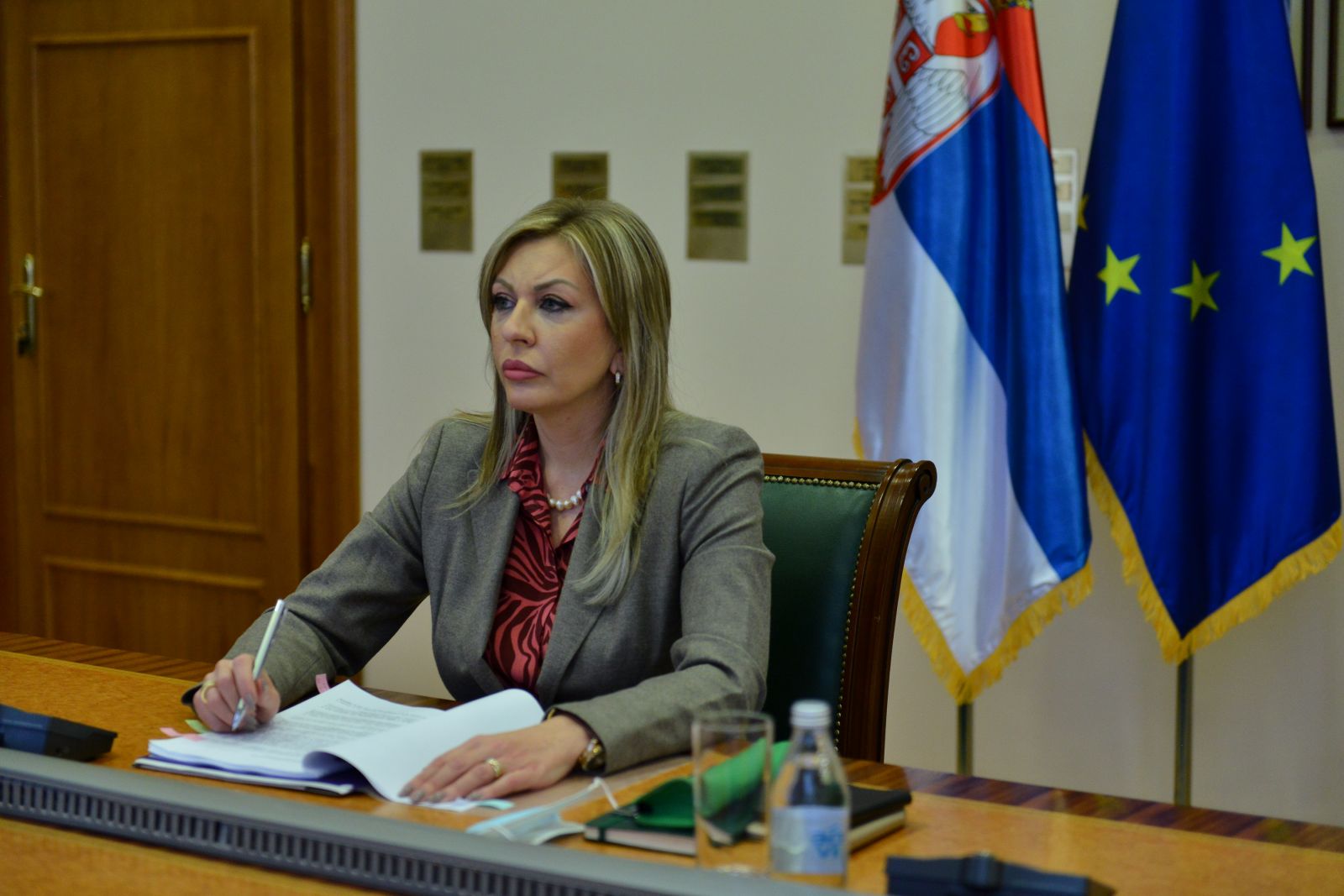 Minister of European Integration Jadranka Joksimović has stated today that those who think that Serbia will only be commended for accepting the new EU accession methodology and that things would then remain the same are mistaken.
Serbia is not falling behind in EU integration, and not only has it accepted the new methodology, but it has also been proactive in that regard with the EU, noted Minister Joksimović, responding to the criticism made by Nataša Dragojlović, president of the National Convention on the EU, during the introductory part of the plenary session of the said non-governmental organisation. "If anyone thought that Serbia would be up against the wall having accepted the new methodology, and that everything would remain the same afterwards – well, it won't, because Serbia is not a kindergarten in the European integration process but a serious country", stressed Joksimović.
She has emphasised that Serbia has proven it again this year, conveying that not only has Serbia not distanced itself from the EU but that it has essentially come closer.
"Because we have demonstrated expedience, efficiency, economic strength, solidarity and care for our citizens, and provided the level of medical care that not even some EU citizens have", underlined Joksimović.
She has said that she is glad that, in the introduction, ambassadors Sem Fabrizi and Thomas Schieb have said things that help resolve a dilemma which Dragojlović introduced in her almost political speech, adding that it is obvious that not everyone thinks the same.
"We have seen that Schieb and Fabrizi's assessments are much more positive than you have presented and conceived. It is a good thing that you are stricter than the EC findings and the ambassadors of the EU and Germany. That is good, as it shows certain stringency of the National Convention which is almost political and which significantly differs from what the civil society and civil society organisations should have as a balanced relation", conveyed the Minister to Dragojlović.
Joksimović has added that it is a consistent political, and only seemingly civil, approach regarding the political criteria.
However, for democracy, it is important that every voice is heard, said Joksimović.
She has pointed out that some statements are, nonetheless, false and that what Dragojlović said about Serbia having opened 16 out of 35 chapters in 18 years is untrue, stressing that Serbia has opened 18 out of 35 chapters since January 2014, when the negotiations officially began, and that the first chapters were opened in December 2015.
As regards the dilemma that has been dragging for months about whether Serbia formally accepted the new EU methodology or not, Joksimović has emphasised that Serbia undoubtedly accepted it.
She has stressed that, according to all international conventions and practices, every statement made by the president of the state, who represents the country abroad as well, is binding for the state.
"As the line minister, I have sent multiple letters to all my colleagues responsible for EU affairs in member states, as well as to Olivér Várhelyi, in which I clearly presented Serbia's unequivocal and undisputable position regarding the acceptance of the new methodology, which has not be defined and owing to which we are still in a situation where we talk about chapters."
She has explained that, following the new terminology, chapters should no longer be mentioned, stating that she would like if the civil society showed greater understanding of the new methodology and the new terminology that goes with it.
Joksimović has said that chapters have become a secondary instrument for the essence of the negotiation process, adding that what is now crucial are the EU sector policies divided into six clusters, as follows: rule of law; internal market; competitiveness, economic recovery and social inclusion; Green Agenda and digitisation; agriculture and cohesion policy; and external relations. According to her, intertwining between the Serbian policy and all those EU policies will be a key criterion for progress in the accession process.
Source: Tanjug