J. Joksimović and Gjelstad: Development cooperation on rule of law and Green Agenda
December 03 2020 | Belgrade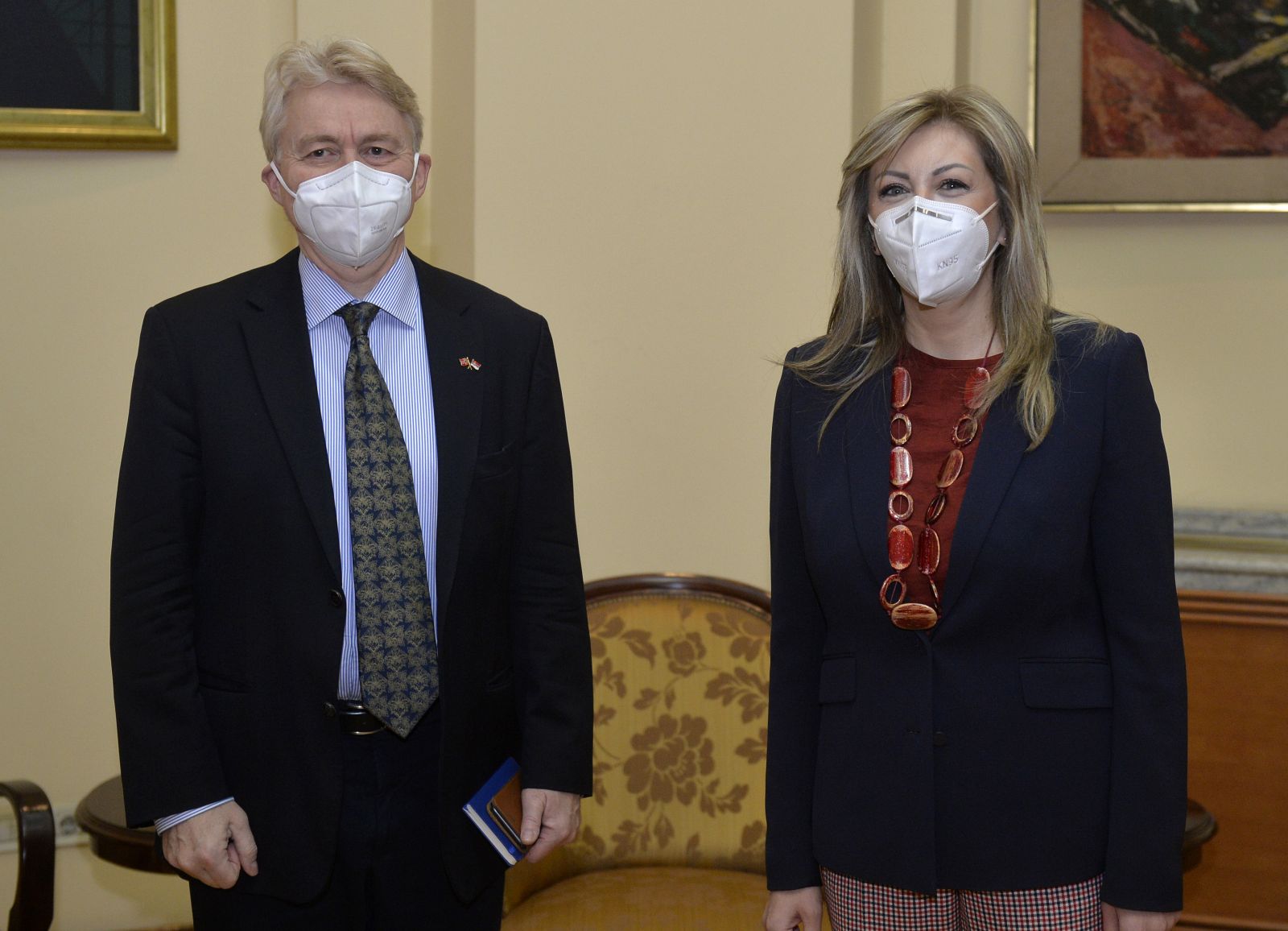 Minister of European Integration Jadranka Joksimović has spoken today with Norwegian Ambassador to Serbia Jørn Erling Gjelstad about Serbia's European path and bilateral cooperation that is based on sincerely friendly relations.
On the occasion, Joksimović has expressed gratitude for Norway's active support to the socio-economic progress of Serbia and faster implementation of reforms in the European integration process.
"Our partnership with Norway is also reflected in a very significant development assistance we have been receiving for years. We are particularly grateful for Norway's assistance and solidarity with our citizens at the beginning of the crisis caused by the COVID-19 pandemic, when Serbia received significant funds for strengthening its healthcare capacities in order to be able to respond to the crisis caused by the pandemic", stated Joksimović.
Joksimović and Gjelstad have also discussed plans of the new Serbian Government which include the acceleration of the reform process in all areas of social and economic life, particularly the rule of law and achieving the economic standards of EU member states.
In that sense, Minister Joksimović has particularly emphasised the importance of the Economic and Investment Plan for the Western Balkans that will allow the reforms to be followed by significant development assistance of the EU.
Gjelstad has conveyed that Norway, despite not being an EU member state, will continue to support Serbia on its path to full-fledged EU membership, because, according to him, it is important for all Serbian citizens and because it is the best way towards prosperity and stability, as stated in the MEI press release.
The Ambassador has stressed that the Norwegian Government particularly appreciates the fact that Serbian economy has demonstrated a high level of resilience and stability in these challenging times for the entire world, which is in the best interest of not only the Serbian citizens, but also the entire Western Balkans and the European Union itself.
Joksimović and Gjelstad have agreed in their assessment that the development assistance Serbia receives from Norway has greatly contributed to Serbia's progress, which is based on the model applied in developed countries, while they have also discussed plans for future projects to be realised.
The interlocutors have particularly discussed how Norway is interested in supporting development projects within the Green Agenda, given that Norway has ample experience in this area.
Source: Tanjug