J. Joksimović: New Government actively initiated implementation of strategic plans
November 27 2020 | Belgrade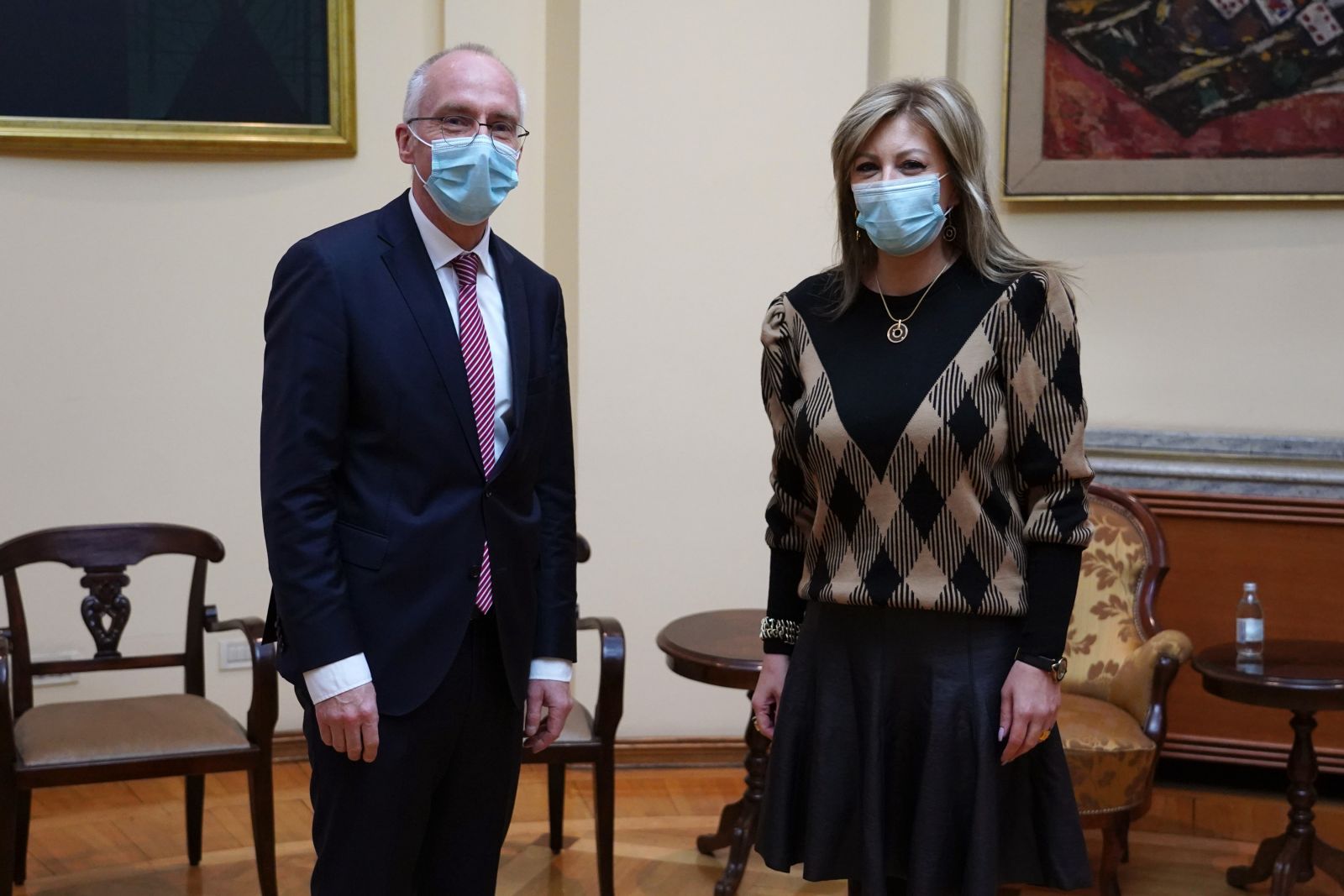 Minister of European Integration Jadranka Joksimović has met today with the German Ambassador to Serbia, H.E. Thomas Schieb. They have discussed the activities carried out during the current German presidency of the EU and cooperation of the two countries regarding Serbia's European integration.
They have particularly discussed bilateral cooperation regarding the realisation of the development assistance that Germany, as one of the largest bilateral donors, has been providing to Serbia.
Joksimović has thanked Germany for its support to Serbia's European path and significant contribution to the economic development of Serbia, stressing that the new Government will remain committed to accelerating the reforms necessary not only for Serbia's EU membership, but also, above all, for the better quality of citizens' life.
"The new Government has actively initiated the implementation of strategic plans in the area of the rule of law, sustainable economic growth and socio-economic fair transition to green economy and digitisation, as the foundations of the new economic policy of growth and stronger regional connectivity", said Joksimović.
The Minister expects that holding the Intergovernmental Conference by the end of the German presidency would create an opportunity for Serbia to discuss with European partners the results achieved thus far in the accession process and plans to intensify the negotiations in the following year, in line with the new cluster methodology which Serbia accepted at the highest political level.
Schieb has congratulated Joksimović on her re-election to such a responsible position, affirming Germany's support to Serbia's strategic commitment towards EU membership.
"It is now important to improve the implementation of the necessary reforms agreed between the EU and Serbia, primarily in the area of the rule of law, media freedom, fight against corruption, and judiciary", said Schieb, reaffirming Germany's and Europe's solidarity in curbing the effects of the crisis caused by COVID-19.
Schieb and Joksimović have agreed in the assessment that the continuation of internal reforms, dialogue with Pristina and the implementation of the Economic and Investment Plan for the Western Balkans are essential for an even stronger progress on the European path.
Source: Tanjug