J. Joksimović and Perl: Bilateral relations have also improved through cooperation with Visegrad Group
November 20 2020 | Belgrade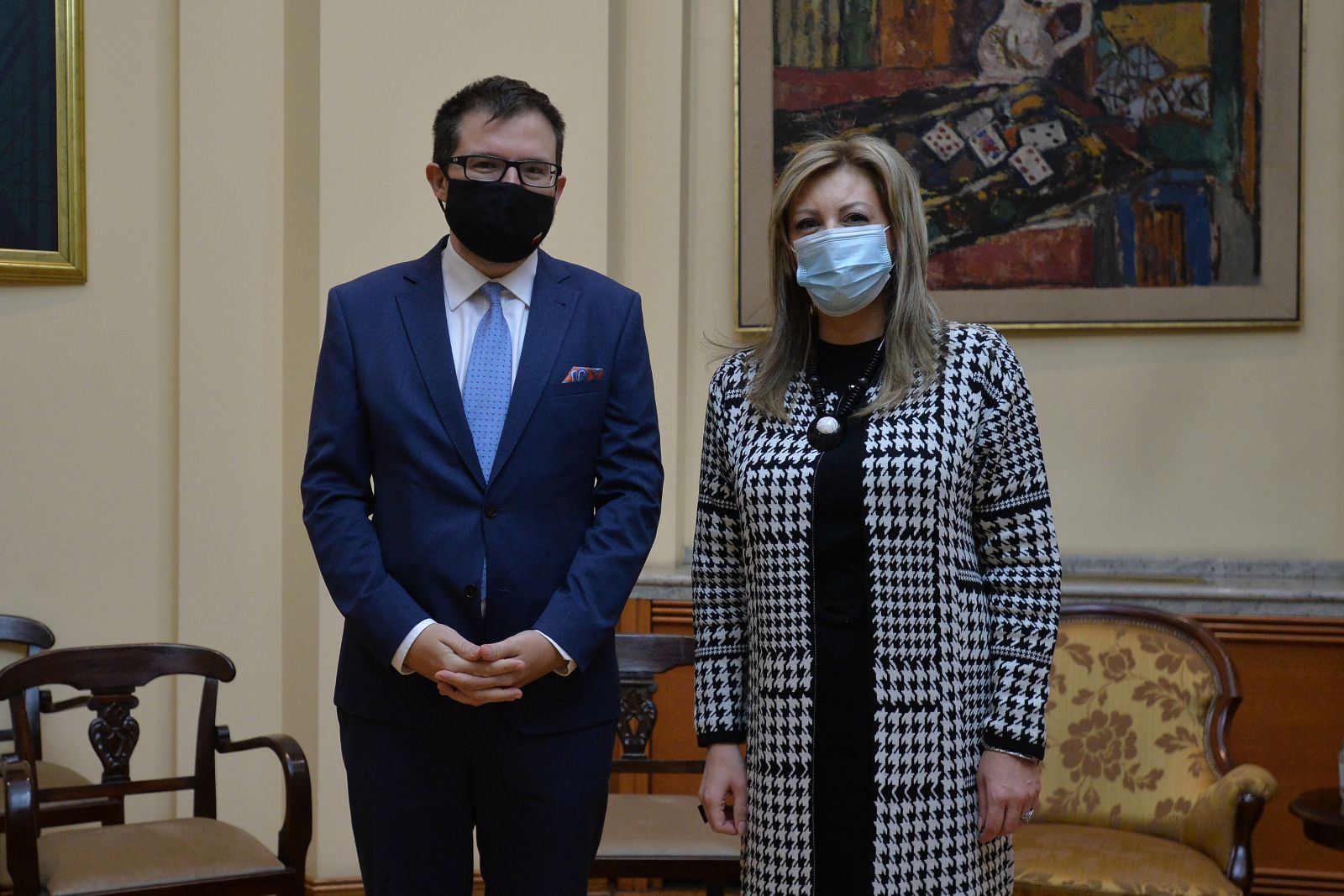 Minister of European Integration Jadranka Joksimović has spoken today with Polish Ambassador Rafal Perl. They have agreed that the bilateral relations between the two countries have also improved through cooperation with the Visegrad Group.
Joksimović has wished the newly appointed Polish Ambassador to Serbia a successful term of office, expressing her belief that, through future cooperation, they will jointly contribute to strengthening the political and economic relations between the two countries, and that Poland will continue to support Serbia's European integration.
At the meeting, Joksimović has reiterated that Serbia is committed to membership in the European Union, which is also clearly reflected in strategic goals that the new Government has set.
"We are ready to work even harder on reforms in key areas, because those reforms are the precondition for faster socio-economic progress of Serbia", stressed Joksimović.
The interlocutors have particularly discussed the Economic and Investment Plan for the Western Balkans, which, as they have agreed, represents a significant form of EU support to the region, which should encourage a long-term economic recovery, support the green and digital transition, strengthen connectivity in the region, and contribute to faster EU accession, as stated in the MEI press release.
"For us, it is essential that these funds support connectivity projects that lead to sustainable economic growth, employment and better standard of all our citizens", said Joksimović.
She has expressed her expectation that the Intergovernmental Conference will be held by the end of the year, so that Serbia could present its reform results achieved thus far and strategic plans in the further process of EU accession, and so that the European Commission and member states would offer a more detailed insight into the application of the new methodology Serbia accepted.
Ambassador Perl has said that Poland supports Serbia's European path and efforts it is making to accelerate the internal reform process, as well as the process that contributes to the development and stabilisation of the entire Western Balkans.
He has emphasised that there are great possibilities for further strengthening of bilateral cooperation, including the relation with the Visegrad Group as an important regional initiative, adding that this task will be the focus of his term of office.
Joksimović has particularly underlined that one of the priorities in the European integration process is the strengthening of bilateral political and economic cooperation with EU member states, and cooperation in the implementation of development assistance Serbia receives from those countries.
"Serbia will continue to be a credible partner to Poland in the development of mutual political and economic relations, while Poland's remarkable experiences in utilising funds from the cohesion fund and structural EU funds are particularly valuable to us, because they significantly and sustainably improved the economy of that country", said Joksimović.
Source: Tanjug