Joksimović and Edtstadler: Stable European Western Balkans in EU's interest
November 18 2020 | Belgrade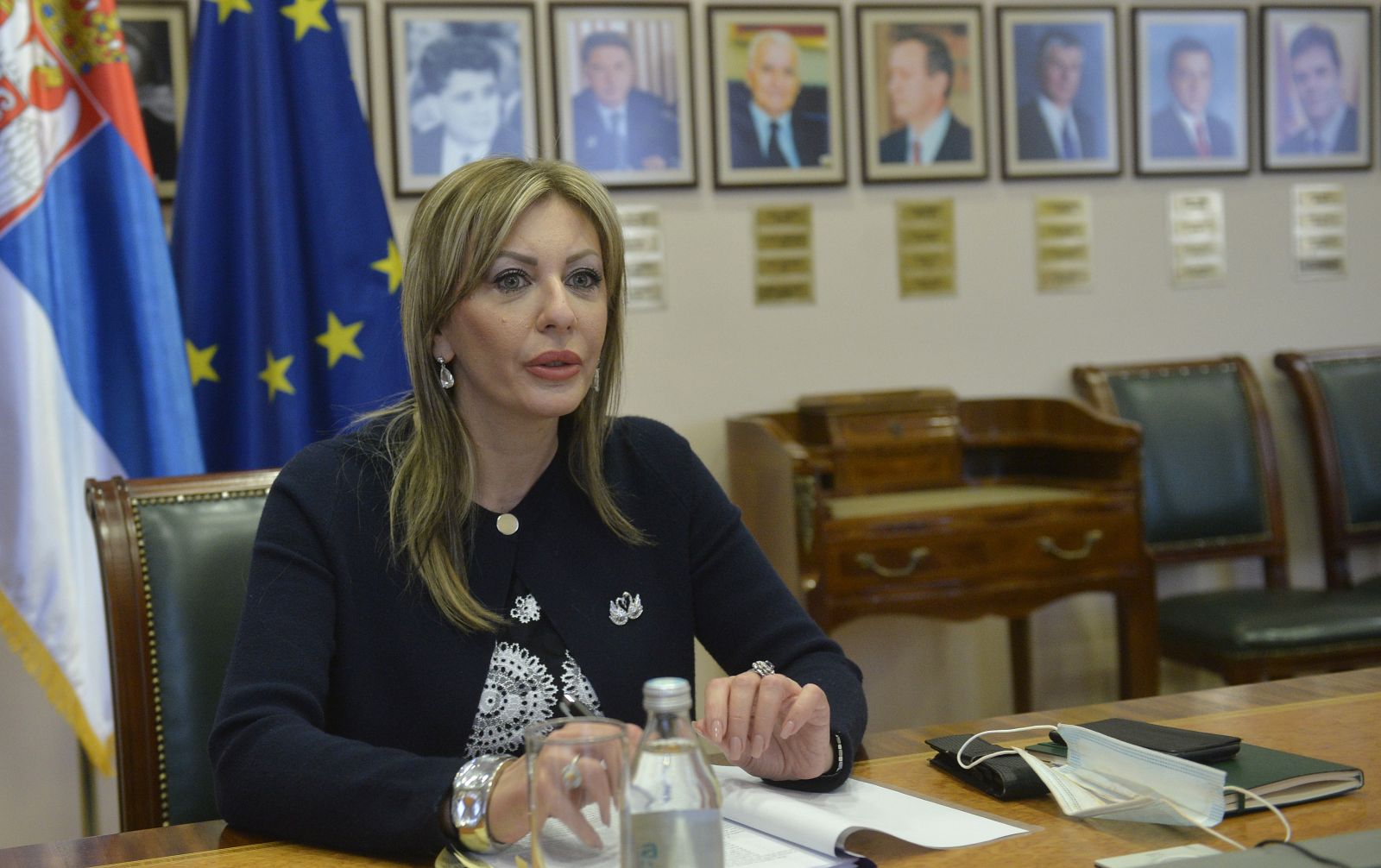 Minister of European Integration Jadranka Joksimović and Austrian Federal Minister for the EU and Constitution Karoline Edtstadler have agreed today that a stable European Western Balkans is in the EU's interest, as reported from the Minister's cabinet.
During a video meeting, Joksimović and Edtstadler have agreed that, although both countries are facing difficult circumstances as a result of the COVID-19 pandemic and Austria is still recovering from the recent terrorist attacks in Vienna, a high level of solidarity that the governments and citizens of the two countries mutually demonstrate is the best example of a sincere friendship based on European values.
Speaking about the continuation of EU membership negotiations, Minister Joksimović has stressed that she expects that the Intergovernmental Conference, as the best format, will be held by the end of the year, in line with the new methodology.
"Within it, at the political level, the previous progress of Serbia should be analysed, as well as the manner of negotiations to be presented by the European Commission, along with Serbia informing the member states about the reform plans of the new Government, primarily in the area of the rule of law and sustainable economic development", said Joksimović.
Edtstadler has expressed a clear position of the Austrian Government that supports the integration of the Western Balkans into the European Union, adding that Austria strongly advocates the implementation of a credible EU enlargement policy, progress of the entire region towards EU membership, including Serbia which, even in arduous times, has shown that it can efficiently and sustainably contribute to a joint EU response to crises.
According to her, this has been evident throughout the pandemic, but also during the migrant crisis, which Austria highly appreciates.
Joksimović has expressed hope that, despite existing disagreements among EU members, they will find a way to adopt the budget and the 'Next Generation' instrument for recovery, which include the Economic and Investment Package for the WB, because it is the only way the European continent will manage to overcome the economic effects of the pandemic.
The interlocutors have also discussed the key aspects of successful bilateral cooperation, both at the political and economic level, as well as the results of the Austrian development assistance to Serbia which is implemented through the Austrian Development Agency and of the projects implemented by Austrian partners, which are financed from EU funds and by international financial institutions.
Source: Tanjug