Competition for the best student papers on the EU opened
June 15 2020 | Belgrade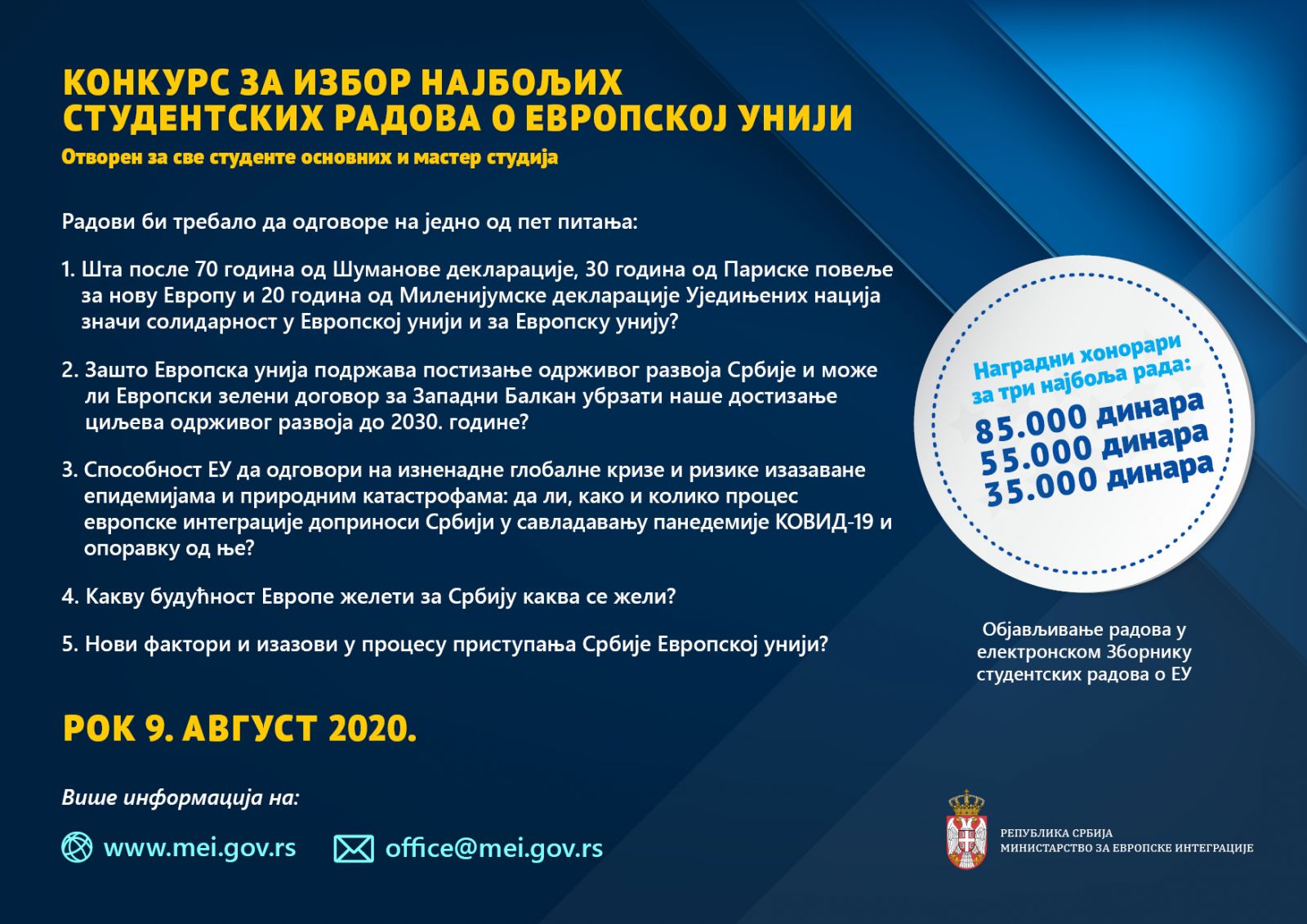 The Ministry of European Integration of the Republic of Serbia is announcing a competition for the best individual student papers on Serbia's European integration and EU accession process.
The aim of this competition is to directly involve young academic citizens in an open argumentative debate on important aspects of the accession process and membership of the Republic of Serbia in the European Union.
The papers should answer one of the following five questions:
1.    What does solidarity mean in and for the European Union, 70 years after the Schuman Declaration, 30 years after the Charter of Paris for a New Europe and 20 years after the United Nations Millennium Declaration?
2.    Why does the European Union support Serbia's achievement of sustainable development and can the European Green Deal for the Western Balkans accelerate Serbia's achievement of sustainable development goals by 2030?
3.    The EU's ability to respond to sudden global crises and risks caused by epidemics and natural disasters: Does the European integration process contribute to Serbia's tackling of the COVID-19 pandemic and the related recovery? If yes – How and to what extent?
4.    What future of Europe should we desire for the Serbia we aspire to?
5.    What are the new factors and challenges in Serbia's EU accession process?
The committee of experts composed of University of Belgrade professors will assess the quality of submitted papers, while the authors of the three top-ranked papers will receive prizes worth RSD 85,000, RSD 55,000 and RSD 35,000, respectively. In addition to the three top-ranked papers, the Ministry will publish other papers that meet the competition criteria in its electronic collection.
The competition is open for students enrolled in basic academic and master study programmes at all universities in the Republic of Serbia.
The deadline for the submission of papers is 9 August 2020.