J. Joksimović: Opening borders with Hungary – important for citizens and economy
May 25 2020 | Röszke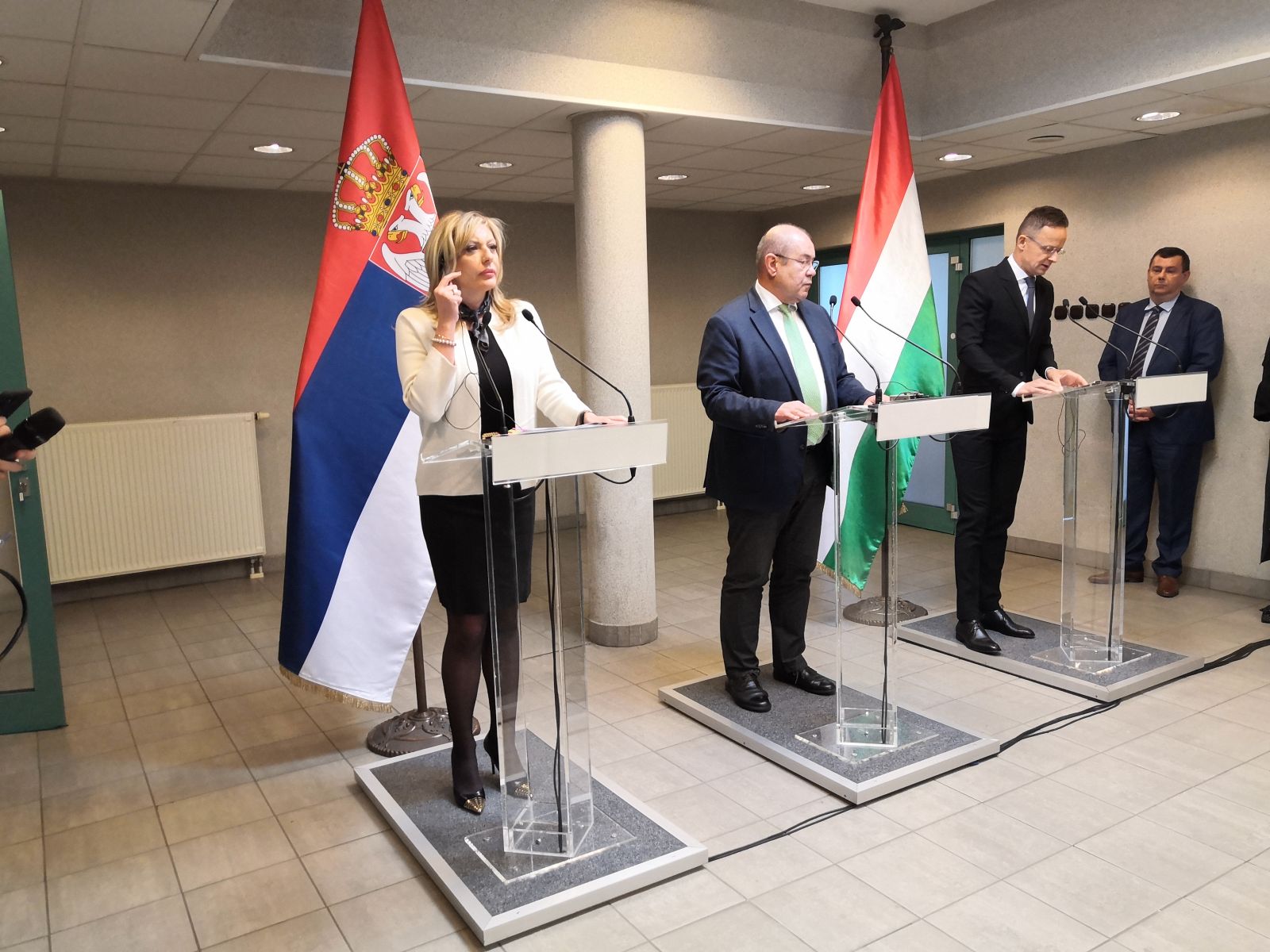 Minister of European Integration Jadranka Joksimović has said today that the opening of the Hungarian border for Serbian citizens, without mandatory quarantine and under the same conditions as before the pandemic, is an important event, which is primarily significant for people who have to cross the border on a daily basis either for private or for business reasons.
"This shows that our cooperation is not only declarative, on paper or in kind words, but that we are truly practicing good neighbourly relations, real friendship and partner relations," stressed Joksimović at a joint press conference she held with her Hungarian colleague Péter Szijjártó, with whom she met at the Horgoš – Röszke border crossing.
Recalling that on Friday, 22 May, the Serbian Government adopted a decision allowing Hungarian citizens to enter Serbia without any mandatory measures, Joksimović has emphasised that Hungary responded in two days, introducing the same measures in the best spirit of reciprocity, i.e. reinstating the pre-pandemic measures, with the help of István Pásztor acting as the 'bridge of communication'.
"This shows that we are continuously improving our bilateral cooperation," said Joksimović.She has stressed that these are the best times in the history of diplomatic relations between Serbia and Hungary.
Joksimović has said that Hungarian Prime Minister Viktor Orbán and Serbian President Aleksandar Vučić have contributed the most to it, jokingly adding that Minister Szijjártó, President of the Alliance of Vojvodina Hungarians István Pásztor and she herself have also had a small part in it.
According to her, this is an excellent example and the first time that an EU member has introduced such lean measures towards a neighbouring non-EU country during the pandemic."This is proof that our EU path and Hungary's support on that path are right," said Joksimović.
Joksimović has stated that today's event opens another important dimension that everyone will deal with – economic recovery, which awaits all countries in Europe, be they EU member states or not."This means a lot in the economic sense. We have major Hungarian companies operating in Serbia, and I think that some Serbian companies will in the future be interested in investing in Hungary," stated Joksimović.
The Minister has emphasised that the two countries will jointly deal with mitigating the negative effects on both economies, adding that this was also the topic of the conversation President Vučić and Prime Minister Orbán had several days before."If we can cooperate and act jointly, that can have an effect on reducing the damage our economies have suffered," said Joksimović.
She has particularly thanked Szijjártó on his open and continuous support to Serbia on its EU path, reiterating that the opening of new chapters is expected by the end of June."The situation and the moment in the EU are not really favourable for enlargement, but it is that much more important for us to have a consistent friend, ally and partner on that path, and Hungary is precisely that," stated Joksimović.
Source: Tanjug