J. Joksimović: Serbia has successfully responded to the crisis owing to implemented reforms
May 03 2020 | Belgrade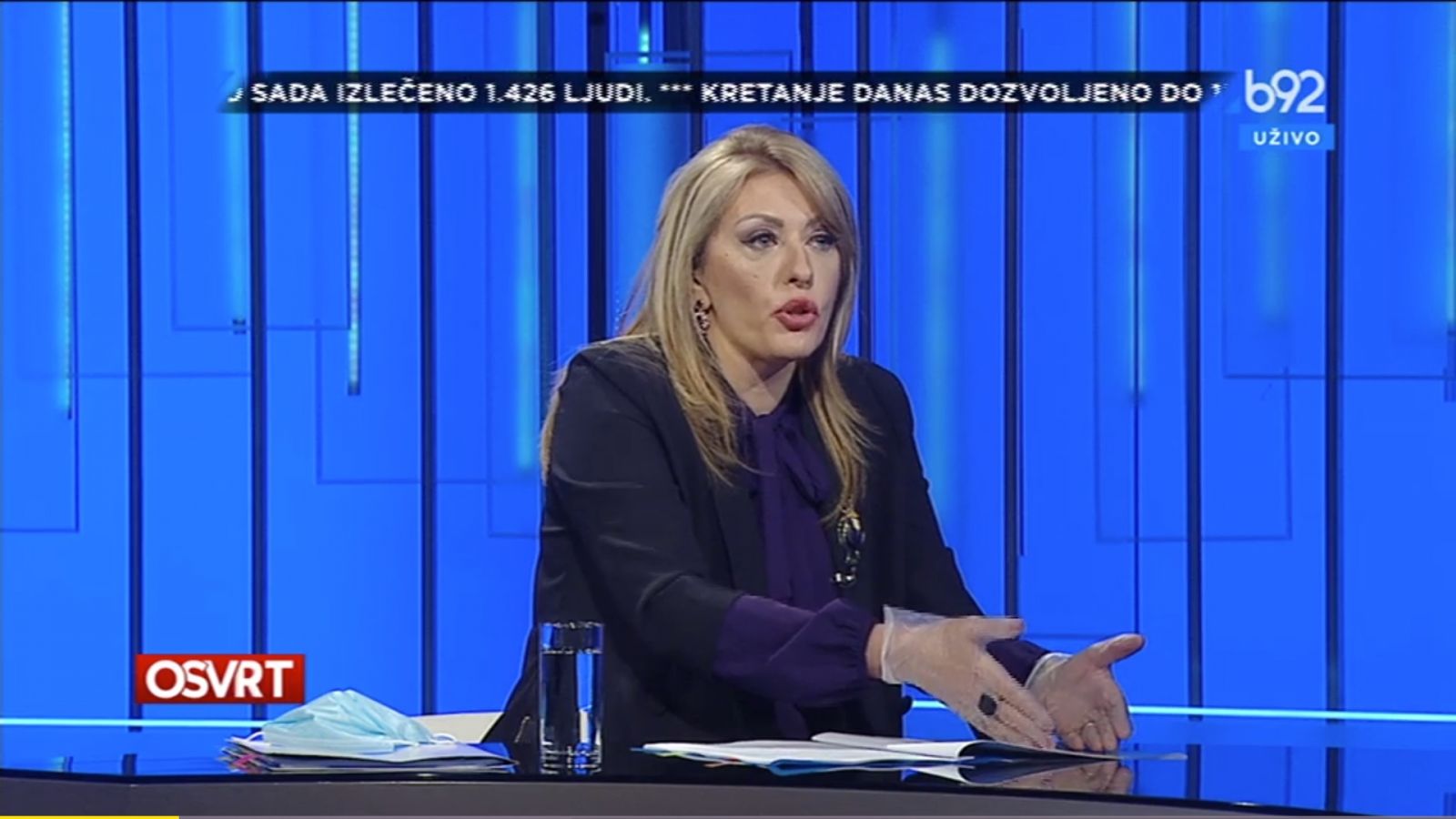 Recalling that the post-Second World War crisis gave birth to the EU, Minister of European Integration Jadranka Joksimović has said that she believes the crisis caused by the coronavirus pandemic will transform, as well as strengthen the Union.
Commenting on the allegations that European solidarity was absent during the coronavirus pandemic, Joksimović has told TV B92 that, following the outbreak of the pandemic, the medical equipment market started being rampaged. She has added that the EU also adopted a decision that caused a storm of dissatisfaction, which implied not prohibition but authorisation from the state from which the equipment would be bought, making procurements more difficult in practice.
"For years, we have been taught to first help ourselves so that we could help the others. International relations are a stage where interests interfere with friendships at times. Serbia has successfully responded to the crisis not because the EU, China or others helped us, but because we have worked for years through the process of European integration, implemented reforms and invested into the healthcare system largely using EU funds," stated the Minister.
Asked to comment on the fact that assistance first came from China and Russia, and then from the EU, Joksimović has said that if it is the question of who helped first, it becomes clear that it was actually the EU who provided assistance first, because, according to her, after the state of emergency was declared in Serbia on 15 March, already on 16 March, she consulted President Vučić and wrote to Commissioner Várhelyi asking for the reallocation of funds, which was granted.
Joksimović has recalled that, on 20 March, she and Head of the EU Delegation Sem Fabrizi signed the first EUR 7.5 million out of 94 million that were reallocated, adding that the invaluable assistance in the form of equipment and experts came from China on 21 March, while Russian assistance arrived on 3 April.
She has added that Serbia also received significant assistance from Norway, the USA, and the UAE."I want to neither reduce nor overstate the importance of any assistance, they are all welcome," emphasised the Minister.
She has recalled that the reallocated EU funds have been so far used to buy 75 ventilators. However, they have not yet arrived because certain non-EU countries have export restrictions, but they will arrive in the next ten days.
According to her, Serbia has bought 800,000 masks that have been delivered, 100 triage containers installed across Serbia, 100 monitors, stationary oxygen concentrators, tests etc.
Joksimović has added that, using Norway's assistance, Serbia has bought 45 ventilators, some of which have already arrived.
"But, the funds that we will have for the economic recovery, most of them will come from the EU", emphasised the Minister, thanking everyone for their assistance and stating that Serbia has also sent assistance to Italy, for which she is grateful to President Vučić who launched this initiative.
She has told everyone not to play geo-political games, emphasising the fact that this is a global pandemic and that China helped other countries as well, including the USA.
"Now is not the time for geo-political games of power, but for a joint response. Every assistance is welcome; we also received assistance from Hungary, which is an EU country, not to mention how much from the EU funds has been invested in the healthcare system," emphasised Joksimović.
Asked whether Serbia's European integration process will be decelerated due to cooperation with the "East", Joksimović has said that it is not true, and that Serbia has a different problem in that process.
"When I hear some stories, I wonder if they pretend to be naïve or they really do not see that the world is experiencing a shift in relations and interests. Our interest is to show that we are not interested in political power games during the pandemic, but in everyone helping everyone as much as they can. Serbia should be responsible because we are an important country in the region, certainly one of the most important, and we have good relations with EU countries, the USA, China and Russia," said the Minister.
She has added that Serbia currently has a reasonably good foreign-policy position, which does not mean that it will not change.
Asked how much the coronavirus is distancing Serbia from EU membership, Joksimović has said that if Serbia continues to implement reforms in a sustainable manner, the coronavirus will actually approximate Serbia to the EU.
"Precisely owing to the realisation that crises will emerge and that we will have to resolve them together", stressed the Minister.Thanking everyone who helped during the pandemic, Joksimović has said that, overall, Serbia is functioning well, adding that this is the result of reforms implemented within the European integration process.
Source: Tanjug