J. Joksimović: It is impossible to achieve the goals of society without women's activism
March 06 2020 | Belgrade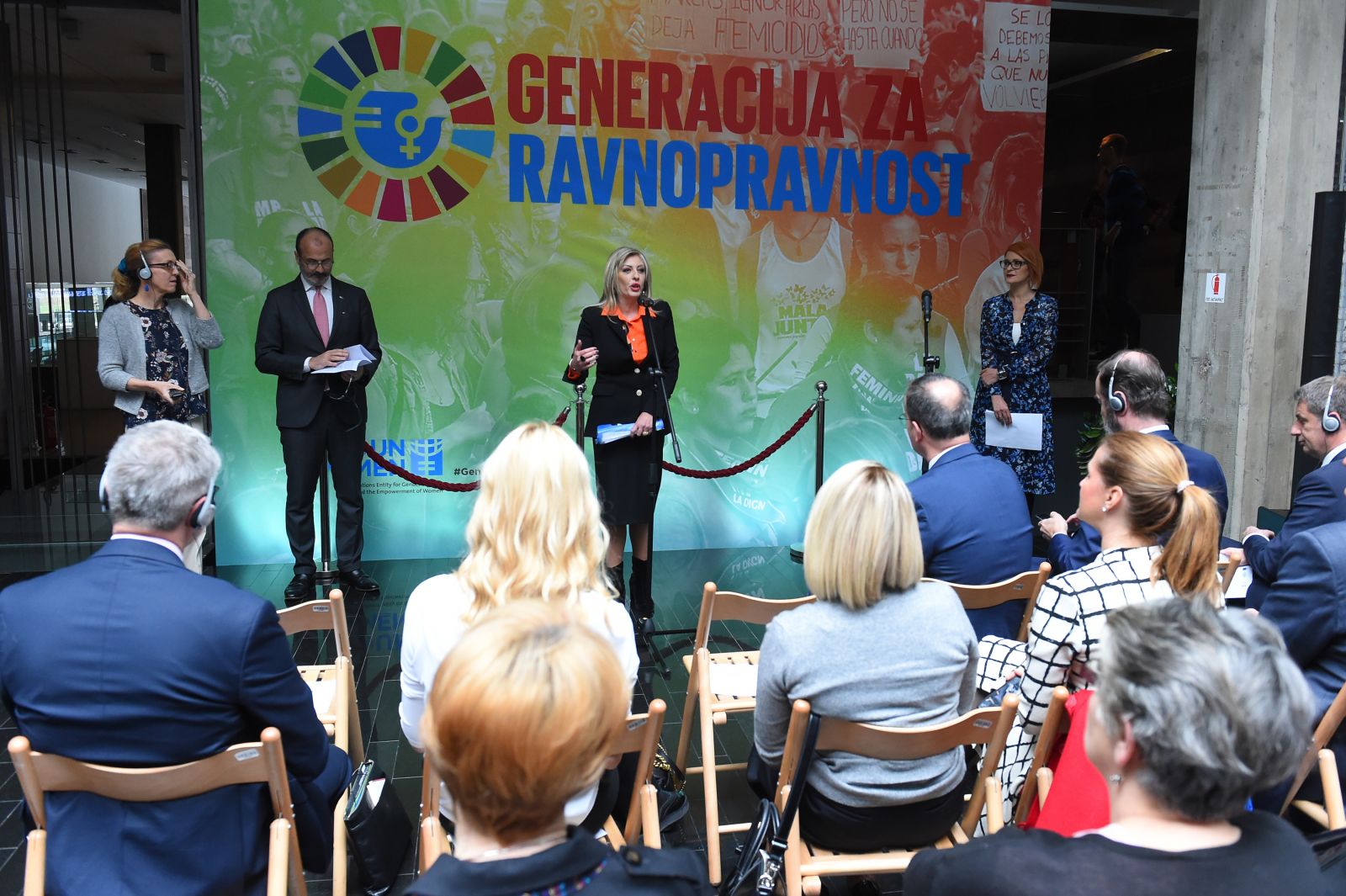 Minister of European Integration Jadranka Joksimović has stated today that the issue of gender and generational equality is crucial for a socially more just state and that without women's activism it would be impossible to achieve the goals of society, which, above all, include sustainable progress and smart growth.
"The issue of gender equality is a key issue for both a socially just state and social justice, but also for sustainable and smart growth, because without women's activism in every field, in both the private and public area, and full rights in both fields, we cannot achieve this goal", indicated Joksimović at the conference "We are a Generation for Equality", marking the International Women's Day, as well as 25 years since the adoption of the Beijing Declaration, which, as she has added, defined the key topics of gender equality.
The Minister has stated that everyone, including the Government, the Ministry of Labour, Employment, Veteran and Social Affairs, and the Coordination Body for Gender Equality, are actively working to make Serbia a country of equal opportunities for inter-generational dialogue and gender equality.
According to her, one of the vital provisions of the Beijing Declaration, in the context of the upcoming elections, is the right of women to vote and be elected.
"Women in Serbia should never relinquish the acquired right to vote and be elected that we have further enhanced by an initiative envisaging that 40 percent of the electoral lists should include women", said Joksimović, assessing it as the best message that could be sent to the widest circle of society.
She has recalled that the authorities have compiled an overview of the results achieved under the framework of the Beijing Declaration, but also concerning tasks at hand.
Institutional improvement in various segments of gender equality has undoubtedly been achieved, said Joksimović, adding that gender budgeting is the best indicator of a state's willingness to work effectively in this regard.
According to her, by adopting gender budgeting, the state has decided to show responsibility and willingness to actively implement the gender equality policy.
The Minister has expressed her belief that the Law on Gender Equality will be comprehensive and will take into account the opinions of all, which, according to her, is of the utmost importance, as gender equality cannot be inclusive in implementation unless agreed upon.
Joksimović has stated that she expects the law to be on put on the agenda and to reflect government policy's achievements in realising goals and targets of gender equality.
She has regretted that society still faces a lot of prejudices, adding that, unfortunately, sometimes a quota of 30 or 40 percent only aims at offering a false impression of gender equality. She has added that she wants to convey a message that this will not be the case in Serbia due to the fact that, when women fully accept the right to decide, they will stick to it.
"Women will not allow to be a mise-en-scène or a justification or a kind of evidence of gender equality policy implementation", said the Minister, adding that she wishes that more women at all levels be determined to participate in the elections – to vote and to be elected.
The Minister has said that she wishes that women would never use their right to decide in the wrong way, in terms of giving legitimacy to just anyone, but that they would use it for the benefit of Serbia.
"Gender equality is one of the most important matters of our society because a prosperous society cannot exist if half of the society, and women comprise even more than a half, is not actively involved in all policy domains", concluded Joksimović.
The meeting was also attended by the Head of the EU Delegation to Serbia, Ambassador Sem Fabrizi, United Nations Resident Coordinator in Serbia Françoise Jacob, Minister without portfolio in charge of demography and population policy Slavica Đukić Dejanović, deputy French and British ambassadors Nicolas Faye and Rebecca Fabrizi, and Rector of the University of Belgrade Ivanka Popović.
Source: Tanjug