J. Joksimović: Maintaining open communication between Serbia and France
March 04 2020 | Paris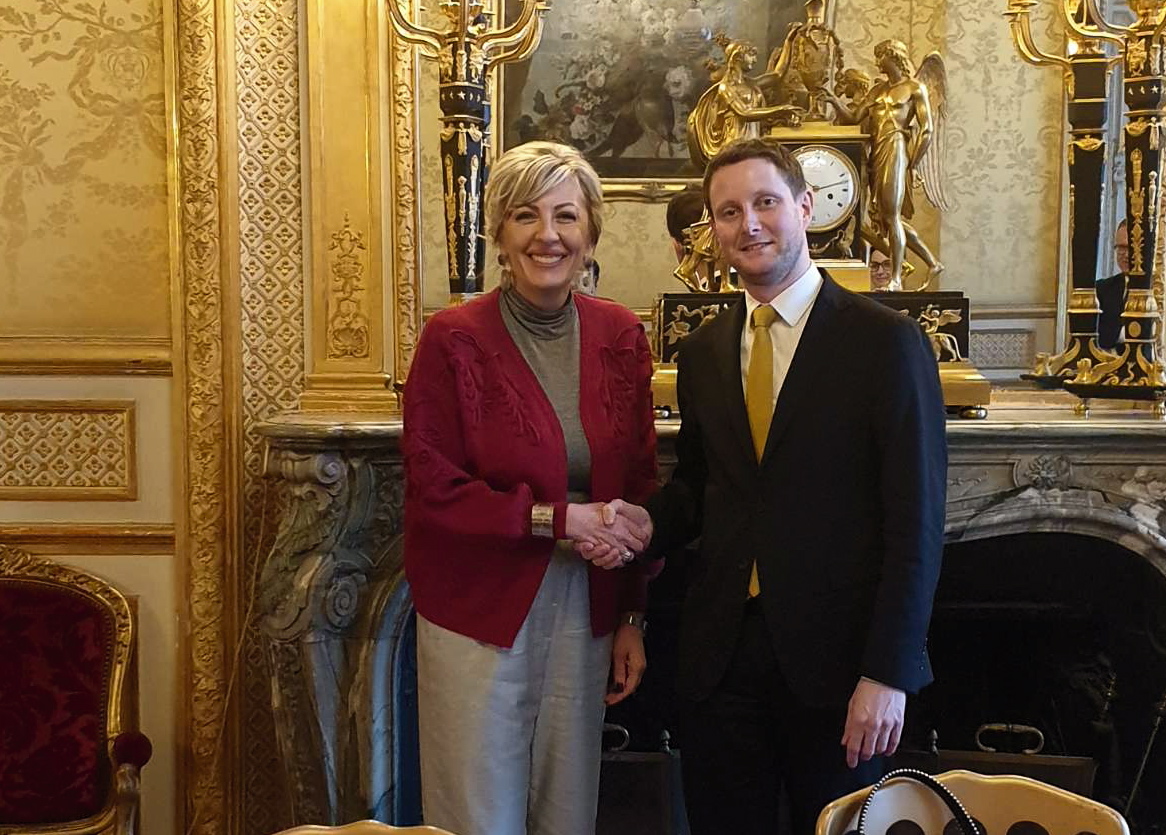 On the second day of her visit to Paris, Minister of European Integration Jadranka Joksimović also held a meeting with French President Emmanuel Macron's Special Adviser for European Affairs Clément Beaune, after which she assessed that the continuity of high-level meetings with French officials showed that France maintained open communication with Serbia.
Joksimović, who also met with French Minister of State for European Affairs Amélie de Montchalin in Paris, as well as representatives of the France-Serbia Parliamentary Friendship Group, assessed this visit as extremely significant and useful, which, in her words, happened at the right time. 
"This also shows that France maintains open communication at a high level with Serbia, which is a great honour and an expression of respect for us, and we reciprocate the same to France and want their presence in Serbia, both in the economic and political sense. This visit is truly important, it has been excellent, and we will continue to cooperate", indicated Joksimović.
According to her, she also talked with Special Advisor Beaune about the EU and the crucial topic for France – the future of the EU and the role of France in the EU.
"We also discussed how President Macron's visit to Belgrade last year further opened up many communication channels, significantly improving relations and opening the door to better relations between Serbia and France", continued Joksimović. 
Serbian President Aleksandar Vučić rightly accepted this for the benefit and advantage of Serbia, stated Joksimović, adding that both President Macron and his advisers highly respected President Vučić and his responsible policies in the region, both in terms of internal reforms and the stabilisation of the Serbian economy. 
"This is really appreciated here in Paris and in President Macron's cabinet", said Joksimović.
According to her, the French position is also much more pragmatic in relation to certain issues concerning the Belgrade-Pristina dialogue, i.e. the continuation of the dialogue.
"During the meeting, Special Advisor Beaune emphasised that they expected Pristina to completely abolish taxes on goods from central Serbia and that the continuation of the Belgrade-Pristina dialogue could and should be discussed after that has been done", conveyed Joksimović.
She has also reiterated that the responsible policies of President Vučić and Serbia were noted in relation to this vital issue, adding that Serbia has never avoided any topics.
"These are all topics that are part of our political reality, and it is extremely important to us that there is a certain understanding on part of both France and President Macron on the obligations that both sides have, but in this case, specifically Pristina's obligations to abolish taxes in order to discuss the issue of continuing the dialogue", highlighted Joksimović, noting that these messages were very significant.
During her meeting with Special Advisor Beaune, Minister Joksimović also stressed that President Vučić highly respected President Macron's position on both regional stability and regional policy, but also concerning Serbia's role in the process in general. 
Over the course of the meeting, they also talked about the new methodology for enlargement proposed by the European Commission, while Joksimović has said that she reiterated the views that she had pointed out to Minister Montchalin - that Serbia expected a more precise elaboration of the possibility of applying that methodology to those already negotiating, but that, most importantly, Serbia did not perceive the existence of any bad intent.
"We will make a decision on this matter through a detailed analysis", added Minister Joksimović.
Source: Tanjug