J. Joksimović: Munich Security Conference important for shaping international policy directions
February 14 2020 | Munich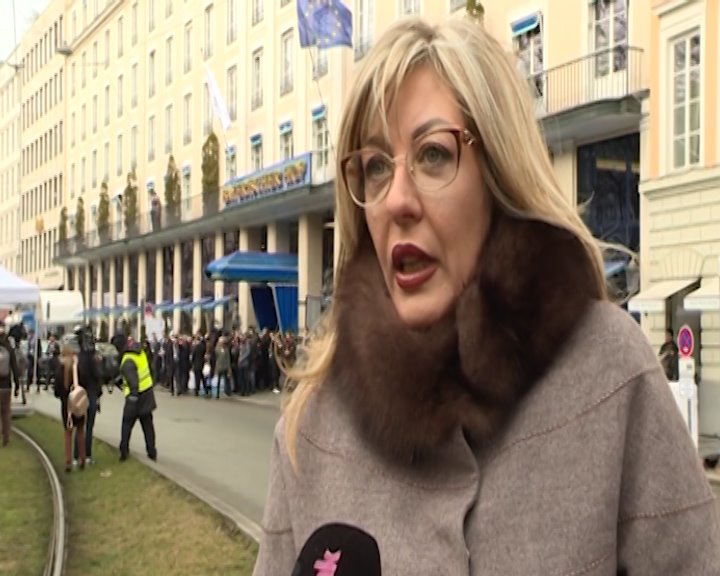 Minister of European Integration Jadranka Joksimović has said today that the 56th Munich Security Conference is one of the most important events of the year in the international sense, adding that the participation of the Serbian delegation, which, aside from Joksimović, includes President Aleksandar Vučić and Prime Minister Ana Brnabić, shows that Serbia is not only perceived in the world as an important factor of regional stability, but also as a country that can contribute to common security on a multilateral level.
Before the conference started, Joksimović told the reporters in Munich that the conference was important for the creation of global and international politics, and that it concerned both Serbia and the region.
She has said that she has been invited to participate in the conference this year, while President Vučić has been invited again, adding that Prime Minister Brnabić will also have bilateral meetings the following day.

"We are perhaps one of the largest delegations from the region, which clearly shows that Serbia is perceived and viewed as an important country and a factor of regional stability, as well as a frontrunner in the European integration process and as a country which, at a multilateral level, has the capacity to contribute in some way to common security," said Joksimović.
According to Joksimović, the Serbian delegation will, at numerous meetings, represent Serbia and its interests in the right way, while showing that Serbia is ready to sit down and talk with everyone about the most difficult issues.

"We are showing that we are ready to find a solution to any issue in the spirit of the best European values and through dialogue, and there are numerous challenges not only in the region, but also in Europe and in the world," said Joksimović.
She has stressed that this is why such presence of the Serbian delegation at such a high level is significant. "Such interest in the positions and views of Serbia on numerous issues speaks in favour of how much we have strengthened our international position, and what a responsible policy we conduct, which ultimately aims at peace, stability and prosperity for our citizens and everyone else in the region," concluded Joksimović.
Source: Tanjug