J. Joksimović: The opening of a chapter is proof that Serbia is implementing reforms
December 10 2019 | Brussels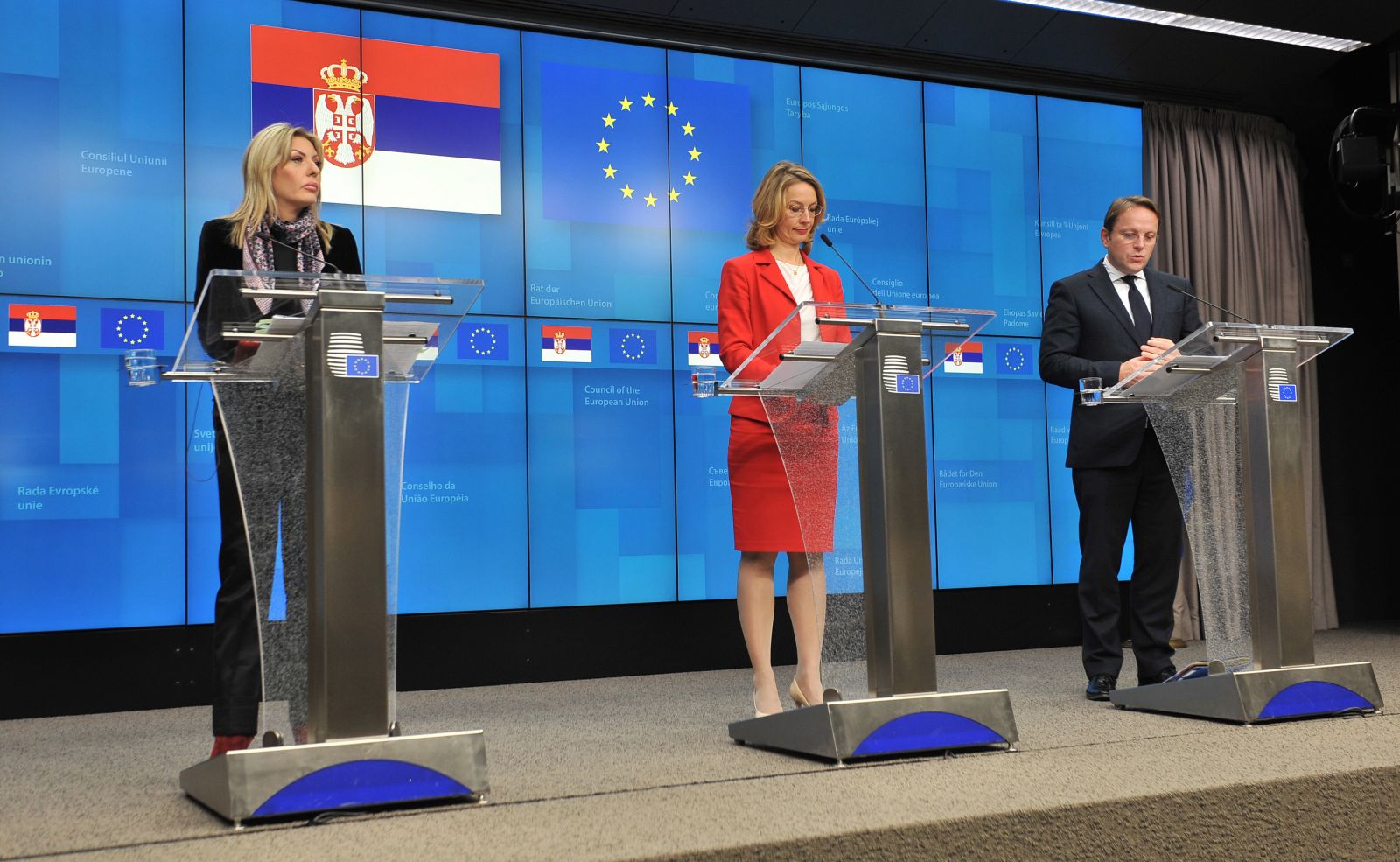 Chapter 4, which Serbia opened in the EU accession talks tonight, represents not only a signal to the region or a way to demonstrate that the EU enlargement policy is still alive, but also an indicator that Serbia is implementing reforms, stated Minister of European Integration Jadranka Joksimović tonight.
Joksimović said at a press conference after the opening of Chapter 4, related to free movement of capital, that this day was important for Serbia's European path.
"We have opened the eighteenth chapter in our accession negotiations. Eighteen out of 35 means that we have opened more than a half tonight. It is not a goal in itself, it is important to close the chapters, it is crucial to achieve all those standards that we have promised our citizens and which, of course, we have set ourselves as a goal", indicated Joksimović.
She added that this half of the path had its significance and that it certainly showed that Serbia was not standing still, and that the enlargement policy still persisted, despite the general atmosphere, which had not lately been favourable to the enlargement policy.
"Of course, it has had its ups and downs, but here, with the opening of this chapter, we are demonstrating that the enlargement policy is alive", stated Joksimović.
She pointed out that the opening of a new chapter proves that Serbia was implementing reforms.
"Can they be faster – they can, particularly in some areas, and in the future we will strive to accelerate this process, but this chapter proves that in addition to successful economic reforms, Serbia has achieved certain progress in the area of the rule of law", said Joksimović.
Joksimović stressed that she personally was of the opinion that, having regard to what Serbia had achieved in the area of the rule of law, more chapters could have been opened, but recalled that Serbia was perceived as a candidate and an acceding country that did not complain and did not seek any concessions, but only a fair and honest approach, which would continue to be the case in the future.
"We have so far secured the country's financial and macroeconomic stability, and opening Chapter 4 will further ensure a more secure, stable and efficient financial and balance of payments system in Serbia", she said.
Further alignment with EU standards in the fields of banking, real estate capital markets, investment and payment services would ensure long-term legal and financial security, which, she stressed, was in the interest of all financial institutions, but above all in the interest of citizens and potential new investors .
Joksimović said it was important that Serbia attracted the largest number of foreign direct investments in the region, and by opening this chapter it had further improved the level of legal certainty for citizens and investors.
"With regard to this chapter, I believe that all these reforms that we as a government have undertaken, including economic reforms that have been both unpopular and difficult for our citizens, have started to produce effects and have led for the first time to a recorded unemployment rate below 10 percent this year. I think these are the things that our citizens recognize, and of course the European Union", Joksimović indicated.
She added that Serbia supported all others from the Western Balkans that have European aspirations, and that it paid great attention to regional stability and improving relations and building confidence in the region.
She stressed that that was why Serbia expected that the new European Commission led by Ursula von der Leyen and Enlargement Commissioner Oliver Varhelyi would continue a credible enlargement policy.
Regarding the end of the Finnish EU Council presidency, Joksimović said that it was certainly not easy for this country because, like Serbia, it had more ambitions, adding, however, that this newly opened chapter also demonstrated that results had been achieved.
The Serbian minister further stated that Serbia also expected that the new EC would provide a new impetus to strengthening the EU and its enlargement policy.
She recalled that Croatia, which was well-acquainted with the countries of the region and committed to the enlargement policy, would take over the EU Presidency on 1 January, and that in accordance with all these circumstances, she expected that the following year would be better than the current one for all those countries aspiring towards Union membership.
Source: Тanjug
Video: European Audiovisual Service