J. Joksimović and Várhelyi: We believe that Serbia can be the first to be ready for membership
December 10 2019 | Brussels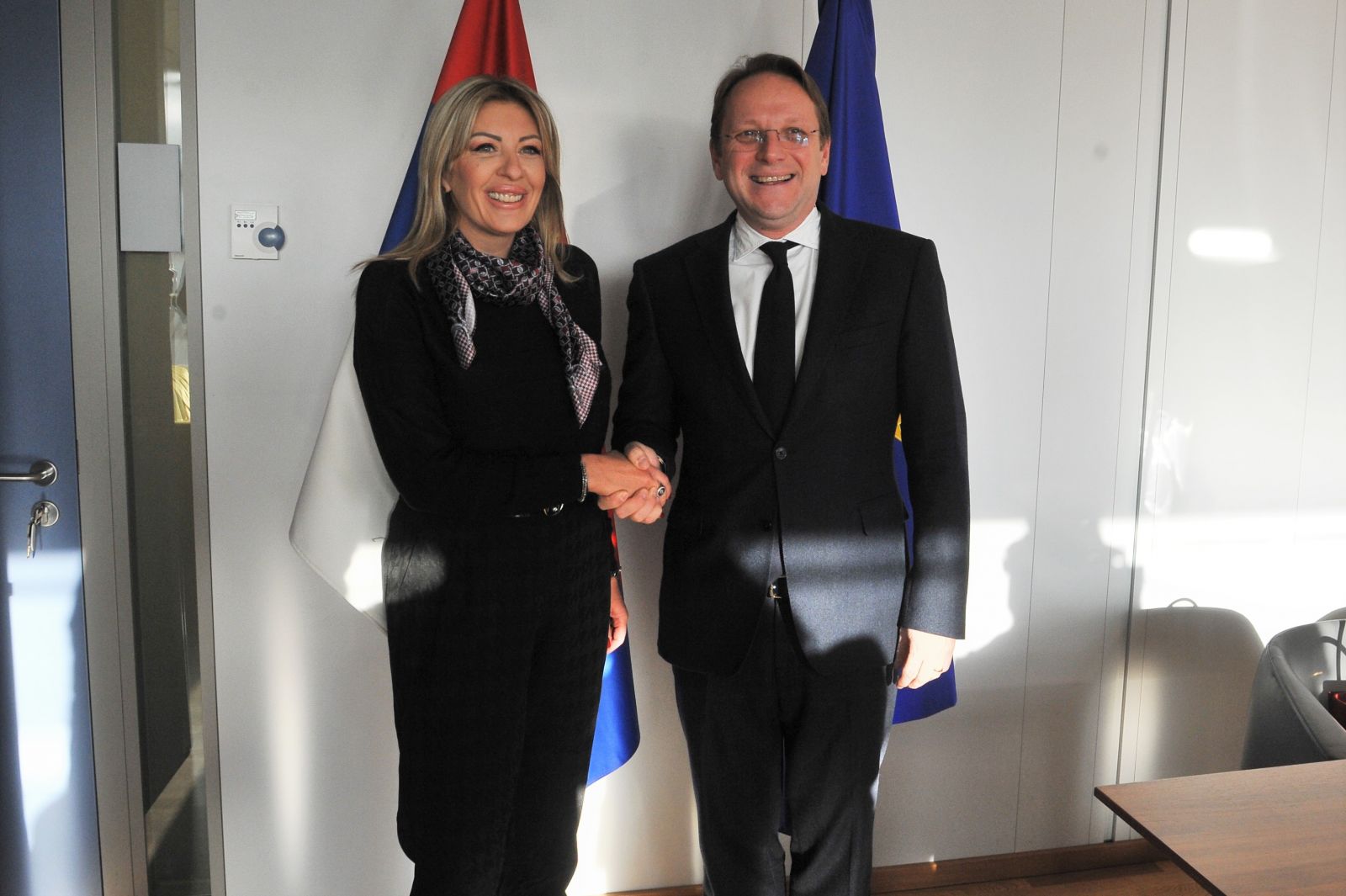 After the meeting with the new Enlargement Commissioner, Olivér Várhelyi, Minister of European Integration Jadranka Joksimović has said that Serbia can be ready for EU membership by the end of Várhelyi's five-year term.
"Without underestimating the others and wanting the entire region to progress, I believe that Serbia is the country that can ready for membership by the end of Commissioner Várhelyi's term," said Joksimović.
Minister Joksimović has met with the newly appointed Enlargement Commissioner for the first time at the European Commission's headquarters in Brussels. They have discussed the continuation of the EU enlargement policy, the credibility of future enlargement and Serbia's expectations on that road.
"Commissioner Várhelyi is well-versed in European policy and the region, and he has a balanced and reasonable approach towards the enlargement and accession policy. He strongly supports the enlargement policy and Serbia as a country acceding to the Union", assessed Joksimović.
Minister Joksimović has stated that, during the meeting, Commissioner Várhelyi reiterated his expectation that by the end of his term "at least one Western Balkan country will completely be ready for membership", where the Minister assessed that he "was undoubtedly talking about Serbia". Joksimović has noted that EU membership is primarily a "political decision" made by all member states and that important work awaits Serbia in continuing the reforms and maintaining the European course.
"It seems to me that this European Commission, with the messages that President Ursula von der Leyen has already sent, will approach the enlargement policy in an easier, but also more thorough and serious way. I think this is a chance for Serbia", said Joksimović
The Minister of European Integration has noted that Serbia is serious in the accession process, that it "is implementing the reforms, and not only talking about them", and that this "has been recognised in Brussels". "The proof of that is also the opening of a new chapter related to the free movement of capital. This is an important economic chapter that will make a number of matters related to the movement of capital – from bank services to insurance – available to our citizens in the same way they are available to EU citizens", stated Joksimović.
Jadranka Joksimović has added that Commissioner Várhelyi places special emphasis on strengthening the economy of the Western Balkans and approximating candidates' economies to the economic reality of the EU. "From our perspective, it is more than preferable, because we are undoubtedly the leaders in the region with regard to economy", said Minister Joksimović.
Jadranka Joksimović has concluded that good and fruitful work await Serbia and the new Enlargement Commissioner. She has announced Commissioner Olivér Várhelyi's first visit to Serbia for the end of January.
Source: Tanjug