J. Joksimović and Czech parliamentarians: Czechia will actively support Serbia's European integration process
November 15 2019 | Belgrade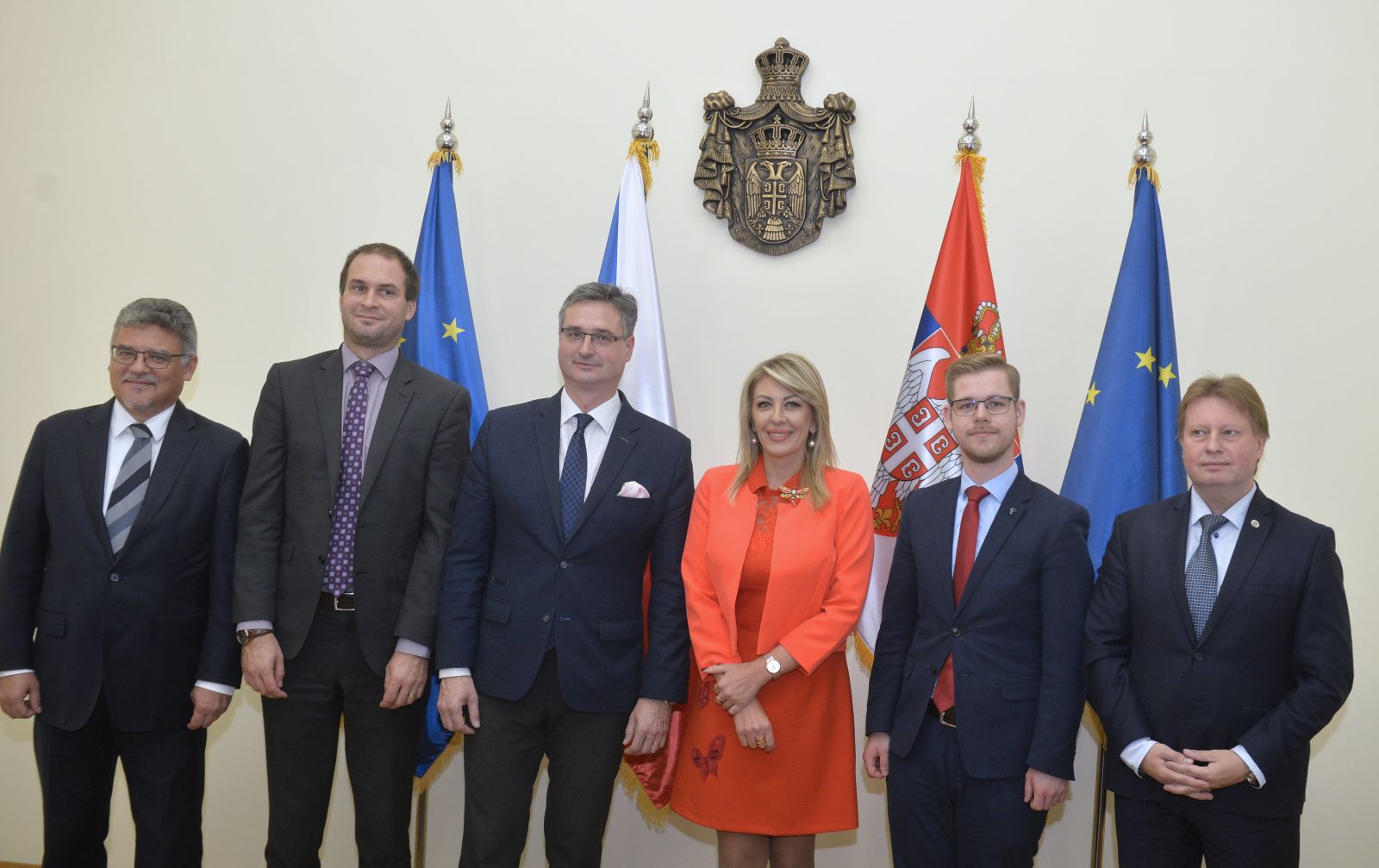 Minister of European Integration Jadranka Joksimović has held a meeting with the delegation of the Committee on European Affairs of the House of Representatives of the Czech Parliament during which they discussed issues such as Serbia's plans for continued European integration, cooperation between the two countries in the accession process, bilateral relations, the situation in the EU and the region and other topics.
The Minister has expressed her gratitude for the assistance and support Czechia has been providing to Serbia in the process of European integration, which primarily relates to Serbia's participation in EU civilian missions, but also through the development of small and medium-sized enterprises, health and environmental protection, sustainable energy sources, and technology transfer. She has also indicated that the Visegrad Group member states - Czechia included, are countries with which Serbia has had significant cooperation in the accession process through the exchange of experience.
Jadranka Joksimović has informed the Czech parliamentarians that Serbia is determined to implement reforms, which are a mechanism for the development of the state and society as a whole, adding that special emphasis is placed on reforms in the rule of law and economy - as they form the basis for establishing a favourable economic environment and the arrival of foreign investors.
Jadranka Joksimović has also stressed that, based on the results achieved through rule of law reforms, Serbia expects to open new negotiation chapters during Finland's presidency over the EU Council.
The Minister has thanked the delegation of the Czech Parliament for intensified visits and contacts – primarily by Czech President Miloš Zeman, and Speaker of the Chamber of Deputies Radek Vondráček, who have shown sincere support and openness to hear Serbia's views on all issues.
Jadranka Joksimović has also indicated that stability and co-operation in the region are extremely important to Serbia - as confirmed by President Aleksandar Vučić's initiative with the Prime Ministers of North Macedonia and Albania, Zaev and Rama.
Members of the delegation of the Czech Parliament's Committee on European Affairs have assessed that Serbia has taken a serious approach to the implementation of reforms and that it is particularly important that the reforms in the area of the rule of law are identified as particularly vital. They have assessed that the reform process should be continued and that the results of the reforms so far are visible. They have stressed that Czechia would continue to support and assist the European integration of Serbia, which, according to them, shares identical values with the EU, based on which it deserves to be part of the EU. They have also highlighted the importance and role of Serbia in achieving regional stability. The delegation has emphasized that it understands the complexity of the situation concerning Kosovo and Metohija. They have particularly underlined the significance of long-standing friendly relations between Serbia and Czechia.
The interlocutors have assessed that bilateral relations are extremely good and that there are conditions for their strengthening.
Source: Tanjug