Film 'Nana' opened the festival 'European Cooperation: Film Story'
September 26 2019 | Belgrade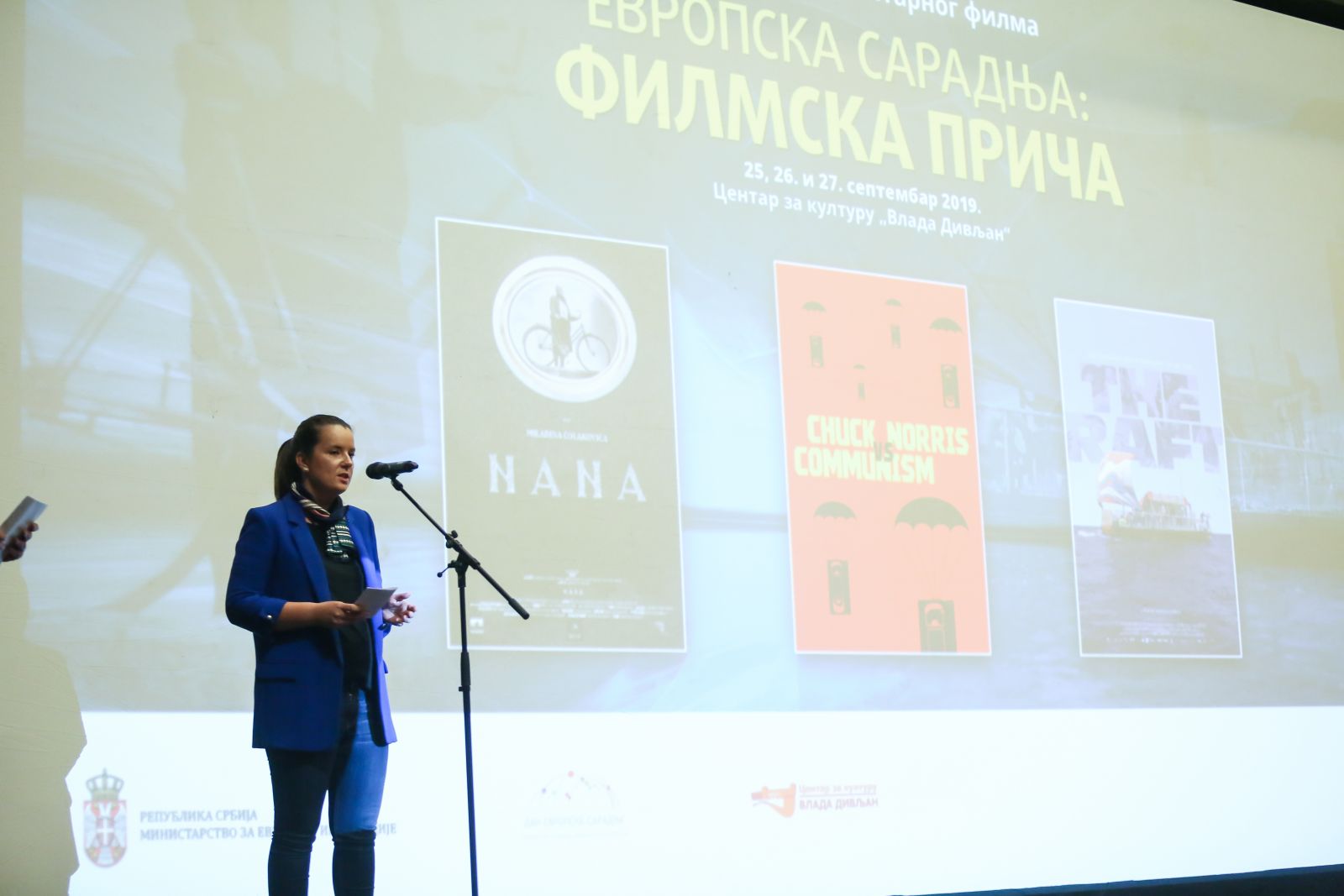 Film 'Nana' by Miladin Čolaković opened last night the forth documentary film festival 'European Cooperation: Film Story', which the Ministry of European Integration organised on the occasion of the European Territorial Cooperation Day.
Acting Assistant Minister of European Integration Tamara Delić opened the festival in the Vlada Divljan Culture Centre noting that the Ministry of European Integration launched the festival so as to bring citizens' attention to the results of cross-border territorial and transnational cooperation programmes, but also to show that the role of culture and creativity in connecting countries and regions is unparalleled.
"Therefore, in cooperation with our Romanian colleagues, this year, we have extended our festival beyond Belgrade. On Friday, we organised a pre-premiere of two of the festival films – 'Nana' and 'Chuck Norris vs Communism', in Zrenjanin, where we have recently established the office of the Cross-border Cooperation Programme with Romania", said Tamara Delić.
She emphasized that, as of the following year, the Ministry of European Integration would strive to include more cities from border regions in this film story.
After the screening of 'Nana', the audience had the opportunity to talk to the author, Miladin Čolaković, who noted that his film had primarily been imagined as a private document.
"I made the first video for this film in 2000, when I got my first digital camera and went to my nana to make a private video and keep it as a memory of her. When the camera turned off, after an hour – which is how long the tape lasted, I saw that her story deserved a film. That she was seemingly an ordinary woman, but that she had so many important things to say, and from that moment, with her permission and encouragement, I started making this film", said Miladin Čolaković, adding that the film was about summarising one's own life.
Čolaković emphasised that he had been pleasantly surprised at the fact that his film had been selected for the festival 'European Cooperation: Film Story'. Asked about how the family remembered the protagonist of the film – the late nana, the author made a funny remark saying that they would "visit" her the following day to tell her about the event.
The festival 'European Cooperation: Film Story' is traditionally dedicated to marking and promoting the European Territorial Cooperation Day, which the EU established in 2013. Marking this day, Serbia is joining other events organised on this occasion in more than 40 countries across Europe.