Documentary Film Festival 'European Cooperation: Film Story'
September 24 2019 | Belgrade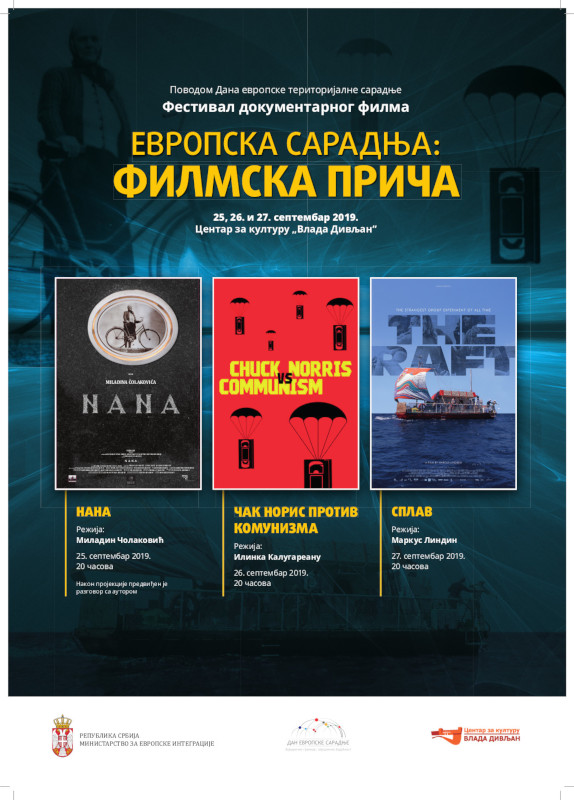 The Ministry of European Integration of the Republic of Serbia is inviting you to a three-day documentary film festival – 'European Cooperation: Film Story', which will be held in the Vlada Divljan Culture Centre, from 25 to 27 September, on the occasion of the European Cooperation Day. All films will be screened at 20.00h and the entrance is free.
On 25 September, the festival will open with a domestic film called 'Nana', authored by Miladin Čolaković, who will talk with the audience after the screening. The programme will also include a Romanian film called 'Chuck Norris vs Communism', by Ilinca Calugareanu, (26 September), and a documentary called 'The Raft', which was made in coproduction between Sweden, Denmark, the USA and Germany (27 September).
The European Cooperation Day is a manifestation that promotes the European Territorial Cooperation, an instrument of the European Union aimed at connecting citizens of neighbouring countries in order to overcome common obstacles. In the period 2004–2019, around 1,000 projects have been financed through cross-border cooperation programmes. More than 700 domestic organisations participated in their realisation, and more than EUR 220 million has been contracted, co-financed by the European Union in cooperation with participating countries. The realisation of these projects contributes to the strengthening and development of local communities and border regions of our country in key sectors: infrastructure, healthcare, education, scientific and technological development, economy, tourism, environmental protection, and particularly culture.