Joksimović and Van den Dool: Dynamic reforms are the path to the European Union
August 05 2019 | Belgrade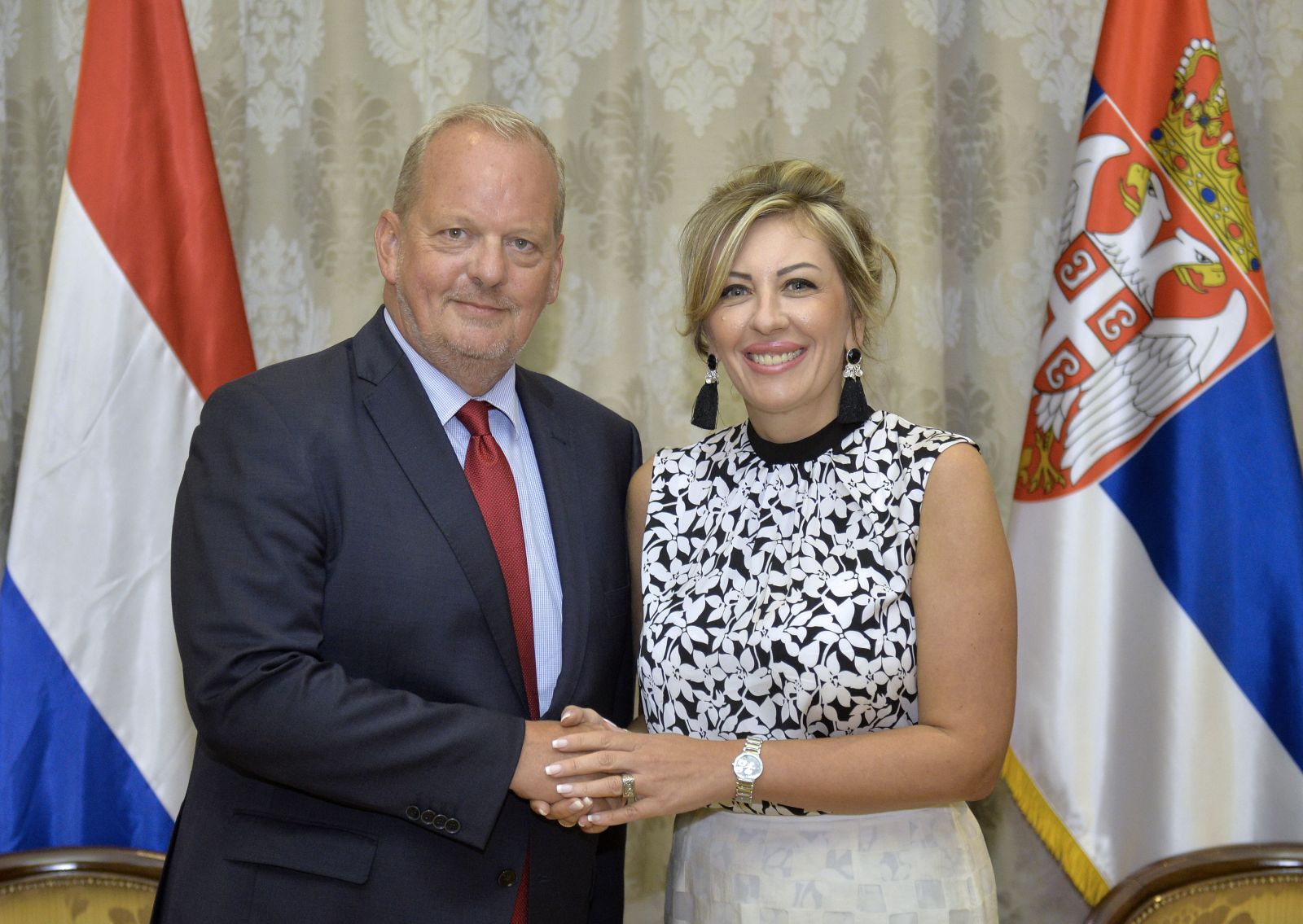 Minister of European Integration Jadranka Joksimović has received Dutch Ambassador H.E. Henk van den Dool in a farewell visit. They have discussed the cooperation between the countries in Serbia's European integration process, strengthening bilateral and economic cooperation and current developments in the region.
Joksimović has emphasised that Serbia appreciates the Netherlands' consistent position on Serbia's European integration, which is strict but fair, based on fulfilling clear criteria and individual progress on each candidate. "Serbia will continue to be a consistent, reliable and credible partner to the EU, a partner that is committed to implementing comprehensive reforms for the sake of overall development of the society and state", stressed Joksimović.
The Minister informed the Ambassador about the Government's key activities regarding the fulfilment of the revised Action Plans for chapters 23 and 24, adding that, in addition to chapters that are already technically prepared for opening, the Government is intensively and continuously working on preparing new ones. In that regard, she has stated that Serbia expects that the pace of European integration will be maintained during the Finnish EU Council presidency and that Serbia will open some of the chapters that are technically prepared.
Ambassador Van den Dool has stressed that, during his term in Serbia, he has had the opportunity to see for himself the level of commitment, the quality and the effects of implemented reforms, emphasising that they should be even more intensive and dynamic. He has further underlined that Serbia has proven to be a reliable and credible partner to the European Union.
The interlocutors have agreed that there is room for intensifying visits of high officials and parliament members in the future, which will further open the possibilities to learn more about and understand political relations within the European Union, in the region and in Member States and candidate countries. Joksimović has thanked the Ambassador for his personal contribution, initiatives and activities he implemented during his four-year term in Serbia, which have contributed to strengthening and intensifying the relations between the two countries.
Source: Tanjug