NeoLIFE opening conference held in Užice
March 07 2019 | Užice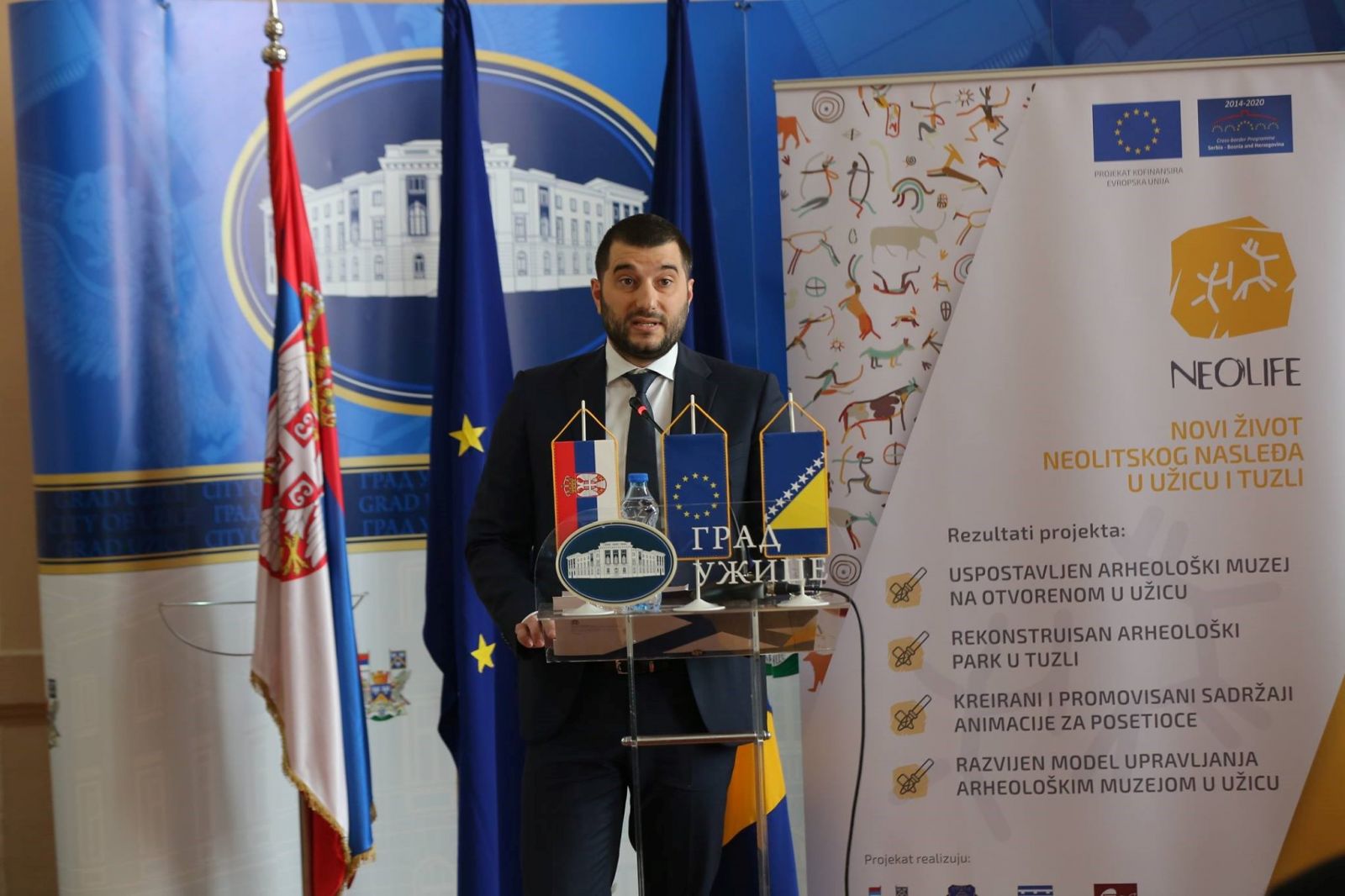 The opening conference of the project New life of Neolithic heritage in recognized natural areas of great importance - NeoLIFE was held at the Main hall of the Užice City Hall, on Wednesday, 6 March 2019. The project realisation is co-financed by the European Union through IPA II Cross-border Cooperation Programme Serbia - Bosnia and Herzegovina 2014 - 2020.
The conference was aimed at informing the attendees about cultural and social aspects of project activities regarding the preservation and presentation of the two countries' common heritage through the exchange of expert knowledge and strengthening intercultural communication. In addition, the presentations provided for acknowledging new interpretations of the life of the Neolithic people in this area by establishing sustainable management modelled according to modern archaeological parks in the European Union and the region.
The conference was launched by the opening speech of Mihajilo Dašić, Assistant Minister of European Integration in charge of cross-border and transnational cooperation, who, emphasising the importance of this type of projects for the development of communities and institutions at the local level, described the NeoLIFE project as an example of good practice, adding that the project has also been recognised as such by the EU.
Chair of the Tuzla City Council Aleksandar Vujadinović pointed to the need to establish concrete forms of cooperation between the two neighbouring countries and the two cities, so as to efficiently use the advantages of the territories that share common cultural and historical values. Stressing that the Pannonian Lakes complex in Tuzla has so far been visited by over 4 million people, he expressed his belief that Užice has a good predisposition to develop a similar model of functioning, with the assistance from EU funds. Furthermore, he conveyed his expectations that the project will be realised adequately.
Following the introductory speeches, Užice Mayor Tihomir Petković addressed the conference, noting that this is an important project for improving the tourism supply of the City of Užice. "The almost EUR 600,000 worth project will provide for the construction of an archaeological open-air museum near Staparska gradina. We have great expectations from the future archaeological park - a large number of school field trips, researchers, tourists and the residents of Užice visiting this location. With the archaeological park in the vicinity of the Old Town and the old hydroelectric power plant, we will be much more attractive and interesting for the tourists who have so far been skipping our city on their way to Zlatibor, Zlatar and Tara", noted the Mayor of Užice.