J. Joksimović: Serious challenges before the EU in 2019, but enlargement remains on the agenda
January 01 2019 | Belgrade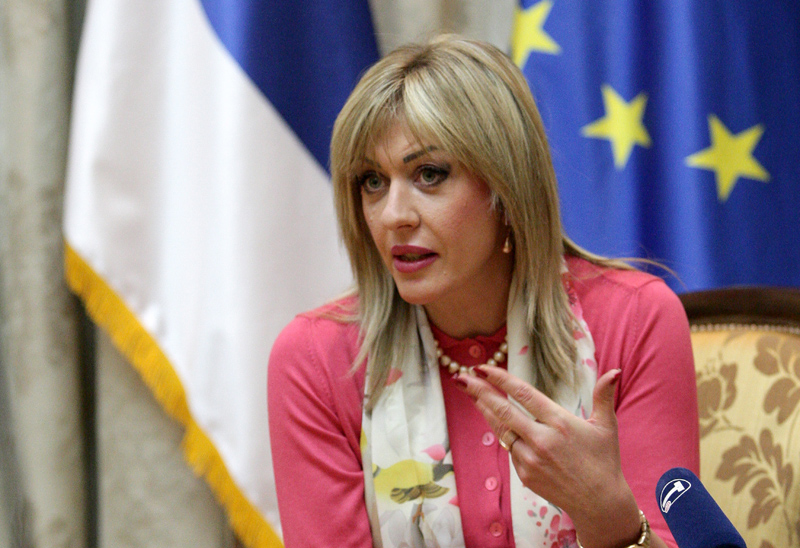 Romania, which today has taken over the six-month presidency of the EU Council, supports Serbia's European path and intends to keep enlargement on the agenda and in focus during its presidency.
This has recently been conveyed by Romanian Prime Minister Viorica Dăncilă during her visit to Belgrade, while experts say that Romania will strive to support Serbia but that the dynamics will not depend on this EU Member State alone, but on others as well, especially Germany.
However, will numerous challenges the EU is to face this year, such as Great Britain's withdrawal from the Union on 29 March, European Parliament elections in May and the preparations for the seven-year budget of the EU for the period 2021–2027, affect the enlargement policy?
Minister of European Integration Jadranka Joksimović has told Tanjug that those challenges can in a certain way complicate the pace of Serbia's negotiation process, but also that of FYR Macedonia and Albania that have been waiting for the signal to open accession negotiations, to which many member states are not particularly inclined.
The Western Balkans and the enlargement policy were among priorities last year, when Bulgaria and Austria held the EU Council presidency, recalled Joksimović, emphasising, however, that, despite having been high on the agenda, enlargement was not in focus.
The Minister has said that this trend will continue in 2019, primarily due to European Parliament elections and the fact that the enlargement policy is not popular in many member states because of economic circumstances, migration, shift of political powers etc.
In 2018, Serbia opened four negotiation chapters, and Joksimović expects that this pace will not intensify in the first six months of 2019. However, she has stressed that Serbia will work devotedly and expressed her expectation that several prepared chapters will be opened.
She has underlined that Serbia will strive to convince the member states to hold one more interim Intergovernmental Conference in February – in addition to the June one – where some chapters could be opened.
"I do not expect an accelerated pace; I would be unrealistic if I said that, but I expect continuation and commitment to the process. I hope that member states will sufficiently understand that for the enlargement policy to keep its credibility, it must go in parallel with the progress of the candidates".
The Minister has emphasised that member states will not make decisions on the opening of chapters based solely on the progress Serbia achieves, but also on the circumstances in the member states themselves.
During the six-month rotation, each member state holding the EU Council presidency determines several topics and priorities to be placed in special focus.
The Minister has explained that therefore, regardless of the circumstances, enlargement will be discussed at all levels and forums of the European Union, which is certainly favourable, and can do no harm.
Serbia will be ready, said Joksimović.
Five negotiating positions have already been prepared: Chapter 9 – Financial services, Chapter 4 – Free movement of capital, Chapter 2 – Freedom of movement for workers, Chapter 14 – Transport policy, Chapter 21 – Trans-European networks, while the negotiating position for Chapter 28 will be completed in the next six months.
The Minister has added that Serbia has also fulfilled criteria for the opening of chapters 11 and 3, on agriculture and rural development, and right of establishment and freedom to provide services, respectively. She has further expressed her belief that those negotiating positions could soon be prepared.
Source: Tanjug