J. Joksimović: Serbia is actively contributing to international security
26. November 2018. | Belgrade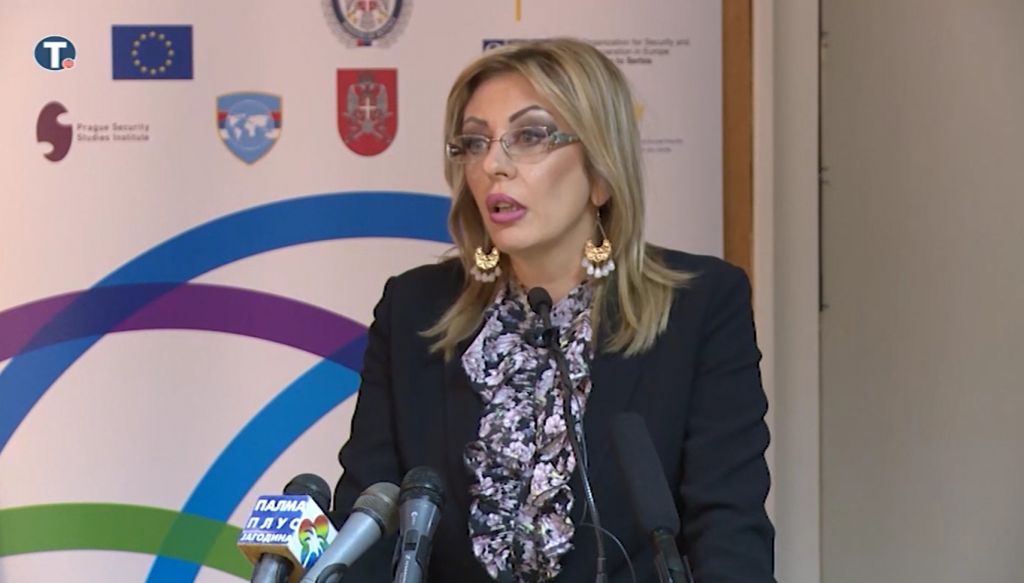 "Serbia continues, through a non-intervention approach, to be a country that gives its full contribution to international security, international cooperation, primarily in the framework of multilateralism", Minister of European Integration Jadranka Joksimović has said today at the opening of the Civilian training for multinational operations.
She has recalled that in 2015, as the Minister of European Integration, she initiated the development of a legal framework for Serbia's participation in civilian peace missions, adding that an action plan for this programme has been adopted in cooperation with the Ministry of Foreign Affairs and the Ministry of Defence.
Joksimović has stated that, through activities and negotiations on Chapter 31 related to common foreign and security policy, Serbia has clearly and concretely demonstrated its contribution to international security, which is important to emphasise given the threats to security all around the world, as well as threats lately witnessed in the region. What is more, uncontrolled infringement of and non-compliance with international and multilateral frameworks by Pristina can undermine the European order of peace and stability in the so-called Western Balkan region.
"I think that we as a country have indisputably shown full compliance, active participation and application of basic principles of multilateralism for the purpose of peace keeping. Multilateralism is a framework in which we seek and strive to contribute to solutions, and it primarily includes UN mechanisms, the Organisation for Security and Co-operation in Europe and the EU", said Joksimović.
The Minister has added that, as a founding member of UN and OSCE organisations and an EU candidate country, Serbia has undeniably in every way shown its commitment to international peace, dialogue and mechanisms of multilateral security order.
"We have established a legal framework through this Action Plan; what follows now is certainly a crucial task of forming the organisational and financial framework, so that we could access this programme in our full capacity", said the Minister.
With regard to Chapter 31, Joksimović has said that Serbia has not opened this chapter, adding that she does not know when it will be opened because this is the only chapter for which the screening report has not yet been received.
She believes that the established legal framework and the beginning of preparations and training on participation in civilian missions are the ways to show both the Serbian citizens and partners in the EU that Serbia does not wait to be given tasks within a certain chapter, but that it truly acts in the interest of the country and the citizens' security, of regional and EU stability, and, in more general terms, in the interest of global security and stability.
"I believe that the EU will recognise this and assess it in the right way", highlighted Joksimović, adding that Serbia is one of few countries privileged to have the capacity to participate in peace missions, regular missions and begin participating in civilian missions as well.
"With this, we have also demonstrated that we are the first country in the region that has launched such a programme and the first country in the region that has thus shown that stability and security are the greatest values for us, and that we are sincerely committed to these values", said Joksimović.
She has further expressed hope that, like Serbia, others will realise - if not on their own then with the help of the EU and others - that regional peace and stability are essential.
Source: Tanjug