J. Joksimović: EUR 1 million from EU funds for the development of Bojnik
October 10 2018 | Belgrade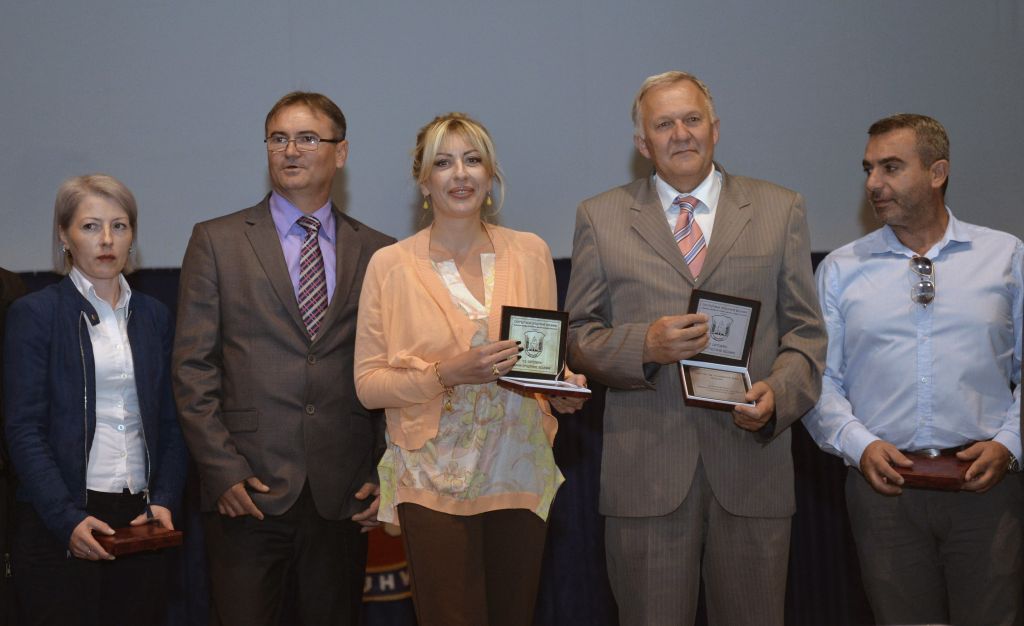 Minister of European Integration Jadranka Joksimović, who has been presented today at the Cultural Centre in Bojnik with the 2018 October Award of the Municipality of Bojnik, said that she believed that in due course, with good projects and funds from the EU, Bojnik would be deleted from the map of the most underdeveloped municipalities in Serbia.
In addition to the Minister for European Integration, Minister of Education, Science and Technological Development Mladen Šarčević attended the celebration of the Day of Bojnik Municipality, visiting two schools - one primary and one secondary school.
Joksimović expressed her sincere gratitude for the award and congratulated Municipality Day to all citizens of the Municipality of Bojnik, pointing out that this award meant a lot to her, but that she was rewarded even more by the fact that the citizens of that municipality recognised a correct policy and understood that development was something we have to achieve on our own.
According to her, the process of European integration, which is often politicized, was essentially a story about development - the domestic one nonetheless.
"That is why the greatest reward for me is that you are a municipality that has received a million euros thanks to your good plans, smart citizens, efficient local self-government, persistence and determination to take the path of development," Joksimović said upon receiving the award.
She added that it was not easy to gain access to European funds and that it required a lot of work, preparation of good projects and coordination, asking everyone in Bojnik to continue in that direction.
"My role all these years has not only been to negotiate in Brussels and meet with the highest officials from Europe and the entire world. My role is to use this opportunity together with all of you, as a country that is treading the path of European integration. Our job is within our own home, to use what other countries in our area have used before us to develop and raise our standard of living," stated Joksimović.
In her words, not everything is ideal and everything will never be perfect, but there must be progress in order for politicians and the government to have a legitimacy to move on.
According to her, it would be easiest to ask for money from the budget and when the reply is that there isn't enough, citizens may become dissatisfied because the state has allegedly not been thinking in their interest.
"The state takes care of its citizens and you have heard President Aleksandar Vučić say that we will provide another EUR 218,000 - as part of the necessary co-financing for the million euros that you received from the EU PRO programme. However, you are our greatest perspective. The region we live in is involved in sustainable development. When we identify fruit growing, beekeeping or Radan Mountain as your potentials, we should just develop them and further utilise everything that is available to us," she noted.
The Minister said that that means a little more effort, investment, skills and project development, adding that she believed that it was good to invest and show a desire to move forward using small, but continuous steps.
In her words, just as President Vučić recently said, a big investor may arrive, but it will not always be an investor that will open jobs for 1,000 - 2,000 people, and that is why it is vital to continuously take small steps in investing into small and medium-sized enterprises and entrepreneurship.
"I think it is crucial that you use the million euros in grants that you have received through EU funds in the proper way: to prepare the agricultural-business zone, to construct access roads, everything necessary for water supply, telecommunication and energy networks, and then investors will start arriving because they will see hard-working people, good conditions for their business operations, and in the end, they will also benefit from it, while our citizens will have jobs, and when you have a job, you have dignity in life", said Joksimović.
She stressed that regional development must be the basis of future growth and added that the issue did not just imply large investments, but also sustainable tourism, sustainable production, and agricultural production.
Pointing out that the Mayor of Bojnik municipality had been the target of "attacks" due to established cross-border cooperation with Bulgaria, as that region of Serbia has had tragic experiences related to that country, Joksimović said that these tragic experiences were true, but that other, larger countries had also had tragic experiences with others, but that they had overcome that and had become strategic partners.
"We do not forget the past, but the past cannot be changed, while the future can be created to be better. I think that we should work together wherever interests are common for the well-being of all people", said Joksimović, adding that Serbia can learn from others, which does not mean that it will abandon its identity, culture or language.
"As someone who represents our country internationally, I believe we have nothing to be ashamed of. We are a good, worthy, very progressive people, a responsible and serious country and I always proudly present it in this manner. My job, and yours, is to establish order in our country. We have to be accountable and ready to use every opportunity that is provided to us", stated Joksimović.
Mayor of Bojnik Nebojša Nenadović said that this year their Municipality Day was marked in a better looking Bojnik that had been given a new face with new facades and buildings in its centre - in Bojnik that was slowly, but surely strengthening its economy and infrastructure.
"The previous period has been marked by intensive construction, development of project and technical documentation and paving of roads, both in Bojnik and in other settlements. RSD 90 million has been invested in road infrastructure over the course of this year, while the Government of the Republic of Serbia and its line ministries have assisted in the implementation of several projects and we have continued to implement cross-border cooperation projects with Bulgaria", stated Nenadović.
He highlighted that stable finances were a priority and a task for the municipality, adding that during the next year they would mostly be working on reducing unemployment in that municipality.
Bojnik Municipality Day was established in honour of 10 October 1943, when the South Moravian Brigade was formed on Radan Mountain.
Source: Tanjug