Šešelj, win first and then enforce discipline
June 30 2018 | Belgrade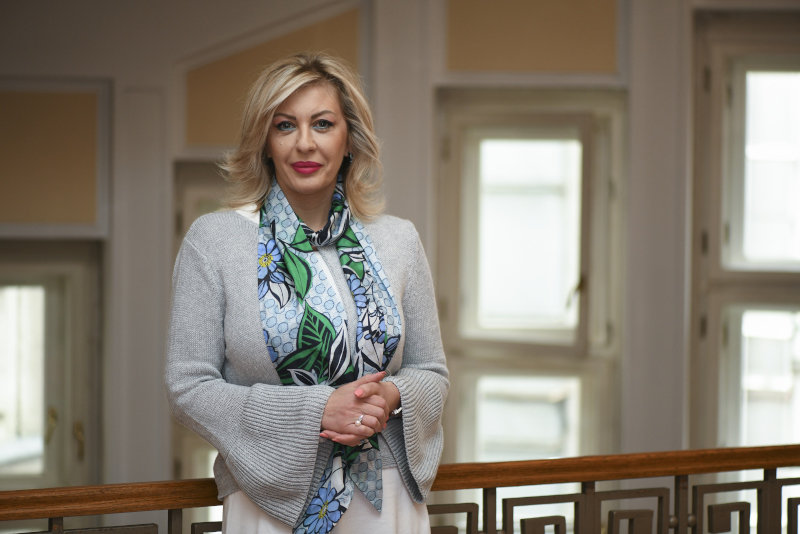 Negotiations with the EU require arduous and demanding work, but the reform of the society is necessary for the country, the Minister of European Integration has stated.
Serbia has opened two new chapters in the negotiations with the EU, at the beginning of the week in Luxembourg. On the occasion, our state delegation was headed by Minister of European Integration Jadranka Joksimović, who, responding to uncensored questions, has told Serbian Euro-sceptics to win the elections first, and only then argue that the European path is not for Serbia. She does not regard the process of EU accession as a means to mislead the people, and that she would have to be a masochist to do this exceedingly hard work to that end.
Miloš Vučević, Mayor of Novi Sad
Do you believe that the European path of Serbia also leads through Novi Sad, which has been selected as the European Youth Capital for 2019 and the European Capital of Culture for 2021?
- Of course I do Miloš, precisely because youth and culture are the two most beautiful points of connection and development of the European identity that Serbia possesses and that the EU countries recognise. Novi Sad has proven to be a city with capacities, as well as the desire and enthusiasm to develop the European cultural code, which means fostering its own identity, as well as intensive exchange and adoption of different models.
Dragiša Binić, football legend
What will happen first - Serbia joining the EU or the Red Star and the Partizan becoming regular participants in the UEFA Champions League?
- When certain issues are resolved in our sport, and particularly regarding club football, then the Red Star and the Partizan will be able to develop on a healthier basis. The EU is the champions league for European countries, and I believe that we will play in both of them.
Verica Rakočević, fashion designer
Do you prefer wearing famous foreign brands of clothing?
- This is just like asking me if I prefer listening, watching, or reading domestic or foreign authors. I listen, read, watch and wear what I like, and this includes both the domestic and foreign authors and brands. And I certainly support and rejoice in the success of our authors in any area, therefore in fashion too.
Dragan Kapičić, basketball legend
How difficult it is for you to implement ideas and advocate the views of our country?
- I wholeheartedly represent and promote the views of our citizens and of our country. If you are asking me whether it is easy to accomplish all of this in complicated international circumstances, which are spilling over onto our positions and plans - it is not, and given your question, you obviously recognize this yourself.
Zorana Mihajlović, Minister of Construction, Transport and Infrastructure
What is patriotism to you, since you were born on the same day as national hero Milan Tepić?
- I deeply feel and recognize the interests, advantages and disadvantages of the society and the people I belong to. I distinguish two kinds of people: the honourable and the dishonourable, and in this sense, for me, patriotism is an honourable attitude towards the community and the people we belong to. I never underestimate my own heroic, personal accomplishments. I do not fully understand making associations based on dates of birth, since millions of people are born on the same day.
Miloš Šobajić, painter
Why did you agree to lead the Ministry of European Integration when, in my opinion, the process only serves to mislead the Serbian people?
- I would not mislead myself in the first place, because, believe it or not, this is an exceedingly arduous and demanding job that I would need to be a complete masochist and not think that we are doing a good thing for our people and our country. The European integration is a process of deep and substantial reforms of a society, which is just what our own society needs. It would have been better if we had worked more in the past 15 years, all of us as a society.
Đorđe Milićević, Socialist Party of Serbia (SPS)
You have said that, if we accelerate the reforms, 2025 is not unrealistic as the year of our accession to the EU. What kind of activities does Serbia have to undertake in order to accelerate the reforms?
- Political and regional stability is important for successful reforms, so that we may successfully engage in internal development. We need to align our legislative framework in all areas in which we are negotiating, within 35 chapters, and our plan is to adopt all the necessary laws and documents and start with their implementation by the end of 2021, i.e. by 2022. This requires a firm political will, focus on the strategic goal, patience, persistence and cool-headedness. And what is most important is the support and orientation of our citizens towards the reforms and changes in our society, because we all need to be a part of the process of positive change.
Dejan Ristić, historian
Will European standards be finally applied in culture?
- Culture is a segment that has long been suffering, and I am sure that, with the continuation of a responsible economic and fiscal policy, we will be in a position to increase allocations for it. The goal of all the rigid fiscal consolidation measures was to achieve macroeconomic stability, because only under these conditions can we have sustainable financing of budget beneficiaries. It is important that the people from the field of culture acquire more knowledge and increase their interest in applying for all the available, and large, funds that exist in the EU for this area. In addition, we have returned two leading cultural institutions to the citizens of Serbia - the Museum of Contemporary Art and the National Museum.
Vojislav Šešelj, leader of the Serbian Radical Party (SRS)
When will we finally stop heading towards the EU, since that is not the path upon which Serbia should tread?
- Since travellers pave the path, the European path has been paved by the citizens of Serbia. If the citizens decide differently, and when you and your political platform win the elections, you are free to change the said path. But I believe that auto-destruction and superficiality are things of the past for Serbia and our citizens.
(Source: Srpski Telegraf, author: Goran Mitrović)