J. Joksimović: EU funds for agriculture starting from this year
April 16 2018 | Belgrade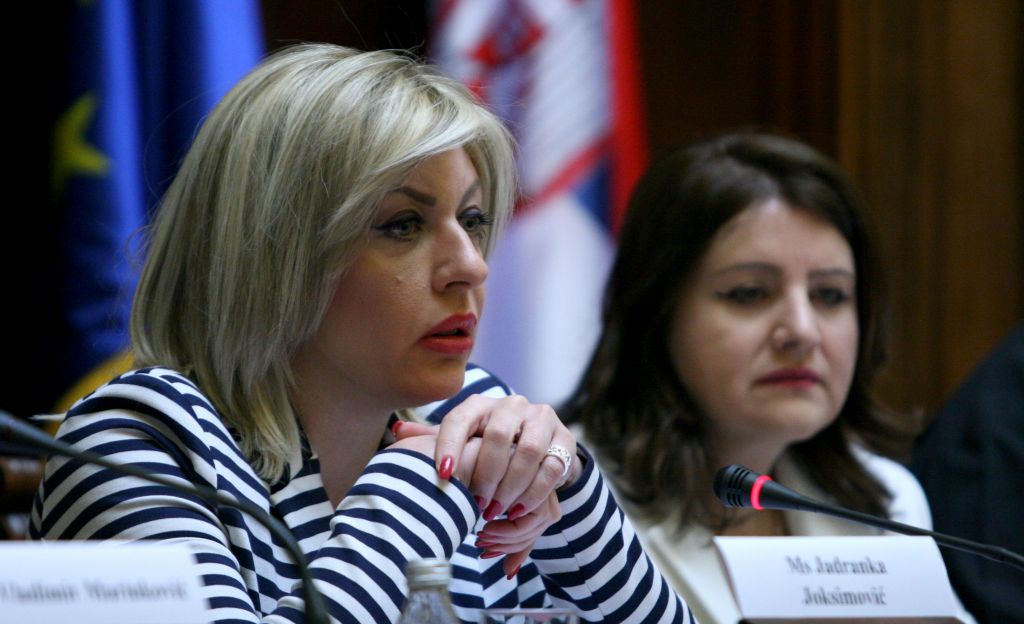 The inter-parliamentary conference "Instrument for Pre-accession Assistance in Rural Development (IPARD): Lessons Learned and Future Prospects" is being held today in the National Assembly with the participation of members of the European Parliament and parliaments of candidate and potential candidate countries for EU accession.
Minister of European Integration Jadranka Joksimović has addressed the parliamentarians, stating in her introductory address that it was significant for Serbia as a candidate country that the candidate status entails the right and the advantage of using pre-accession funds and that Serbia has for the first time this year been given the opportunity to use IPARD funds related to the field of rural development and agriculture in general, as a result of its persistent work.

As regards the issue of using IPARD funds, Joksimović has said that, in addition to strengthening capacities, additional efforts must be invested in the future to inform the public and interested citizens of the existence of these funds, as well as of the ways in which they may apply for them.
"An important point in all of this is acquainting our agricultural producers with the fact that in order to withdraw these funds, in addition to a good project and, conditionally speaking, an idea, it is vital to know that partial pre-financing is a requirement. This segment of pre-financing will at a certain stage be refunded and eventually represent a part of the grant," Joksimović has stated.
Regarding the 2014 IPARD programme for Serbia, when she was appointed National IPA Coordinator, the first item that awaited her was the issue of acquiring the opportunity to even begin preparations for IPARD accreditation. Joksimović has added that the European Commission demanded that the Directorate for Agrarian Payments be placed in Belgrade, not in Šabac, which had been the case until that moment.
"Owing to the work of all institutions, we have come to the moment where this year, I believe perhaps in a month or two, Minister of Agriculture Branislav Nedimović and I will sign a financial agreement with the EC regarding the opening of IPARD over the course of the next few years, which for Serbia means, in concrete terms, EUR 230 million - 175 million from grants and the rest from the national share, for the period 2014-2020, which will be made available to all registered agricultural holdings and interested agricultural producers," highlighted Joksimović.
She has explained that this year Serbia will be provided with EUR 15 million from IPARD, 20 million next year, and that each year the figure will increase by EUR 5 million, and that these are not some new funds, but the funds within the national IPA allocation for Serbia.
"It is important to inform the public in a timely manner, to inform interested citizens, but at the same time to work on the coordination of all institutions. It is of the utmost importance to work with the local authorities, as eventually it will be the local self-governments that will bear most of the obligations in regards to meeting all criteria. They will be the ones who should provide guidance to interested parties in their communities and help them in preparing good applications," Joksimović has said.

She has noted that her Ministry, together with the Development Agency of Serbia, has established 16 development agencies in Serbia, whose founders are local self-governments that can use all types of financing for identification and preparation of projects at the local level.
"I believe that this is one of the ways in which visibility is raised, as it enables local self-governments to be more efficient and coordinate with the central level of government in terms of proper and improved coordination of EU funds utilisation," Joksimović has stated, adding that in this manner local self-governments can gain exponentially more money than by only asking for funds from the budget.
She has recalled that Serbia as a candidate country has been using EU pre-accession funds for a long time, including the first financial perspective from 2007 to 2013, followed by the second financial perspective from 2014 to 2020, within which Serbia has at its disposal around EUR 1 billion in grants, which is on average about EUR 200 million of grants per year.
National Assembly Deputy Speaker Vladimir Marinković has emphasised that Serbia's main foreign policy priority is joining the EU and that there is broad consensus on that issue in the Assembly.
"We have a historic opportunity to accelerate the entire process of European integration, which we will try to use in the best possible way by working on a comprehensive reform agenda. In this sense, we perceive the use of EU pre-accession funds as preparation for future membership in the EU and support in the implementation of necessary economic, legal and institutional reforms. I would like to emphasise that it is of utmost importance for us to use IPARD funds, having regard to the fact that this is the most important programme of pre-accession assistance for rural development," Marinković has said.

A member of the European Parliament's Committee on Foreign Affairs, Eleni Theocharous, has said that the EU wishes to accept new members in the Union, provided they share a common vision, namely a strong, progressive EU that is based on solidarity among all Europeans.
She has stated that IPARD programmes will encourage farmers and that it represents a transitory process towards membership in a single market. "We are presently trying to improve the quality of life in the rural, village areas of our partner countries by supporting their activities," stated Theocharous.
Stating that everyone must adhere to the same rules, Theocharous has said that it is not sufficient to just set priorities for funding, but also to control how EU funds are utilised.
"IPARD is an extremely crucial mechanism that relates to the second generation of financial instruments which ensures that various regions and rural communities have access to finance. Agriculture is a key component of the economic and social aspects of the Western Balkans and Turkey and therefore more attention must be directed to this area," Theocharous has said.
She has pointed out that support to farmers is crucial for the stability of the EU accession process and that agriculture and the revival of rural areas play a key role in the future of the EU and its enlargement.
Source: Tanjug