J. Joksimović with directors of 16 Regional Development Agencies: Strategic cooperation for sustainable regional development
18. January 2018. | Београд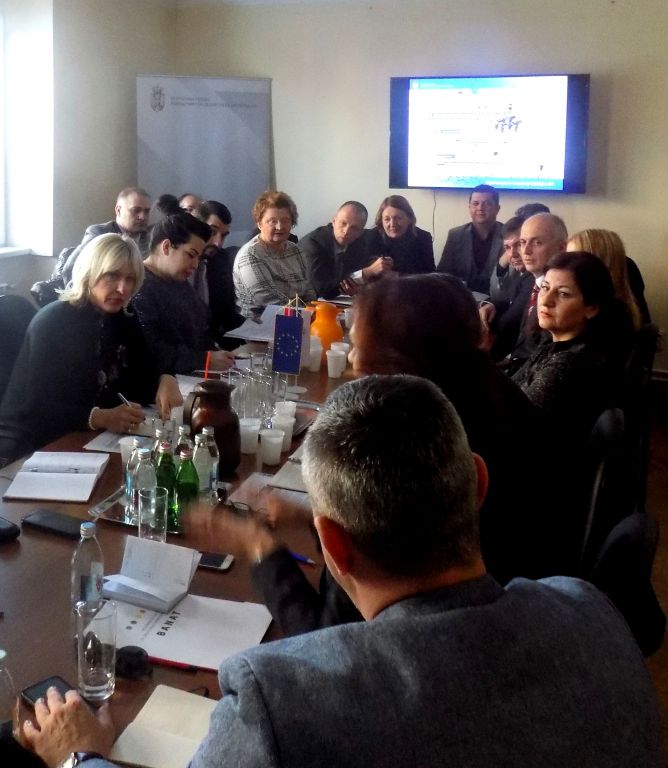 Minister of European Integration Jadranka Joksimović has met with directors of all 16 Regional Development Agencies in Serbia, as well as with the director of the Regional Development Department of the Development Agency of Serbia, Slobodan Petrović.
Joksimović pointed out that the European integration process is actually a process that contributes to the realisation of development goals and priorities of the Republic of Serbia at the national, regional and local level.
Representatives of RDAs were particularly pleased with the fact that this is the first time that a minister in the Government of the Republic of Serbia, Jadranka Joksimović, has recognised the importance and the role of Regional Development Agencies. In late 2017, the Ministry of European Integration signed agreements on cooperation with all Regional Development Agencies, based on which it will be actively involved in raising the visibility of EU development funds intended for local self-governments and benefits arising from them.
In addition, the representatives of regional development agencies expressed their gratitude for the support the Ministry of European Integration is providing to local self-governments through various instruments of support, and extended their support to the Ministry in its efforts to establish a system for EU development funds management. In this regard, concrete arrangements of cooperation in the forthcoming period have been agreed so as to ensure the participation of local self-governments in key activities undertaken by the Ministry of European Integration.
The Ministry of European Integration is an institution responsible for establishing and developing a system for the use of structural and EU cohesion funds. Bearing in mind that the largest part of EU funds is intended for local self-government, special priority has been assigned to cooperation with the network of accredited Regional Development Agencies.
Minister Joksimović emphasised that the goal is to strengthen the capacities of local self-governments to attract available international funds, which would reduce budget requests - particularly given that these are copious funds whose amount will, as Serbia approaches the EU membership, gradually increase.
At the meeting, it was agreed that it is already time to undertake activities focused on establishing a system for efficient planning and managing programmes financed from EU funds.
In this regard, the Ministry has included the RDA representatives in working groups for the preparation of large infrastructure projects, cross-border cooperation projects and in the activities of providing a set of services related to specific negotiation chapters important for the process of European integration.
Given the fact that Minister Joksimović is also the National IPA Coordinator and the coordinator of the overall development assistance, RDA representatives have recognised the Ministry as a leading institution that would coordinate the RDA policy and would thus contribute to ensuring long-term cooperation and continuity in the field of sustainable development.
Source: Tanjug