Spain hopes Serbia will soon become a member of the EU
November 30 2017 | Belgrade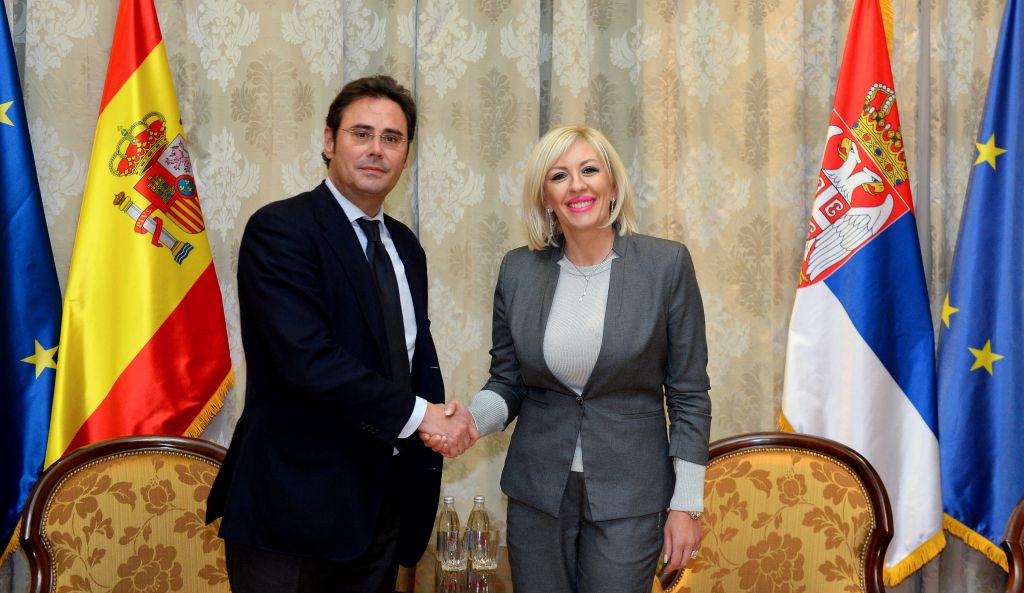 "Spain will continue to support Serbia on its path towards European integration", stated today the State Secretary for European Affairs with the Ministry of Foreign Affairs of Spain, Jorge Toledo, after meeting with Minister of European Integration Jadranka Joksimović, expressing his hope that Serbia will soon become a member of the European Union.
At a joint conference with Toledo, Minister Joksimović said that Serbia had received support from Spain for three chapters that are expected to be opened by the end of the year and stated that in the meantime Serbia had submitted two more negotiating positions.
According to her, Spain is one of the most active supporters of further enlargement of the EU, especially in regard to Serbia, stating that Serbia deserved such support due to the reforms and the progress it had achieved thus far.
"I hope that you will soon join the European Union and that I will be able to see my friend Jadranka (Joksimović) as a Minister of an EU Member State," said the State Secretary for European Affairs with the Ministry of Foreign Affairs of Spain.
He stressed that Spain highly appreciated Serbia's support regarding the principled position on the territorial integrity of that country and underlined that Serbia could also count on Spain in the future to firmly support its territorial integrity and sovereignty.
He noted that Serbia had been exerting great efforts to join the European community and therefore deserved to be given "wind to its wings" for faster EU accession.
"We need to speed up this process because today Serbia and Montenegro are not countries that only have a prospect of entry. They are firmly on this road and we need to give some wind to their wings," he said, adding that Europe still needed to build up and accept new members.
"We anticipate that Serbia will be in that group," stated Toledo.
Minister Joksimović reminded that Spain is perceived as an extremely friendly country that supports Serbia, respects its territorial integrity and supports its position regarding Kosovo and Metohija.
She further pointed out that Serbia also respects international law and the territorial integrity of Spain.
She thanked Toledo for the view that the principles of fulfilled criteria and evaluating each candidate country individually should be respected, because, as she said, she did not advocate that all countries of the Western Balkans should be "admitted to the EU as a package".
"Not because I think others do not deserve it, I just think it's important to maintain the principle of fulfilled criteria. In this respect, I express my gratitude for the fair attitude that progress should be measured," stated Joksimović.
"In this regard, the statement by Jean-Claude Juncker that Serbia and Montenegro are making the most progress, which some wish to bypass, has been recognised in Spain as a true and fact-based statement", Joksimović added.
"That does not mean that we have relaxed and that we are not performing any further work. There is a lot of work ahead of us. Some reforms have just begun. We will do everything that is in our power to fulfil the reform process we have set because of the citizens of Serbia and I hope this will result in a rapid pace as regards the opening of chapters," stated the Minister.
She expressed hope that over the course of 2018 a meeting between Serbian President Aleksandar Vučić and Prime Minister Mariano Rajoy would be realised, which, as she said, would be good for the political and economic cooperation of the two countries.
She added that the establishment of an air-route between the two countries would be useful for strengthening economic cooperation and reinforcing relations.
Source: Tanjug