J. Joksimović: We will intensify bilateral dialogue with EU members
24. October 2017. | Warsaw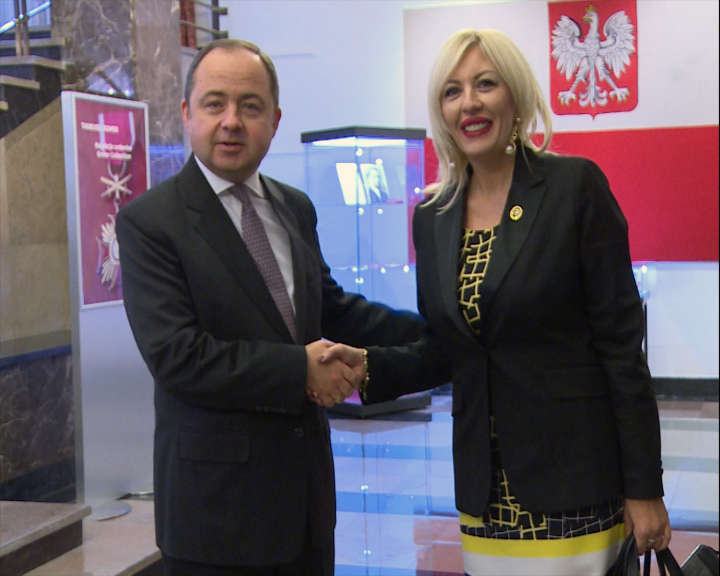 "It is very important for Serbia to cooperate with the Member States of the European Union, and in that sense it is important for us to have a discussion with Poland, from which we can learn a lot about the process of European integration and which supports the process of enlargement of the European Union", Minister of European Integration Jadranka Joksimović has said today, during her visit to Warsaw.

Minister Joksimović is currently in a working visit to Poland, where she has met with Secretary of State for European Affairs of the Ministry of Foreign Affairs of Poland Konrad Szymański.

After the meeting, Joksimović stressed in her statement to Tanjug that Poland was an important Member State that was not only one of the leading countries in Europe in terms of the growth rate, but also an example of extraordinary transformation of society and state since its EU accession and even during its preparation for membership.
"This is important for us, and I began to "push for" this principle of cooperation with the Member States even more, because Brussels is always there for us, it is the institutional seat of the EU, and we work with the Union at the institutional level anyhow, but in order for such cooperation to have the right effect we must talk with the Member States, intensify the dialogue on all issues concerning the negotiations and bilateral issues with the Member States," Joksimović stated.

She indicated that Serbia may have even unjustly neglected its relations with Poland which was a remarkable example of success of European integration, and from which much can be learned about the accession process, and whose experience in the use of European funds, both pre-accession and structural, was invaluable.

Joksimović particularly emphasised that Poland had developed its agriculture to the maximum by using EU funds, and had placed its regional and local development on the pedestal in the process of European integration and preparations for membership. "Now our citizens, who may not have travelled to Poland for a long time, would simply not recognize this state, the extent to which progress has been made, and the overall development of the state and society in Poland. That is why Poland's example is important to Serbia as a candidate country," the Minister said.

She highlighted that Poland was one of the countries that principally supported enlargement as an EU policy. "It is one of the countries that have not changed their position regarding the positive role of enlargement policy, and, in that sense, we have the space to cooperate with them even more closely in this direction," Joksimović added.

The Minister also stated that Poland, Hungary, Slovakia and the Czech Republic had all shown an example of exceptional regional cooperation within the Visegrad Group, both prior to becoming members of the EU and afterwards, and that it was in Serbia's interest to cooperate more closely with these countries both at the political and economic level. "An example of cooperation within the Visegrad Group, as well as cooperation between the Nordic or Baltic countries, is very instructive for us, not only for the region, but for Serbia as well," Joksimović underlined.

The Minister further said that, in addition to being part of the Western Balkans, Serbia was also neighbour to Hungary, Romania, Bulgaria, that it had good contacts with Slovenia, Austria, Poland, the Czech Republic and Slovakia, which all constituted an important framework of Serbia's foreign policy platform. "This is a region within the EU that is really getting momentum in terms of development, and it is of great interest for us to cooperate both politically and economically with these countries," Joksimović stated.

She added that, during her conversation with her Polish colleague, they had also discussed political developments in the EU, the new strategy for EU enlargement presented by President of the European Commission Jean-Claude Juncker, and how it was perceived within the Member States.
(source: Tanjug)