Documentary Film Festival European Cooperation: Film Story on 22−24 September in Belgrade
18. September 2017. | Belgrade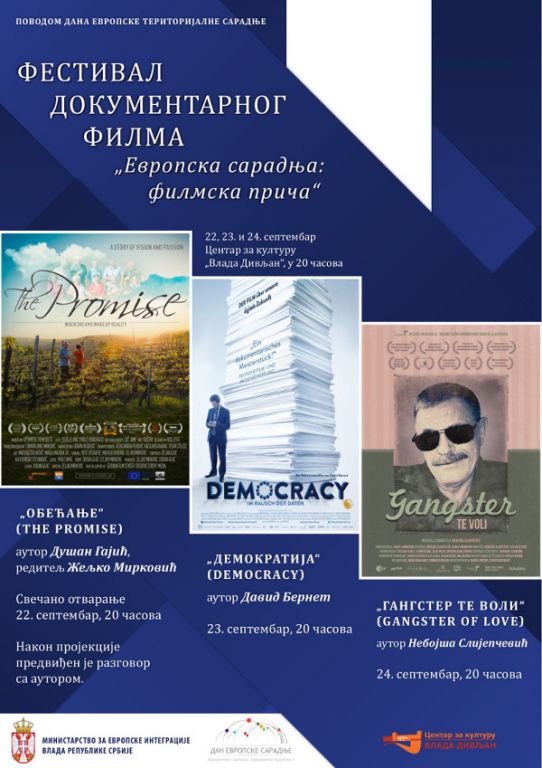 The Ministry of European Integration of the Republic of Serbia invites you to a three-day documentary film festival called European Cooperation: Film Story that will be held at the Vlada Divljan Cultural Centre, on 22−24 September, on the occasion of the European Cooperation Day.
On 22 September, the festival will open with the multi-award-winning film The Promise, by author and producer Dušan Gajić and director Željko Mirković, with whom a panel is scheduled after the screening. The repertoire also includes: German film Democracy, directed by David Bernet (23 September), and the documentary Gangster of Love, by Croatian director Nebojša Slijepčević (24 September). All of the films will be screened at 8 p.m.
The European Cooperation Day is a manifestation promoting the European Territorial Cooperation, an instrument of the European Union aimed at connecting citizens of neighbouring countries with a view to overcoming common obstacles. Cross-border and transnational cooperation programmes have been implemented in Serbia since 2004, and until 2014, the European Union allocated EUR 91 million for such programmes and supported more than 800 projects, involving more than 500 organisations within the territory of Serbia. Under the framework of financial perspective 2014−2020, Serbia has EUR 260 million available from EU funds, with seven cross-border cooperation programmes currently being implemented − with Hungary, Romania, Bulgaria, Montenegro, Bosnia and Herzegovina, Croatia and Macedonia, as well as two transnational cooperation programmes - the Danube and the Adriatic-Ionian programmes (Adrion).