J. Joksimović: Germany has allocated EUR 40 million for particular projects
19. September 2017. | Belgrade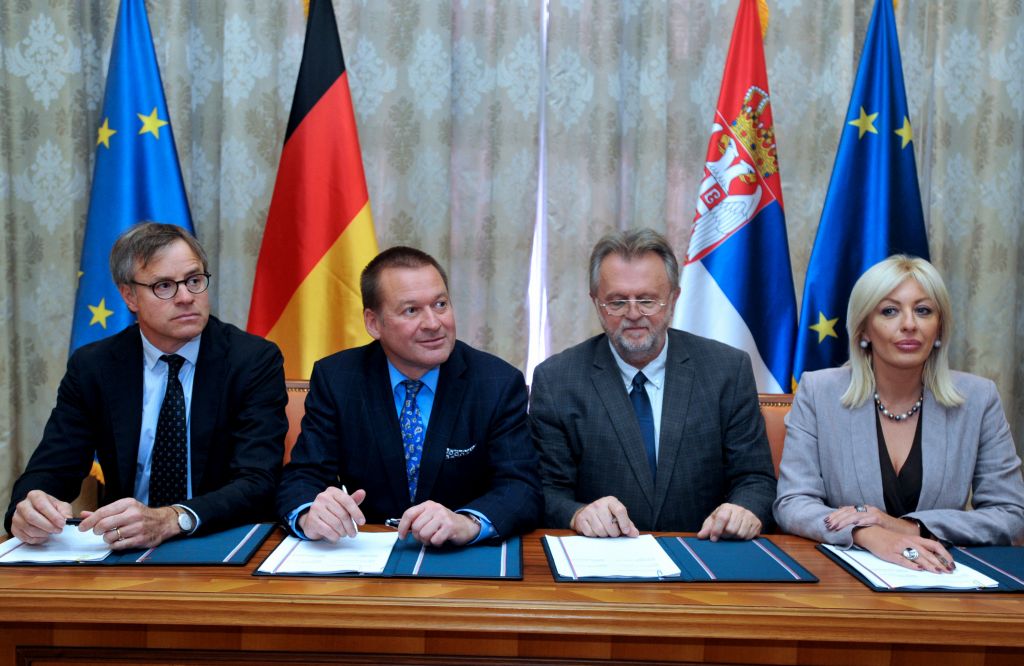 Minister of European Integration Jadranka Joksimović has said today that Germany has allocated EUR 40 million in grants to Serbia for 2017, emphasising that this country has been Serbia's largest bilateral donor in the past fifteen years, having allocated EUR 1.7 billion in grants.
Joksimović told reporters after the signing of the Protocol on Intergovernmental Negotiations on Development Cooperation between the two countries that Serbia had not decided to take any credit on the occasion due to its monetary and fiscal policy, and that the German government had allocated almost EUR 40 million to the country for the current year.
The Protocol was signed by Minister of European Integration Jadranka Joksimović, Minister of Finance Dušan Vujović and Head of the South-East Europe Department within the German Federal Ministry of Economic Cooperation and Development Dirk Schattschneider, while German Ambassador Axel Dittmann also attended the ceremony.
Speaking about the projects that will be financed, Minister Joksimović stated that they would bring tangible benefits to the citizens and that European integration was a mechanism for regional and local development.
She further noted that all the projects that would be supported by the German government, as well as the earlier ones, such as the introduction of energy efficiency in public buildings, schools, hospitals, residential buildings, the expansion of sewage networks, which was very significant for some local self-governments, as well as waste-water treatment plants, promoting small and medium-sized enterprises, raising competitiveness, youth employment initiatives, represented projects with highly tangible benefits that the citizens should also be noticing in the process of European integration, in addition to talking about the date of membership.
Joksimović emphasised that the full sense of Serbia's path towards the EU and European integration would be understood when the whole process was concluded with the help of partners from the EU, especially Germany, with which, she said, Serbia had excellent cooperation. "Only ten years ago we did not have such excellent relations with many countries from the EU, including Germany. I believe that neither Germany nor Serbia shared an ideal perception of one another. Take a look at the progress we have made in several years in developing our bilateral relations; we have become partners and I think that, in that sense, we should work even harder and make yet more progress," stated Minister Joksimović. As she pointed out, the voice of Serbia was being heard and appreciated, as Serbia continued to build its credibility precisely through successful cooperation with Member States.
"Germany will continue to be a reliable and fair partner to Serbia on the path to the EU," stated German Ambassador Axel Dittmann, who stressed that he was very content with the signing of the Protocol in the Government of Serbia on bilateral cooperation.
He pointed out that Serbia and Germany had a very tight and close cooperation, stating that Germany had allocated EUR 1.7 billion to Serbia under the framework of bilateral cooperation.
Speaking about the projects that will be funded in Serbia, for which Germany has provided EUR 40 million, Dittmann said that support would be provided in all relevant areas where reforms were under way. "These are projects that are of central importance for Serbia's reforms, such as state administration reform, assistance to start-up entrepreneurs ... this is all part of joining the European Union," Dittmann said.
Schattschneider specified that funding would be provided to projects supporting Serbia on its path to the EU, as well as to sustainable economic growth and employment. He further stated that, out of the total of EUR 40 million, EUR 17 million would be allocated for projects related to sustainable economic development, while EUR 14 million would be allocated for the rule of law, adding that EUR 6 million would be allocated for environmental protection.
(Source: Tanjug)