J. Joksimović meets students of the School of European Integration
15. September 2017. | Belgrade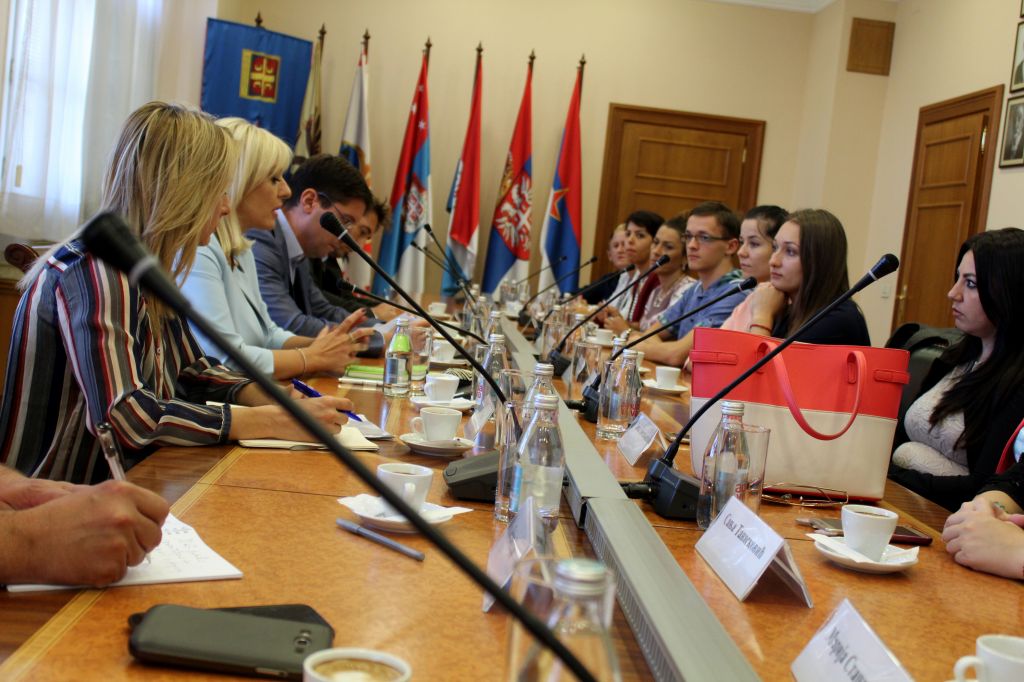 Minister of European Integration in the Government of the Republic of Serbia Jadranka Joksimović has met with the students of the School of European Integration who are currently on a study visit to Belgrade - namely, employees of local self-governments and representatives of civil society organisations from the north of Kosovo and Metohija. She introduced them to previous and future activities in the process of accession, relations between Serbia and the European Union, and other topics important for European integration.
The Minister pointed out that membership in the European Union was a strategic interest of the state. The accession process is a voluntary expression of the political will of a state, while reforms on the road to full membership are primarily in the interest of citizens. She said that the perspective of Serbia's membership in the EU was clear- that it was a process that, despite its ups and downs, contributed to the development of the state.
The students were interested in the situation concerning the Belgrade-Pristina dialogue and Chapter 35. The Minister explained that the dialogue between Belgrade and Pristina, facilitated by the European Union, was the recognition of the fact that Serbia had not recognised the independence of Kosovo and Metohija. She pointed out that the state's intention was to use the talks in Brussels to provide the best conditions for Serbs in Kosovo and Metohija and protect national interests. She recalled that the European Parliament adopted a Declaration yesterday that accepted and recognised an amendment suggested by Serbian members of parliament on the urgent formation of the CSM.
Jadranka Joksimović emphasised that Chapter 35 - that does not represent a substitute for the dialogue, implied monitoring of the implementation of what had been agreed upon within the Brussels Agreement.
"Regional cooperation is one of Serbia's priorities", Joksimović stated, pointing out that cooperation was a prerequisite for stability, peace, development and progress.
Minister Jokismović informed the students of the School of European Integration that the European Union, with over EUR 2 billion in grants for reforms, was Serbia's largest donor.