Jadranka Joksimović and Gordan Markotić: Responsible political messages are important
29. August 2017. | Belgrade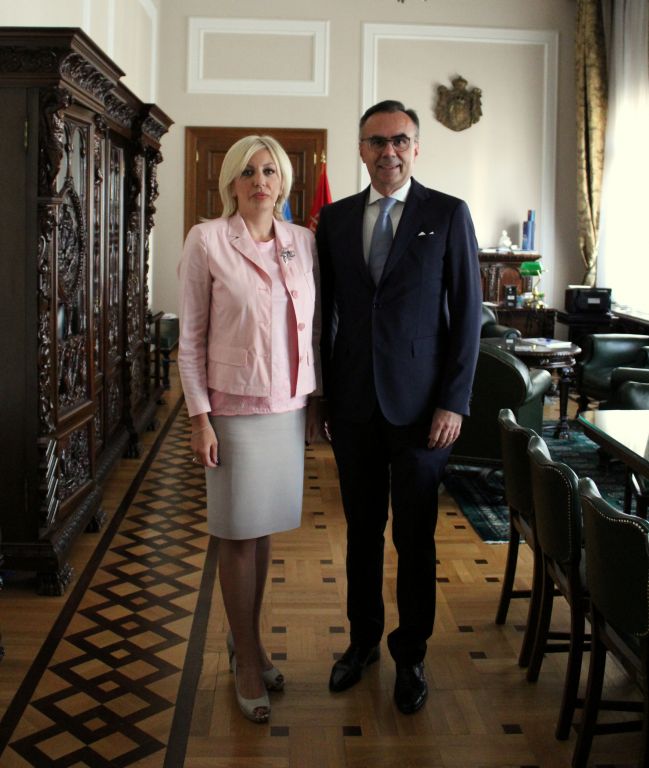 Minister of European Integration Jadranka Joksimović received outgoing Croatian Ambassador to Serbia Gordan Markotić on the occasion of his farewell visit. They discussed bilateral relations between the two countries, the process of European integration of Serbia, the situation in the European Union, the relations in the region, and other topics.
Joksimović emphasised that relations between Serbia and Croatia were important, not only for the two countries but also for the region, and that outstanding issues should be tackled with honest mutual communication.
She noted that negative rhetoric must never be heard from high officials, because, as such, it may undermine good neighbourly relations.
It was pointed out that the stability of the region was in the interest of both countries. Furthermore, it was emphasised out that there was room for cooperation in the field of European integration and joint cross-border cooperation projects in border municipalities, some of which had already been launched, according to the statement from her Office.
Ambassador Markotić pointed out the importance of building co-existence by meeting the interests of the citizens of both countries.
The Minister of European Integration informed the Ambassador of Croatia of the dynamics of the accession negotiations and further plans of Serbia in the process of European integration.
Jadranka Joksimović wished Gordan Markotić success in his future work, and thanked him for the cooperation they achieved during his service in Belgrade.