J. Joksimović and Keefe: Support to European integration of Serbia, regardless of BREXIT
August 25 2017 | Belgrade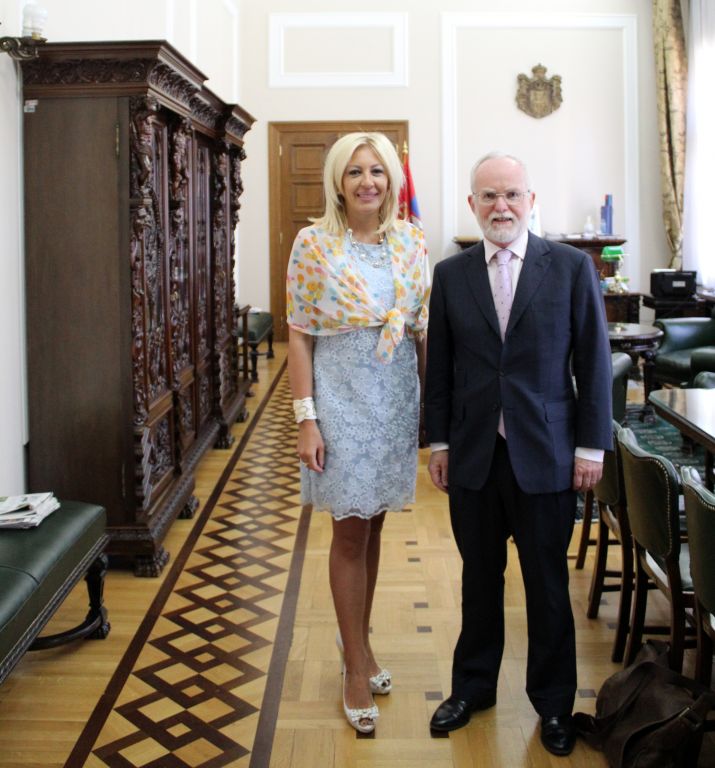 Minister of European Integration in the Government of the Republic of Serbia Jadranka Joksimović has met with Ambassador of the United Kingdom Denis Keefe today. They discussed the bilateral relations of the two countries, current affairs in the negotiation processes of both Serbia and the United Kingdom with the EU, reforms that are being implemented, as well as opportunities in the region and other important topics.
Minister Joksimović assessed that the presence and support the UK provided to Serbia, despite negotiating on its withdrawal from the EU, was very significant. She confirmed that the membership in the European Union was a strategic commitment of our country.
Ambassador Keefe praised Serbia for making progress on its path to EU membership and the results achieved so far in terms of comprehensive reforms, while stressing that it was important to acknowledge the progress achieved by preserving the dynamics of the opening of chapters.
Minister Joksimović pointed out that Serbia had opened 10 chapters, two of which had been provisionally closed. She further noted that she expected that, by the end of the year and during the Estonian EU presidency, it would be possible to open at least three more chapters: 6 - Company law, 30 - External relations, and 33 - Financial and budgetary provisions.
Speaking about the next WB Summit to be held in London in 2018 within the scope of the Berlin Process, the two agreed that this was a confirmation of the UK's interest in the region, and in this context, they both assessed that Serbia had shown a genuine willingness for cooperation and stability in the entire region.
Ambassador Keefe, who believes that the current pace of EU accession negotiations will continue, stressed the necessity and importance of continuing the implementation of reforms, and noted that Serbia had a good European perspective.