Joksimović and Takahara discuss continuation of development cooperation through projects
26. July 2017. | Belgrade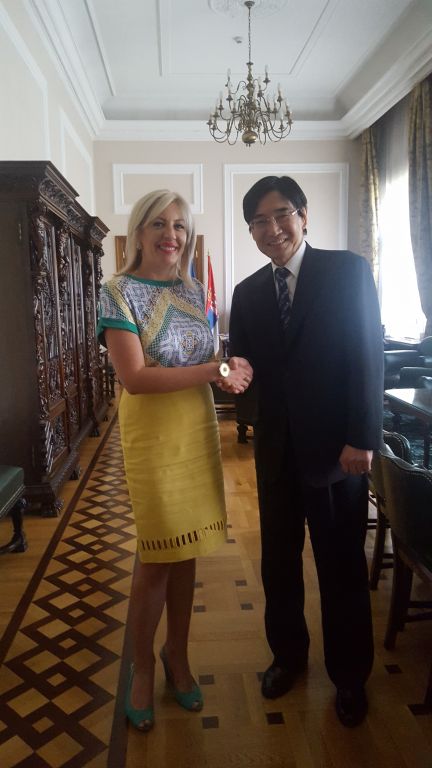 Minister of European Integration Jadranka Joksimović has spoken today with Japanese Ambassador to Serbia Juichi Takahara about the cooperation of the two countries, the process of European integration of Serbia, the reforms being implemented, the circumstances in the region and other topical issues.

Jadranka Joksimović thanked the Japanese Ambassador for Japan's continued assistance to Serbia, especially evident during the major natural disasters and the migrant crisis. She stated that it was an example illustrating that Japan was joining the group of the most important and most visible partners of our country, particularly taking into account donor and development assistance.

The Minister informed Takahara about the latest public opinion survey according to which Serbian citizens recognized Japan as one of the most important donors and expected that, in addition to the major projects it had already supported, it would maintain its visible presence in Serbia through projects beneficial to ordinary citizens.

The Ambassador confirmed that Japan supported Serbia's accession to the European Union and reforms that are being implemented. He further noted that European standards provided business security to international investors, which was an important condition for development, also pointing out that Serbia was the most important country of this part of Europe in terms of its overall potential and resources.

Joksimović and Takahara assessed that relations between the two countries were at a high level and that there was potential for their strengthening. They made a special reference to important and large infrastructure projects financed from Japanese development assistance funds and a future project of support to the reconstruction of small and medium-sized enterprises, primarily at the local and regional levels.