J. Joksimović and Kostelancik: Serbia is important US regional partner
October 17 2019 | Belgrade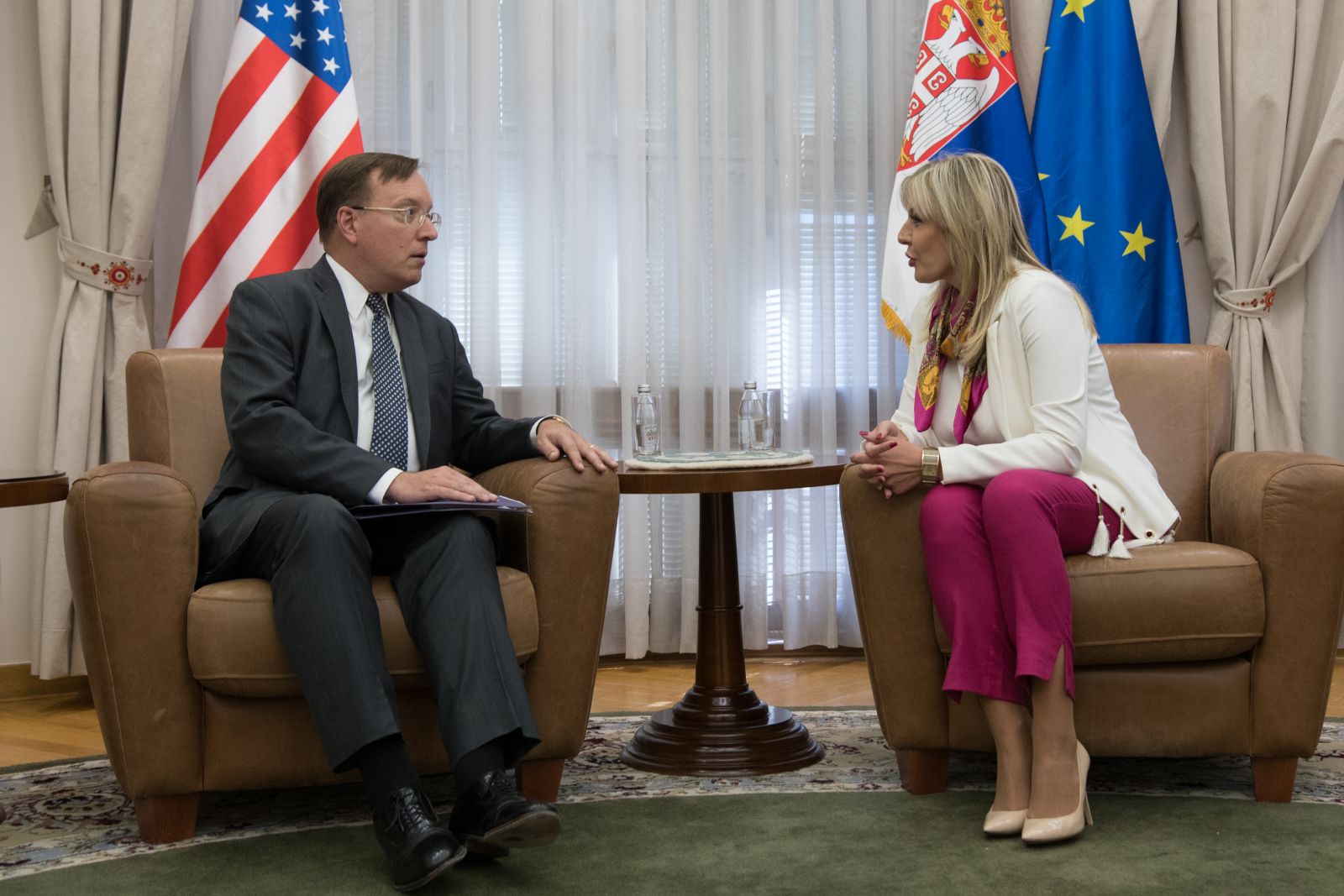 Minister of European Integration Jadranka Joksimović and the Director of the State Department's Office of South Central Europe David Kostelancik talked about bilateral relations between Serbia and the US, the process of European integration of our country, undergoing reforms, the situation in the region and other topics.
Jadranka Joksimović expressed her appreciation for the help and support that the US, being an important partner, provides to Serbia's reforms and European integration. She singled out cooperation with USAID that resulted in the implementation of specific development projects for small and medium-sized enterprises and local self-governments, as well as significant grants and technical support provided by the US to encourage Serbia's accession process.
The Minister informed Kostelancik that EU membership was Serbia's foreign policy priority, supported by more than 50 percent of its citizens, while 68 percent of the citizens supported reforms necessary for the development and progress of the state and society. She also stressed that reforms in the fields of economy and rule of law were particularly vital as they influenced the creation of a positive business environment and increased foreign partners' interest to invest in Serbian economy.
Joksimović stressed that Serbia expected to open new chapters during Finland's presidency of the Council of the European Union, given that several negotiating positions had been prepared and that new ones were under development.
The Minister emphasised that Serbia paid great attention to regional stability, which was a prerequisite of development, progress and cooperation. She stressed that we advocated a sustainable and compromise solution in the process of normalizing relations between Belgrade and Pristina, and that Belgrade was ready to continue the dialogue as soon as Pristina repealed its unilateral and illegitimate decision to impose tariffs on goods from Central Serbia. She reminded that Pristina, unlike Belgrade, had not fulfilled its only obligation undertaken by signing the Brussels Agreement.
Director of the State Department's Office of South Central Europe David Kostelancik said that Serbia was an important partner for the US and a significant segment of security and regional stability. He stated the United States was committed to continuing the dialogue and stressed the need to abolish tariffs but also to normalize relations. He stressed that the US could continue to support and encourage Serbia's European integration process, that Serbia had achieved significant reform progress through implementation and that we should continue to meet criteria - above all in the areas of rule of law, judicial efficiency, public administration and the fight against corruption.
Joksimović and Kostelancik agreed that the relations between the two countries were good and that there was a sincere mutual intention of further developing the relations.
Source: Tanjug