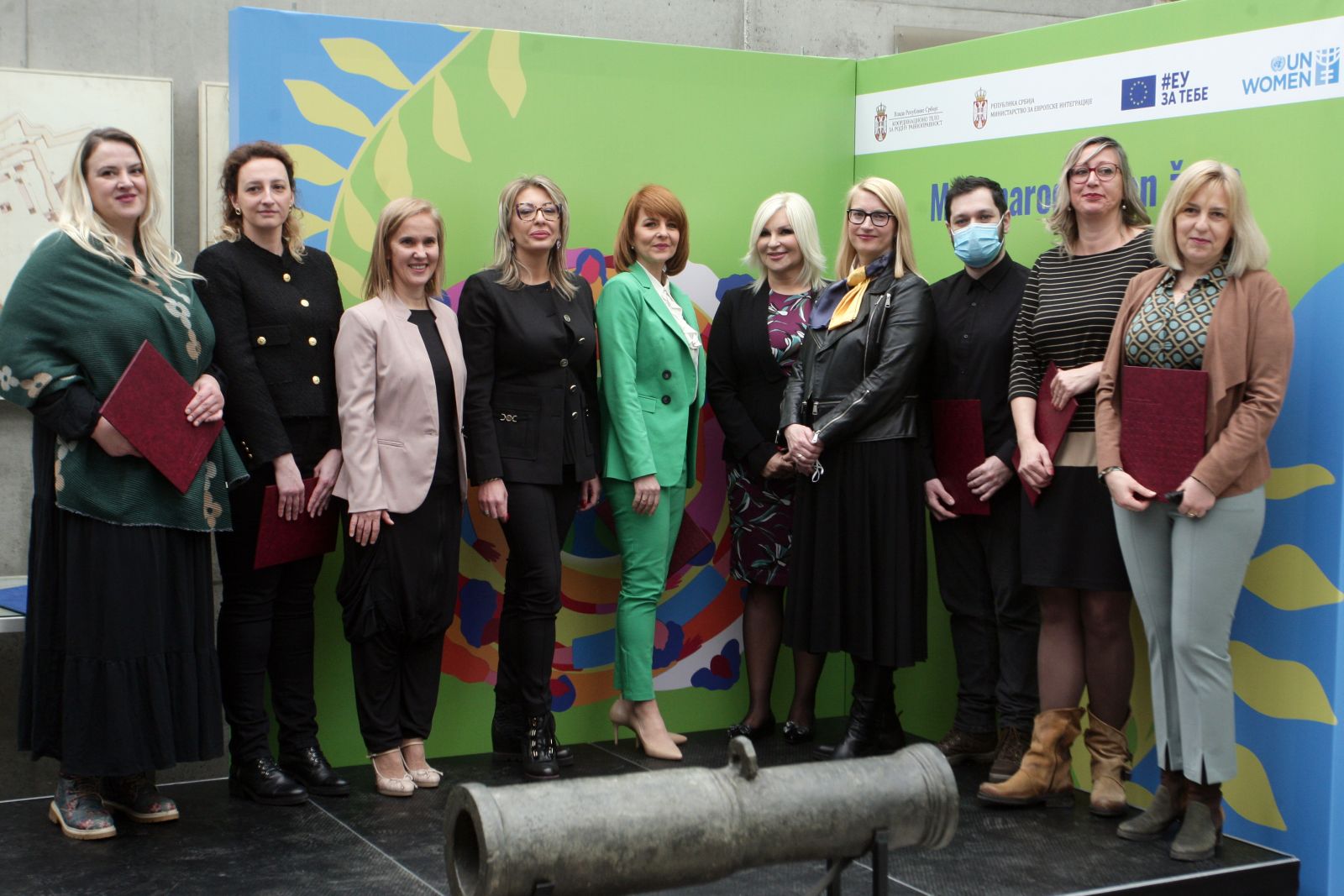 On the occasion the International Women's Day, an event has been organised in Belgrade today, where six women's civil society organisations have received grants in the total of RSD 20.2 million for the implementation of projects aimed at eliminating gender stereotypes in various areas.
Minister of European Integration Jadranka Joksimović has said that important projects, which are financed from EU pre-accession funds and related to key steps in achieving gender equality in Serbia, have been implemented for years.
She has noted that it is a European value to which Serbia is also committed, adding that this topic can never be reiterated or addressed enough.
Joksimović has said that stereotypes do exist and that those are widespread, albeit wrong, opinions coming from the perspective of men, as well as some women, on whether women belong in certain positions in the society, and where their place is.
She has stressed that the only truth is that women are more responsible and that they want peace and stability.
"This is where stereotypes have their dimension of truth and genuine valorisation of women's perception of peace, stability, prosperity and care for the future. And that is precisely why I think this is a vital moment to empower women's view of the world, the female principle which in this segment of security, peace and stability can truly achieve its full value and meaning", said Joksimović.
Zorana Mihajlović, the Serbian Deputy Prime Minister and president of the Government's Coordination Body for Gender Equality, has said that it is women who can ensure not only stability but also responsibility both in the present and in the future.
She has said that she is glad that, each year, women's organisations receive support, just like today when the organisations received grants to address the issues of stereotypes in Serbian society.
Mihajlović has recalled that stereotypes exist in all societies, including Serbian, adding that no country in the world can yet say that is has achieved full gender equality and that conditions for men and women are completely equal.
"They are not equal here either, but that doesn't mean that in the previous years we haven't done so much together – the non-governmental sector, international organisations, EU and we in the Government, both through the Ministry for European Integration and through the Coordination Body for Gender Equality, to create legislative frameworks to present and re-assert the topic of gender equality as one of the crucial topics", said Mihajlović and underlined:
"Stereotypes that tell us how good or not good we are just because we are girls or women are stereotypes against which we want to fight every day".
Mateja Norčič Štamcar, Deputy Head of the EU Delegation to Serbia, has said that women face stereotypes in virtually all aspects of social and economic life, adding that equal rights and opportunities for women and men are one of the fundamental European values.
"Gender equality is written in our DNA – all agreements, policies and practices of the European Union. The European Union is a pioneer in gender equality, and we are very proud of that, but that should not mean that we can relax as there is still a lot more to be done", said Norčič Štamcar.
She has said that the recently published Gender Equality Index shows that it will take 59 years for Serbia to achieve full gender equality.
"However, with all important laws and strategies that have been adopted, I think we have a good basis and great chances of reducing that number of years", stressed Norčič Štamcar, adding that the EU continues to support Serbia's efforts on the path towards full gender equality.
The event has also been attended by Milana Rikanović, Head of UN Women in Serbia, who has conveyed that it is important to recognise gender stereotypes and to fight against them.
The grants worth a total of RSD 20.2 million have been awarded to Prijepolje Women's Forum, Women's Association of Kolubara District, Association of Business Women in Serbia, Women's Entrepreneurship Academy, RES Foundation and Centar E8.
The event has been organised by the Coordination Body for Gender Equality, the Ministry of European Integration and UN Women in Serbia, as part of the EU-funded project 'Key steps towards gender equality'.
Source: Tanjug