J. Joksimović: Increasing competitiveness of Serbia and EU through innovation
November 30 2021 | Belgrade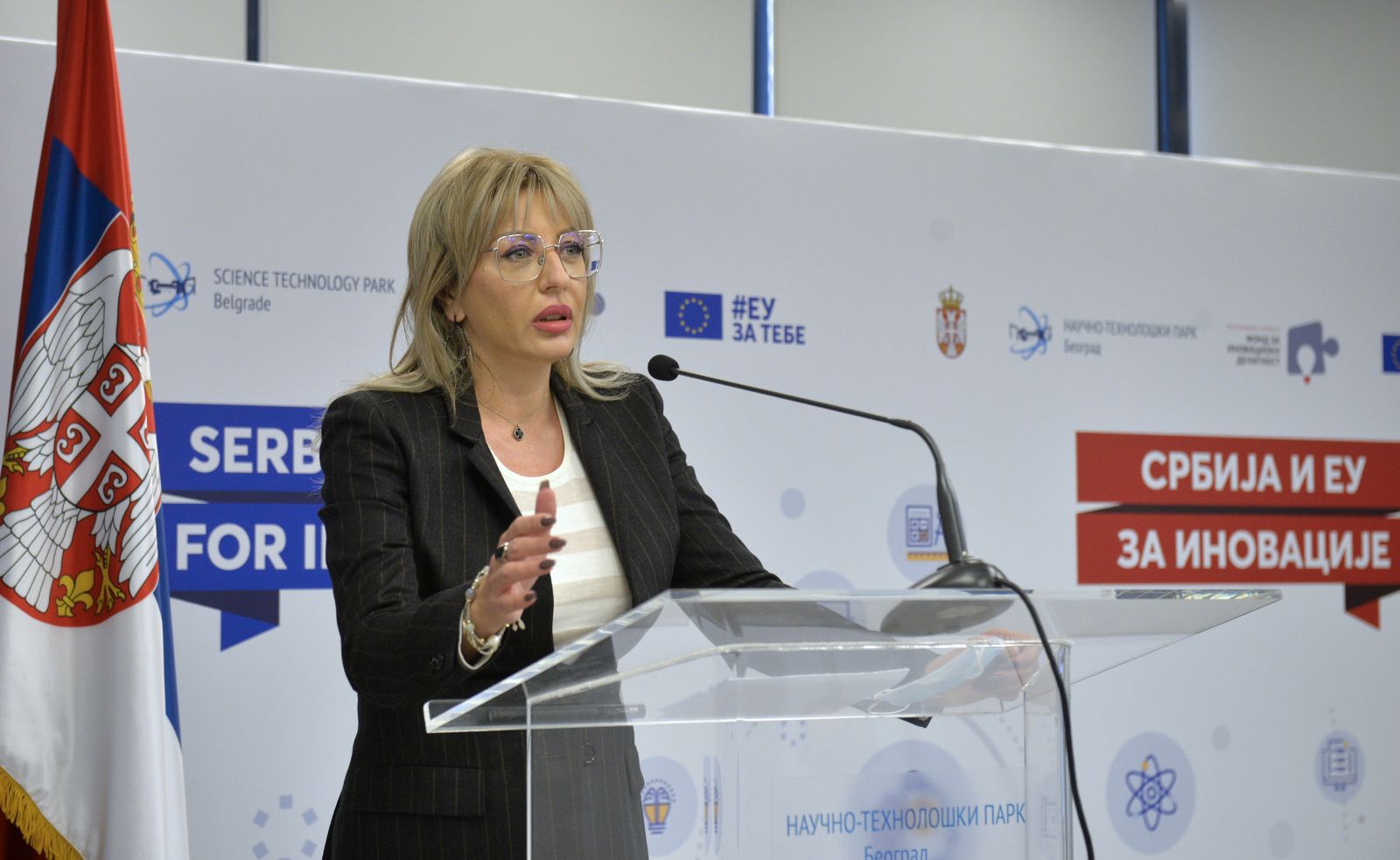 "The aim of projects financed from the IPA 2014 project – 'Development of new products and services by small and medium-sized enterprises through research commercialisation' is to apply science, give impulse to development and provide concrete commercial benefits to young entrepreneurs", said Minister of European Integration Jadranka Joksimović.
Following the conference that marked the end of the IPA 2014 project, Joksimović has told the press that innovation can also be a risky investment, in terms of the uncertainty of whether it will find its place on the market and consumers, adding that it always takes years for the results to show and to see concrete benefits from such projects.
"All these people have demonstrated courage and offered ideas, and by connecting financing sources with EU sources we rewire and network our scientific research community into the European research area, thus making their products available in the European market, which in turn becomes available to them", said Joksimović.
She has stressed that, in this way, they are increasing the competitiveness of not only Serbia but also the EU. According to her, this is what the partnership between Serbia and the EU is founded on, as well as on the fact that not only can the EU do much for Serbia but also that Serbia can do a lot for the EU, demonstrating its capacities to help the entire European continent, and that it can help the EU be more competitive on the global market, which all European citizens will be able to feel.
"Therefore, it is important that we continue the reform process. We have achieved a lot in the previous period, and I expect this to be valorised through concrete steps by the end of the year, because the new methodology implies that every step leads to a greater approximation to common European policies and networking of our policies with the EU's.
Joksimović believes that such projects are also vital for Serbia's European path, but primarily for Serbia's development, for youth, science and education. She has emphasised that Serbia has never lacked ideas or smart people, adding that many Serbian citizens have contributed to numerous European countries in the lines of work their do in those countries. Joksimović has further noted that Serbia would like to keep young people in the country.
"Today, there are no boundaries for science and innovation. We want to be the ones who will support our most talented and valuable scientists, and in that sense, we continue to implement such projects together with the EU", said the Minister.
She has recalled that this project was jointly financed and supported by the Serbian Government and the EU, explaining that, in programming EU pre-accession funds available to Serbia as a country negotiating for membership, Serbia takes into account the priorities of national reforms, while the EU defines priority areas it wishes to invest into.
"Then we negotiate, analyse which projects are mature and which can give us the best and most concrete effect, not only in terms of the GDP, but also the fact that they will benefit our citizens, particularly certain categories of citizens, and I believe young people and scientists are motivated to work and have a lot of ideas", said Joksimović.
She has stressed that ideas do not only belong to young people, but everyone, including elderly generations. According to her, it is important to invest in high-tech and sophisticated projects, as they currently dominate the market of new technologies.
Stating that funds from 2014 were used for this project, Joksimović has noted that it always takes five to six years to implement and realise projects, thus confirming that this one was realised within the deadline.
"All the projects presented today are truly remarkable and entirely fit the criteria set for the realisation of these projects. We did not finish our work with this, we also have a large package from 2018 which is related to commercialisation and improvement of innovation technology capacities of small and medium-sized enterprises", announced Joksimović.
She has added that the public call is open until March 2022 and that applications can be submitted at the e-portal of the Innovation Fund.
Source: Tanjug