J. Joksimović and Eigner: Serbia made progress in all areas
October 22 2021 | Belgrade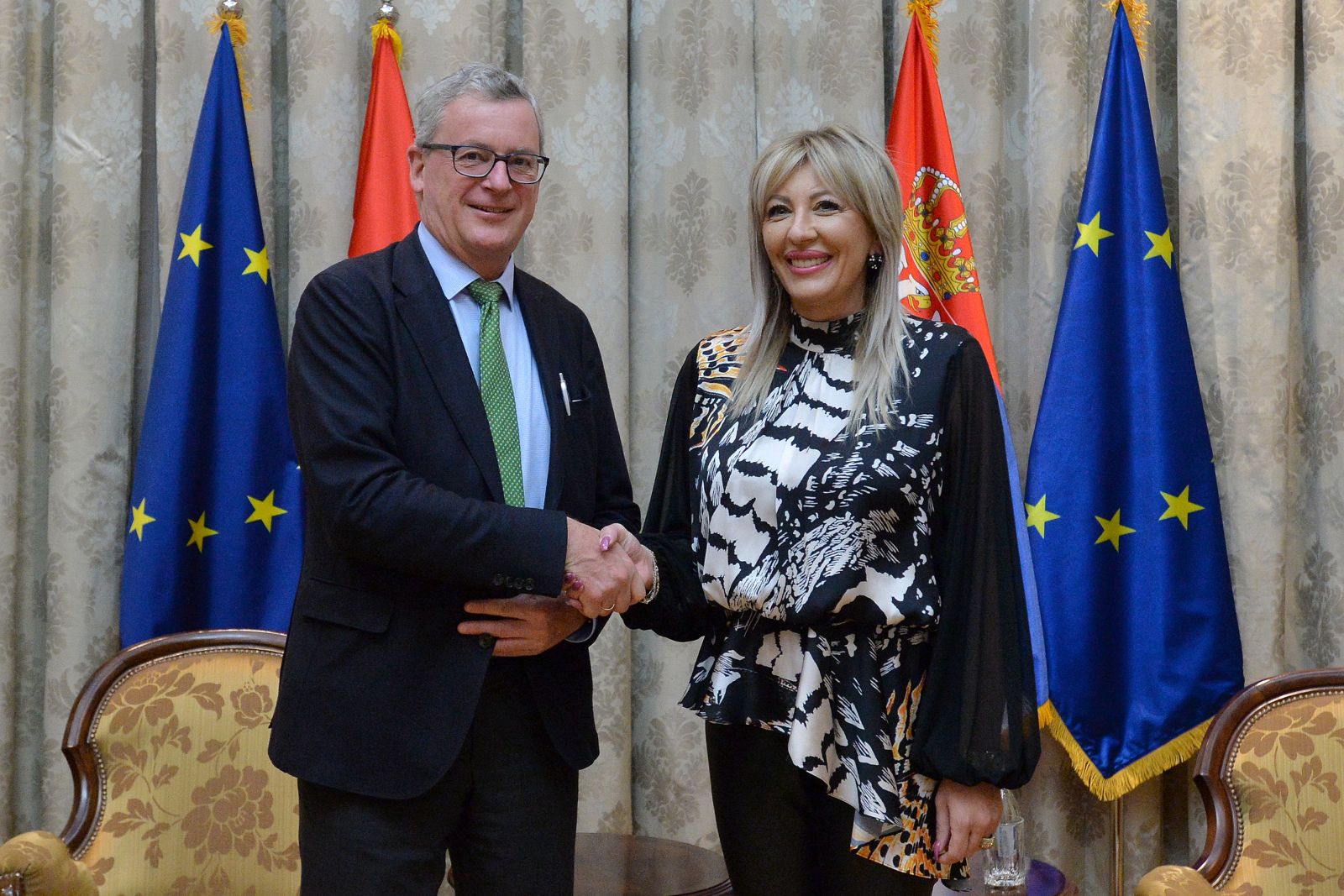 Minister of European Integration Jadranka Joksimović has met today with Johannes Eigner, the Special Envoy of the Austrian Federal Ministry for European and International Affairs for the Western Balkans. They have discussed the current issues of European integration following this week's presentation of the EU Enlargement Package 2021.
At the meeting held in the Government of Serbia, Joksimović has stressed that this year's EC Report on Serbia gives an objective insight into the commitment and motivation of the Serbian Government to conduct reforms in the accession process.
"In globally difficult circumstances caused by the pandemic, which has led to an overall social and economic crisis across the world, Serbia has managed to adapt and readily and resolutely tackle new topics and enhanced coordination, in line with the new methodology in EU accession negotiations. It is crucial for us that the EC recognised that and noted it in its Report as progress in all areas", stated the Minister.
Joksimović has particularly thanked Austria for its continuous and strategic support to Serbia's European path and the Western Balkan region, emphasising that bilateral political and economic relations between the two countries are an excellent example of how cooperation between a candidate country and a member state can be constructive and successful in the EU accession process.
"Given that the European Commission gave a recommendation stating that Serbia met all opening benchmarks for two clusters: 3 – Inclusive growth and competitiveness and 4 – Green Agenda, digitalisation and sustainable connectivity, covering a total of 12 chapters, I am convinced that other EU Member States will rely on this Report, particularly on the part which notes progress in all areas of the rule of law", said Joksimović.
Eigner has stated that the Western Balkans is a strategic priority for Austria and that the EU cannot be whole without this part of Europe.
"The Austrian Government sincerely supports Serbia on its European path, particularly in the implementation of reforms aimed at achieving economic progress, better regional cooperation and improved rule of law", said Eigner, adding that it is also important that the EU recognise the progress achieved so far, so that the EU enlargement policy would become more dynamic and credible, in line with the new methodology.
Source: Tanjug