J. Joksimović: EC Report objective, progress noted in all areas
October 19 2021 | Belgrade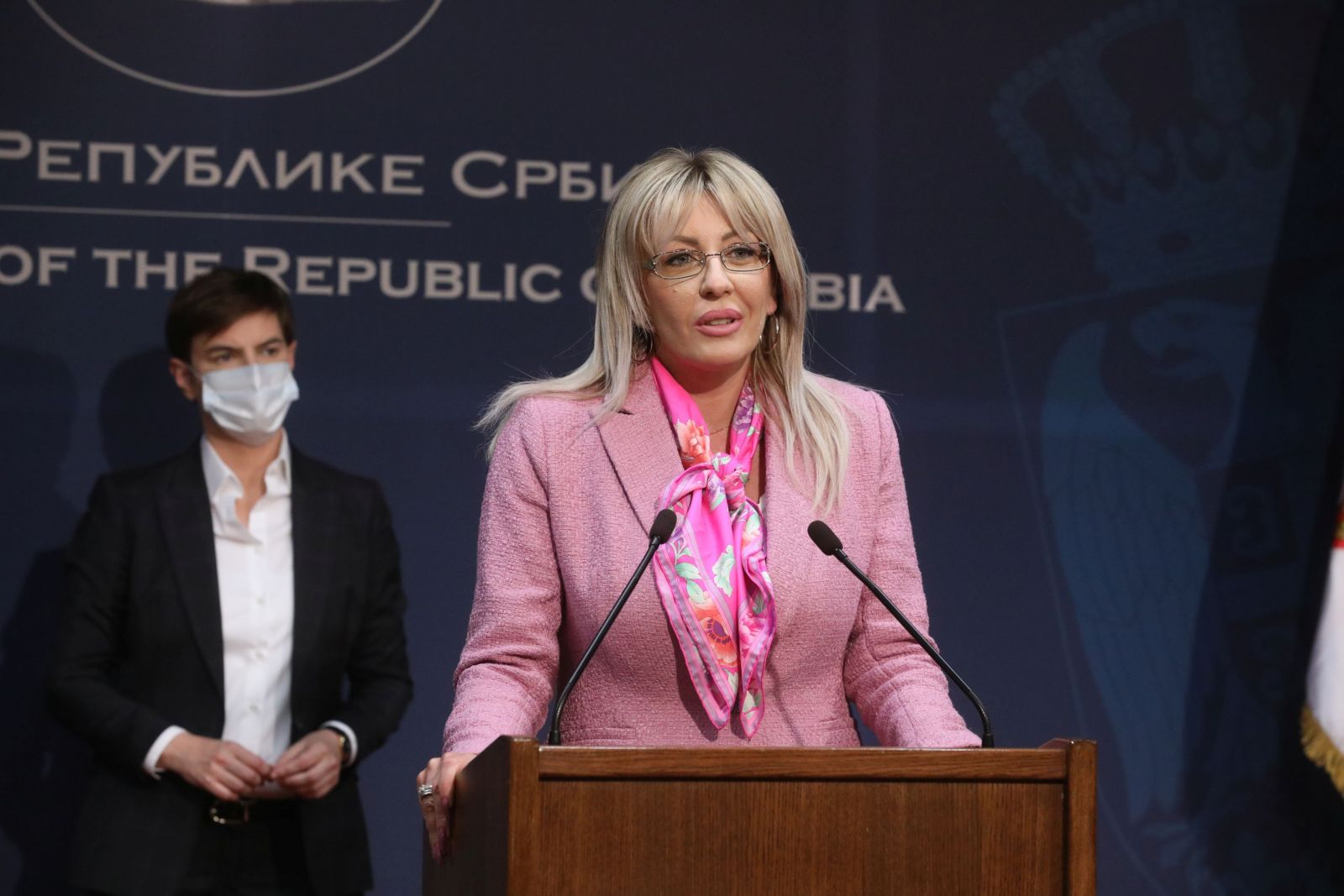 Minister of European Integration Jadranka Joksimović has stated today that the new European Commission's Report on Serbia's progress in the European integration process is objective and "one of the better ones" in the last few years, adding that Serbia's progress has been noted in all areas. At the press conference held in the Government of Serbia, where she attended the presentation of the EC Progress Report on Serbia, Joksimović said that the new document objectively noted everything that Serbia had achieved, as well as matters that should be continued and accelerated.
"This is a good and objective report which recognises our efforts and clearly shows us the direction we should take, just as the previous report did. The new report shows that we have achieved results and gives us additional motivation to continue implementing reforms in a faster and, if possible, more dynamic way", said Joksimović.
She assessed that the Report was a good basis for EU Member States to give consent for Serbia to open two clusters by the end of the year, based on the EC's recommendations and assessments in all areas.
"Whether this will happen depends on the assessment of all Member States, whether they will support the opening of one or two clusters. We won't sit idle, we will actively talk with all Member States to potentially clear up doubts that some states may have in some of the areas", said Joksimović.
She stressed that the EC Report noted that Serbia had met all opening benchmarks for all chapters covered by two clusters: Cluster 3 – Inclusive growth and competitiveness, which includes eight negotiation chapters, and Cluster 4 – Green Agenda, digitalisation and sustainable connectivity, which includes four chapters.
"Member States will base their decision on the assessment of progress in the rule of law reform", said Joksimović.
She noted that progress had been recorded in all areas of Cluster 1 – Fundamentals, which had already been opened, including judicial reform, freedom of expression and media, fight against corruption, fundamental human and minority rights, and fight against organised crime.
"In some areas, progress is greater than in others, but it has definitely been noted as progress", stated Joksimović.
She emphasised that the current EC Report on Serbia could be assessed as a "good impression" about the country and the Government, which, according to her, despite the difficult pandemic conditions and many other challenges in the political, economic and health sector, had demonstrated willingness, courage, motivation and enthusiasm to accept the new methodology in the middle of negotiations when the rules of the game changed.
"We were not a country that whined and complained and used that as an excuse for indolence and lack of reforms, on the contrary – we demonstrated readiness, commitment, determination and courage to tackle the new topics and ways to transform those topics into concrete reforms", noted Joksimović.
She thanked Serbian President Aleksandar Vučić and Prime Minister Ana Brnabić for their active involvement and support to the actions she had undertaken as the line minister towards complete readiness for the new methodology, in a structural, organisational and any other sense.
"With full support and involvement just as the new methodology dictates, which entails greater and stronger political steering of the process, we've managed to do it in the last few months. With immeasurable contribution of President Vučić and Prime Minister Brnabić and all line ministries, this process has gained in strength, coordination and political steering, which was reflected in this report", concluded Joksimović.
Source: Tanjug