Norway contributes to more balanced regional development in Serbia
October 13 2021 | Belgrade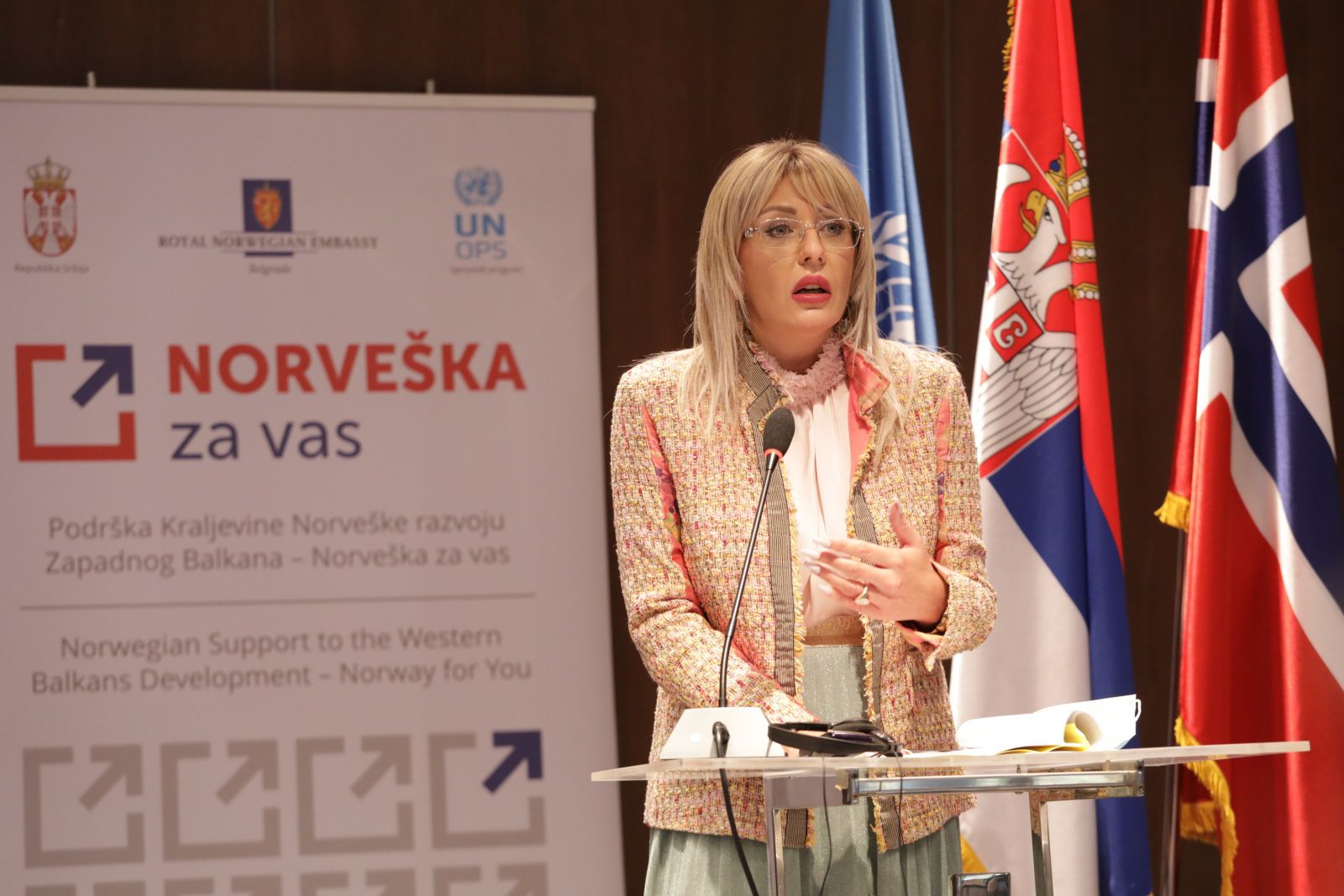 The project 'Norway for You – Serbia', through which more than 100 projects intended for vital reform sectors have been implemented, has particularly contributed to a more balanced regional development, given that it was focused on underdeveloped municipalities, as assessed today by Jadranka Joksimović, the Minister of European Integration.
At the conference organised on the occasion of project finalisation, Joksimović has recalled that the project lasted for three years and that it included 91 underdeveloped municipalities which received support for starting or improving the business activities of 190 entrepreneurs and companies, while 218 people were employed in those underdeveloped areas.
"This gave them the opportunity to stay in their hometowns and work, so we wouldn't have an upsurge in internal migration", said Joksimović.
She has added that more than 100 unemployed persons attended professional training courses, which enabled them to acquire skills that would make them competitive on the labour market which, according to her, is becoming more demanding and requires new and modern skills.
Stressing that green skills for the green policy are currently in demand, Joksimović has said that they will be in even greater demand in future projects, and that this will be a special topic to work on.
Joksimović has noted that local infrastructure for more than 35,000 citizens was improved owing to nine projects that local self-governments implemented within 'Norway for You – Serbia', adding that those municipalities now have a better offer in terms of sport, cultural content, education etc.
She has underlined that Serbia also received a state-of-the-art software for the translation of the EU acquis, which is a demanding task, as it involves the translation of an extensive material that is constantly changed and updated and that requires continuous assistance in translation so that it can be efficiently used in the process of accession and reforms.
Joksimović has also listed strengthening Serbia's capacities in information security as another important project in a vital area.
She has explained that, in cooperation with the Ministry of Tourism, Telecommunications and Trade, the analysis of Serbia's cyber security ecosystem was conducted and that a cyber-attack simulation platform was procured for RATEL.
The Minister has further said that, during the most severe moments of the COVID-19 crisis when there was a lack of masks and ventilators, one part of the funds was allocated for direct support and purchase of 20 ventilators, 25 machines for anaesthesia and respiratory monitoring, and 11,000 masks.
Joksimović has stressed that Norway is one of Serbia's largest bilateral donors and development partners, emphasising the vital support Norway has been providing to Serbia in the economic process and in the process of promoting the benefits of the reforms implemented within the European integration process.
"Norway has truly demonstrated a sincere and partner relation, as well as support to Serbia's European integration, focusing precisely on the areas the EU credible strategy determined for enhanced engagement in the Western Balkans.
She has noted that, since 2008, Norway has provided more than EUR 100 million in grants to Serbia, adding that this places Norway among the largest bilateral and development partners and donors to Serbia.
"I believe that we really used that money in a concrete, good, efficient, transparent and inclusive way, which are the criteria we follow for all development funds, and with Norway, that transparency gets a full dimension in the implementation of projects", said the Minister.
Norwegian Ambassador Jørn Eugene Gjelstad has stressed that support to central and local governments is a key to promoting development which is crucial for the better life of citizens.
"Norway has been supporting Serbia through projects for years. Social development means investing in people and that citizens can fully unlock their potential. Social resources must be used in the best economic way, because social equality contributes to political stability, whereas inequality can undermine economic growth and development", said Gjelstad.
Gjelstad has said that 'Norway for You – Serbia' is one of Norway's largest development projects in Serbia.
"Through this project, we increased efficiency, capacities and competence in various public institutions. The programme created job opportunities for several hundred people, and opportunities for professional training for 350 people, both employed and unemployed. Small enterprises managed to expand and hire young people from the local area, who could thus continue living in those communities, which is one of our goals", said Gjelstad.
Source: Tanjug