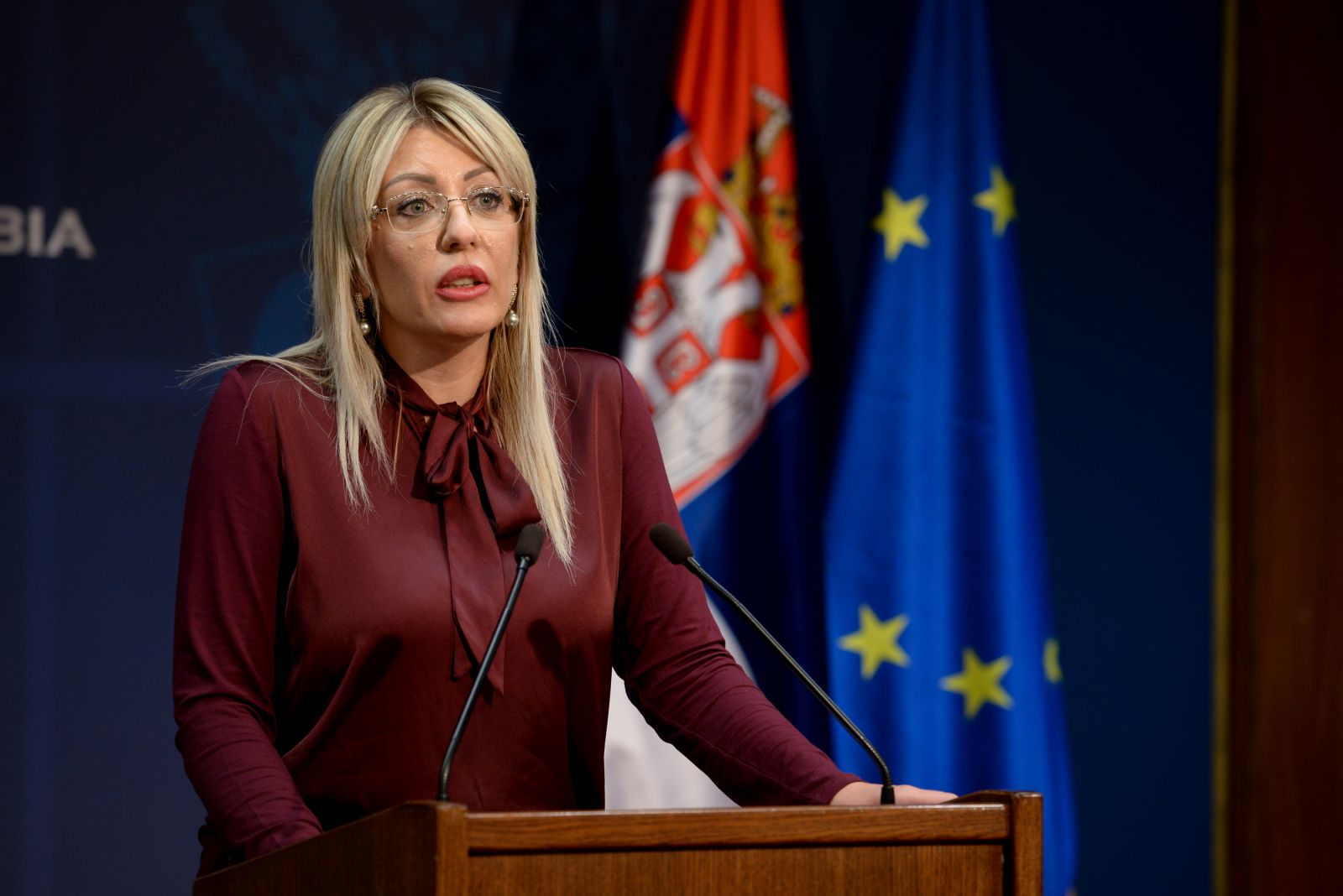 The Joint Declaration of Intent regarding strategic cooperation in the area of climate action between Serbia and Germany, worth EUR 309 million, is an important input in the reform process from which citizens will benefit the most, as stated by Minister of European Integration Jadranka Joksimović.
She has signed the Declaration at the Government of Serbia today with Maria Flachsbarth, the Parliamentary State Secretary to the Federal Minister for Economic Cooperation and Development. Following the signing that was attended by Prime Minister Ana Brnabić and German Ambassador Thomas Schieb, Joksimović stressed that the Declaration was another confirmation of Serbia and Germany's readiness to join the global initiative for combating climate change and sustainably and efficiently work on achieving a green, resilient and sustainable economy.
According to Joksimović, the Declaration is very important on the European path, one of the crucial steps in the negotiation process, which should soon be made depending on the Progress Report and numerous reforms in the rule of law that Serbia has intensified and enhanced in the past several months.
"We hope that we will have the opportunity to open cluster 4 that covers all these topics", said the Minister, adding that today's discussions will continue and will include the areas from cluster 4 that Germany will particularly support – energy, transport, environmental protection, trans-European networks, climate change and digitalisation.
"This is an important input in the reform process and negotiation process", said Joksimović, stressing that she believes green economy and renewable energy sources will be vital issues in the years to come.
She has emphasised that the EUR 309 million Serbia received is the largest sum Germany has provided in the last ten years, since the beginning of development cooperation.
In addition, she has noted that Serbia will use the Declaration as the basis for creating an institutional model and that it will continue to develop strategic documents on decarbonisation, CO2 emissions and renewable energy sources within a strong working group that will also include German technical and expert assistance.
She has recalled that the goal is to make Europe a climate neutral continent by 2050 and added that Serbia is ready to go full steam ahead guided by the present moment and the needs of the citizens.
Joksimović has said that Germany's technical and financial assistance will be valuable in that context, stressing that Serbia has an excellent development cooperation with Germany.
"Our teams from all ministries and members of the German delegation will go through all important projects to see where German expert and financial assistance and grants can best be used, and our goal is not only to enhance bilateral cooperation and accelerate the pace of European integration, but also for every citizen to feel the benefits of that process", said Joksimović.
She has also recalled that Germany is the largest bilateral donor, one of the largest investors and one of the most valuable European partners on Serbia's European path.
Flachsbarth has emphasised that EUR 309 million is the value of a one-year package.
"We are very interesting in seeing this region move along a peaceful path of development and to have prosperity for every citizen", said Flachsbarth, stressing that Germany is looking forward to contributing to a more successful implementation of all targets in a concrete way, not only with money but also through expert assistance.
She has underlined that she is optimistic that negotiations will be successful, recalling that Serbia and Germany are closely connected and that Germany has invested 2 billion euros in various projects in Serbia in the past 20 years.
Brnabić has stated that the Green Agenda, green transformation and environmental protection is one of the two key priorities of the Serbian Government in this term, recalling that the second priority is the rule of law.
According to her, the Declaration signed today was announced during the visit of German Chancellor Angela Merkel to Belgrade.
Brnabić has also recalled that in her presentation of the Government's programme she underlined three main goals – improvement and protection of air quality, better solid waste management, establishment of landfills and recycling systems, and improvement in waste water management.
She has added that these are the areas with the largest investments and that around 6 billion euros is needed only for waste water treatment facilities, so as to reach European standards.
"After decades of neglect and lack of investments in the area of environmental protection and energy transformation, it is important that these topics are now set as key priorities", said Brnabić, assessing that the cooperation agreement also provides for the adaptation of Serbian economy and society to climate change which is a reality Serbia is currently facing.
At the end of the meeting, the Prime Minister has thanked Germany for recognising a good and credible partner in Serbia.
Source: Tanjug